Just like any other great grub, the traditional foundation of Mexican cuisine is strong enough that an adventurous chef can tweak and modernize it without losing what it means to be Mexican food. We took the time to track down seven mouthwateringly progressive Mexican dishes from cantinas throughout Los Angeles. And to wash them down, we got Tequila Herradura to concoct seven libations, each paired to its own dish by Thrillist's bartender in residence Nick Bennett. 
Callos de Hacha
Mercado Restaurant
This dish is like no other seafood you've ever had, Mexican or otherwise. Mercado takes jumbo deep-sea scallops (score), encrusts them in pumpkin seeds (double score), tops things off with chipotle-peppercorn sauce (triple score), and throws some fresh chayote with calabacitas on the side (you get the idea).
What You're Drinking: Paloma
Reposado, lime juice, grapefruit soda, salted rim
With the warmth of the chipotle and the comfort of autumn flavors, your drink will serve you well if it's tart and light. So order up a refreshing Paloma.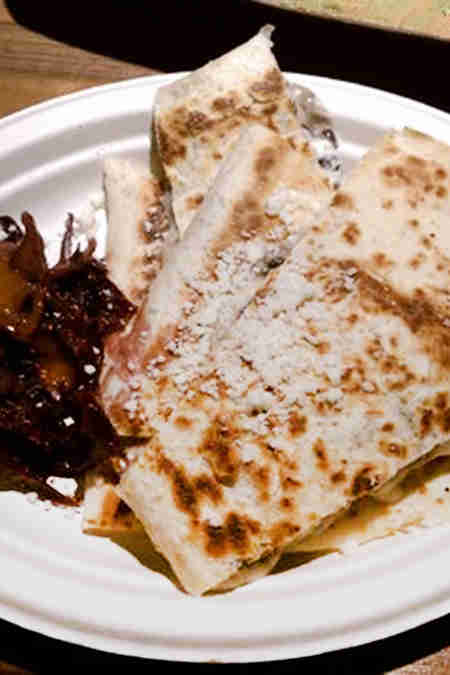 Pastrami-Dilla
Tinga
Let's go out on a limb here: quesadillas are best when loaded with a New York helping of New York-style pastrami. Round it out with grilled chayote and jack cheese, and this thing ups the 'dilla game in a huge way.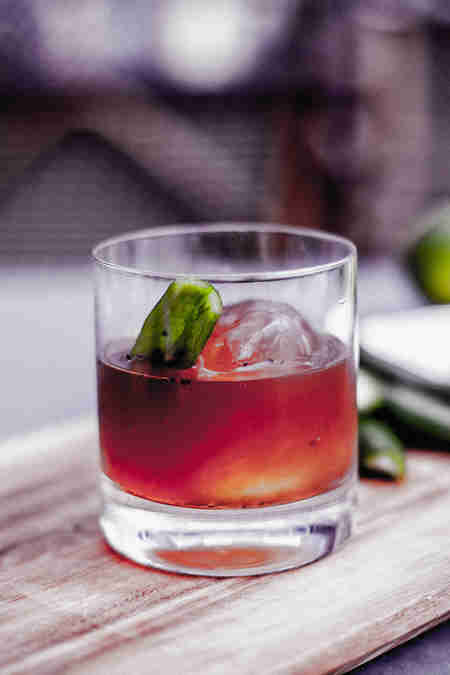 What You're Drinking: Petróleo
Reposado, lime juice, salt, pepper, Maggi sauce, Worcestershire sauce, Serrano chile
Obviously pastrami is a rich, salty, savory delight, and the Petróleo brings a similarly substantial note to the party with Maggi and Worcestershire sauces.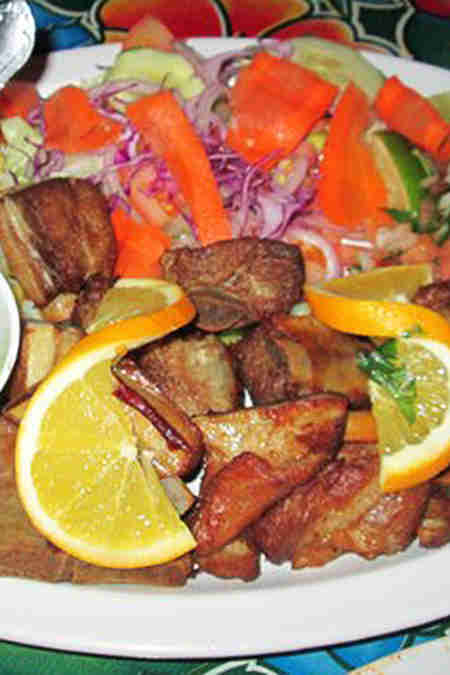 Patitas de Puerco en Vinagre
Guelaguetza
This super traditional Oaxaqueña spot knows zesty comfort food better than anything else, but for this one dish they break out of their comfort zone to bring you a truly unique protein: specialty marinated pork feet with pickled jalapeños and also pickled carrots (all done in-house).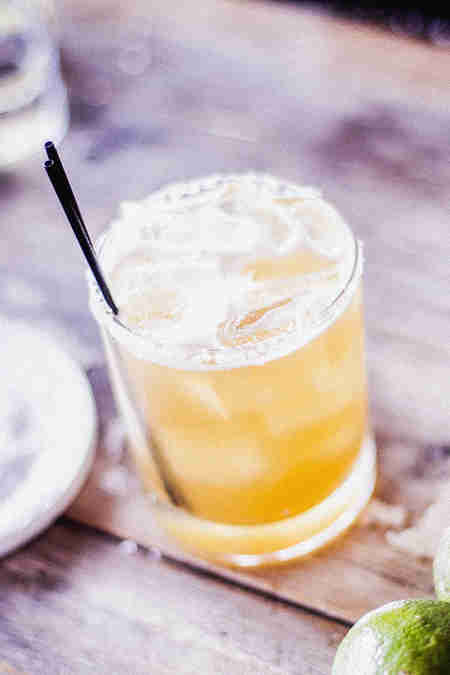 What You're Drinking: Margarita
Reposado, Cointreau, agave nectar, fresh lime juice
The dry reposado in this marg and the salted rim will underscore the brightness of the pickled vegetables in this dish, creating the perfect foundation for those unique, marinated pork feet.
Chiles Toreados
Guisado's
Fire-roasted peppers are decidedly traditional as far as their Mexican origins go. But you've probably never seen them as the main star in a taco, nor have you seen four different heat levels in the same taco (habanero, Serrano, jalapeño, and Thai chiles).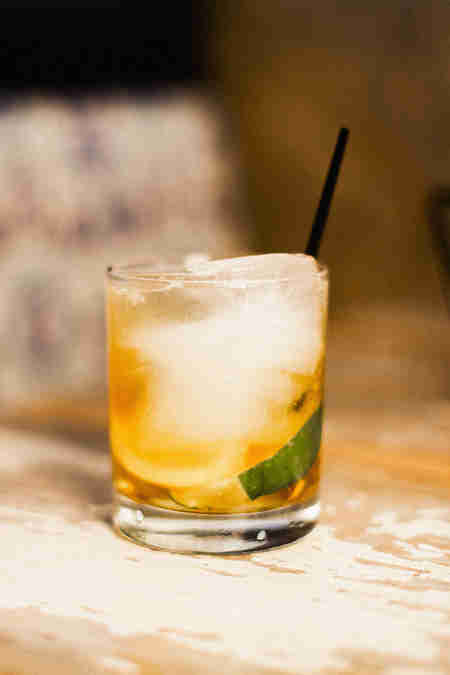 What You're Drinking: Herradura Luxe
Herradura Silver, agave nectar, water, lime, lemon
That dish over there is a spicy monstrosity from the ranks of a chile inferno. So, you're going to thank the spice gods for the agave nectar and the inherent refreshment of the Herradura Luxe.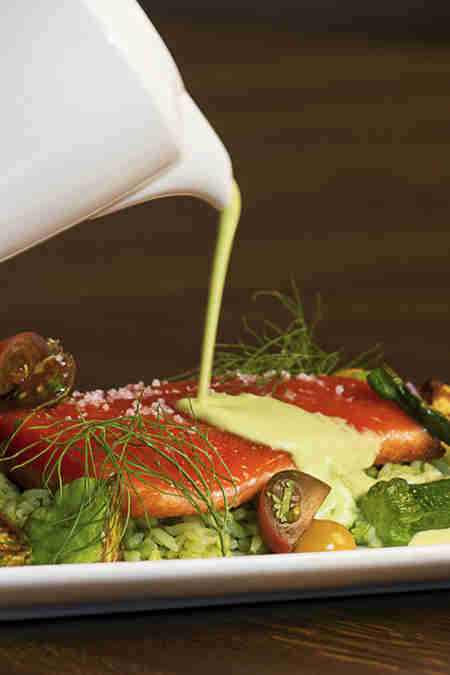 Loch Etive Steelhead in Serrano Crema
Red O
Probably the most unique example of "fusion" on this here list, this Grilled Scottish Loch Etive steel-head menu item combines Mexican influence with Scottish flavors alongside an herby green rice and charred farmer's market vegetables.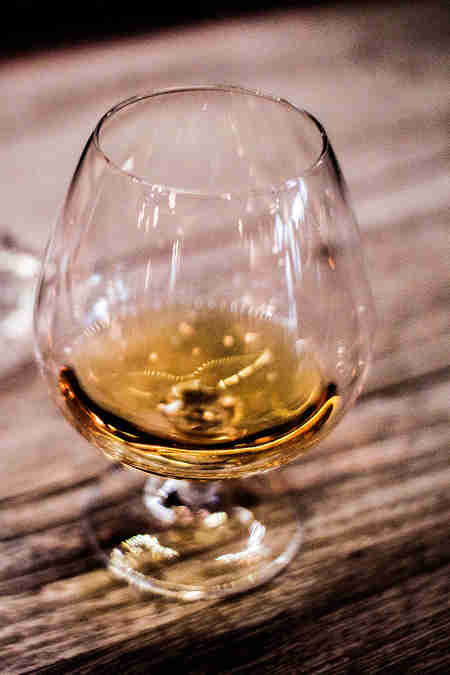 What You're Drinking: Herradura Seleccion Suprema Neat
Herradura Seleccion Suprema, straight up
With Scottish influence in the dish, it's only fitting that you'd turn to smooth, aged, vanilla-y flavors in your drink. Herradura Seleccion Suprema is a clean pour that will support the rich flavors of the dish. 
Jamon & Queso Tacos
Escuela Taqueria
Ham and cheese sandwiches are lame. So are "regular" tacos. Put the two together and you get something not lame. This taco's got crispy pancetta, jack cheese, avocado, and spicy salsa verde.
What You're Drinking: Reposado Ramirez
Reposado, Damiana liqueur, lemon juice, simple syrup, ginger, dill, orange
The fresh floral notes in the Damiana and dill, alongside the spice from the ginger, will set off the strong pancetta-and-jack-cheese flavor, making sure the drink holds up to the potency of the taco.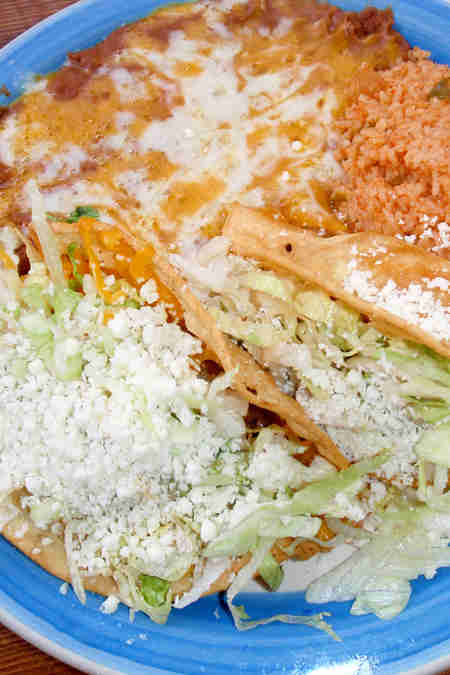 Ostrich Tacos
El Coyote Mexican Café
Order up these tacos and you're in for crispy ground ostrich, sharp cheddar, cotija cheese, and a dash of vinegar. But admit it: we had you at "crispy, ground ostrich".
What You're Drinking: Añejo Old Fashioned
Añejo, Angostura bitters, orange, sugar, brandied cherries
The unique and pleasantly gamey qualities of the ostrich will need a nice, simple drink to accompany. In addition, the bitters in this Old Fashioned will bring out the sharpness of those stark, sharp cheeses.