Inside the First-Ever 365 by Whole Foods (The Cheap One!)
Jeff Miller/Thrillist
Jeff Miller/Thrillist
Ever since it was announced, the new millennial-friendly, allegedly-less-expensive-than-the-original 365 by Whole Foods supermarket in Silver Lake has been controversial (is it a sign of further gentrification... or a much-needed healthy option in the neighborhood? Discuss!!). Now it's finally opening this Wednesday, May 25th -- and we got inside early for the whole scoop.
First off -- and let's get this out of the way -- 365 by Whole Foods is mostly a regular grocery store, with aisles and aisles of food. But think of it like Whole Foods and Trader Joe's Sprout-ed a step-child: though the store follows the same sustainable/healthy philosophy Whole Foods does, lots (and lots) of the food is the branded pseudo-generic 365 brand...
... while the rest is sort of a greatest-hits from Whole Foods' established brands, although you won't find any of the highest-end options: everything in the store is $20 or less. (While the store didn't release exact prices in advance of the opening, we've now gone back to answer that most important question: is Whole Foods 365 really cheaper?)
That includes a few exclusives to the 365 store, which they call "Fresh Finds," like this Sicilian olive oil from NY's Frankies Spuntino.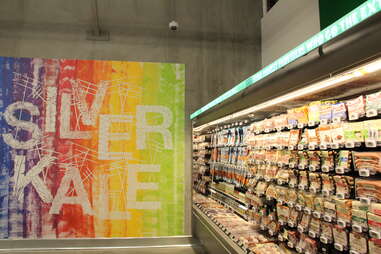 There are a slew of differences from a regular Whole Foods, though: first off, the color palate is way more fun and playful (and, yes, that does say Silver Kale -- take from that what you will).
There are no butchers or fishmongers on site -- which means all the food is prepackaged, with the savings passed on to consumers.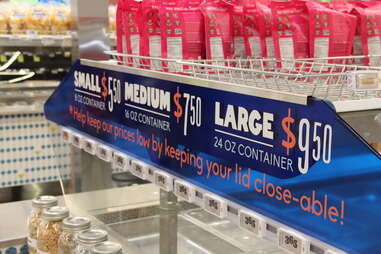 The hot and cold food bars are priced by size rather than pound (so there's no need to skimp on the artichoke hearts anymore).
They also have a loyalty program with discounts for regular customers, which includes 10% off featured items and buy-10-get-one-free punchcard-style promos on prepared food.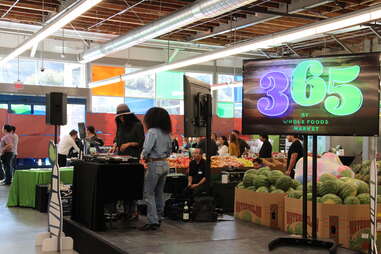 (Obligatory "yes that's a DJ in the middle of the store, and no one would tell us if that's going to be a regular thing" photo). Anyways, they also have a real focus on technology, which means everything from...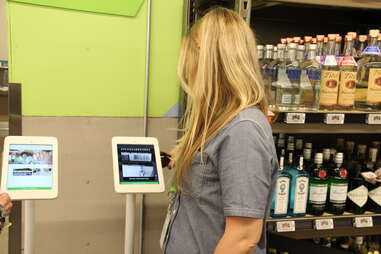 ... tablets in the alcohol aisle that help you choose the right pairing wine, to...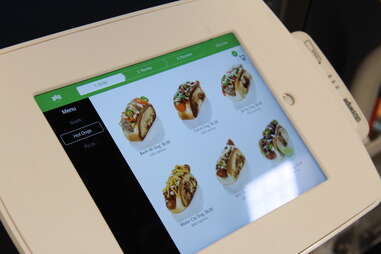 ... tablets for prepared food so you can shop while they're getting it ready...
... and Apple Pay/credit card self-checkout kiosks if you're just grabbing a couple things for lunch. But the coolest tech element is...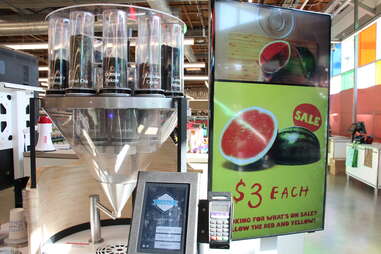 ... Teabot -- a tea-dispensing robot that's pretty amazing: there are over 1000 combos you can create from the leaves in the dispenser.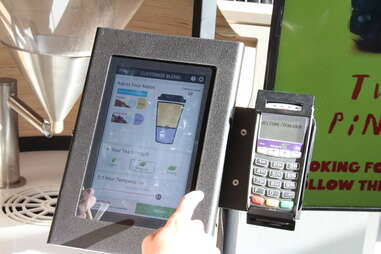 You can control everything from the flavor ratio to the caffeine level to the drink temperature, giving you the perfect cup of tea -- and if you find a flavor you like, they'll even ship more of it right to you.
And if you prefer your caffeine from beans instead of leaves, they've got a full service coffee bar too...
... with a slew of fresh pastries (there's also a full-service restaurant concept coming soon).
So, overall? 365 by Whole Foods probably won't change shopping as we know it. But if you live in the neighborhood and don't need a fishmonger to slice a fresh filet for you, you'll probably want to check it out, and if you're passing by Silver Kale... er, Silver Lake, it's worth hitting for a tea. Seriously.
Sign up here for our daily LA email and be the first to get all the food/drink/fun Los Angeles has to offer.
Jeff Miller's favorite thing at Whole Foods is the sushi. Because that's his favorite thing at anywhere. Hit him up at @jeffmillerla on Instagram and @ThrillistLA on Twitter.