Inside the First-Ever 365 by Whole Foods (The Cheap One!)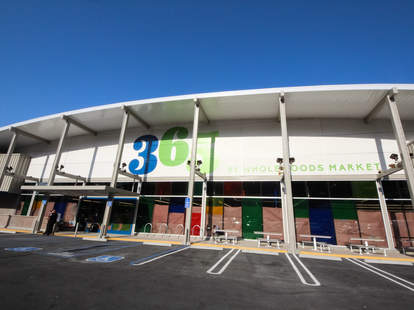 Ever since it was announced, the new millennial-friendly, allegedly-less-expensive-than-the-original 365 by Whole Foods supermarket in Silver Lake has been controversial (is it a sign of further gentrification... or a much-needed healthy option in the neighborhood? Discuss!!). Now it's finally opening this Wednesday, May 25th -- and we got inside early for the whole scoop.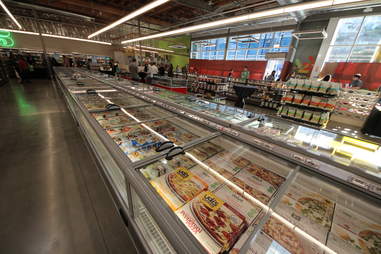 Jeff Miller/Thrillist
First off -- and let's get this out of the way -- 365 by Whole Foods is mostly a regular grocery store, with aisles and aisles of food. But think of it like Whole Foods and Trader Joe's Sprout-ed a step-child: though the store follows the same sustainable/healthy philosophy Whole Foods does, lots (and lots) of the food is the branded pseudo-generic 365 brand...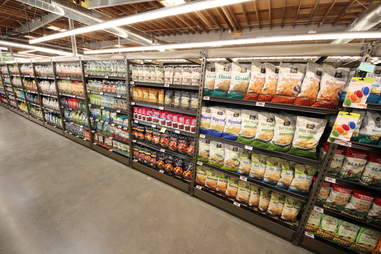 Jeff Miller/Thrillist
... while the rest is sort of a greatest-hits from Whole Foods' established brands, although you won't find any of the highest-end options: everything in the store is $20 or less. (While the store didn't release exact prices in advance of the opening, we've now gone back to answer that most important question: is Whole Foods 365 really cheaper?)
Jeff Miller/Thrillist
That includes a few exclusives to the 365 store, which they call "Fresh Finds," like this Sicilian olive oil from NY's Frankies Spuntino.
Jeff Miller/Thrillist
There are a slew of differences from a regular Whole Foods, though: first off, the color palate is way more fun and playful (and, yes, that does say Silver Kale -- take from that what you will).
Jeff Miller/Thrillist
There are no butchers or fishmongers on site -- which means all the food is prepackaged, with the savings passed on to consumers.
Jeff Miller/Thrillist
The hot and cold food bars are priced by size rather than pound (so there's no need to skimp on the artichoke hearts anymore).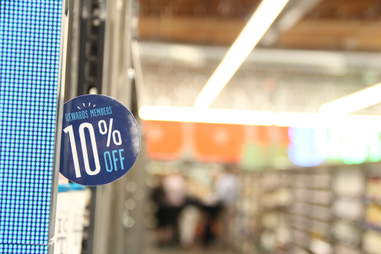 Jeff Miller/Thrillist
They also have a loyalty program with discounts for regular customers, which includes 10% off featured items and buy-10-get-one-free punchcard-style promos on prepared food.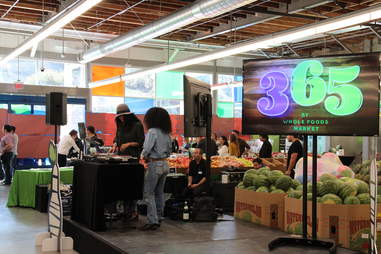 Jeff Miller/Thrillist
(Obligatory "yes that's a DJ in the middle of the store, and no one would tell us if that's going to be a regular thing" photo). Anyways, they also have a real focus on technology, which means everything from...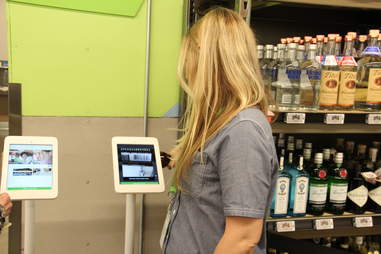 Jeff Miller/Thrillist
... tablets in the alcohol aisle that help you choose the right pairing wine, to...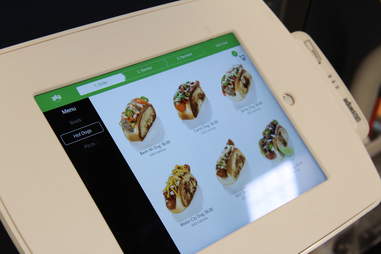 Jeff Miller/Thrillist
... tablets for prepared food so you can shop while they're getting it ready...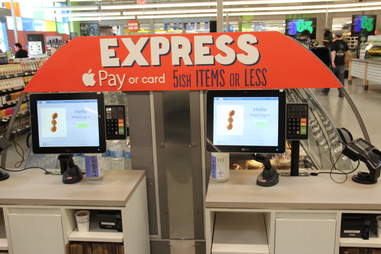 Jeff Miller/Thrillist
... and Apple Pay/credit card self-checkout kiosks if you're just grabbing a couple things for lunch. But the coolest tech element is...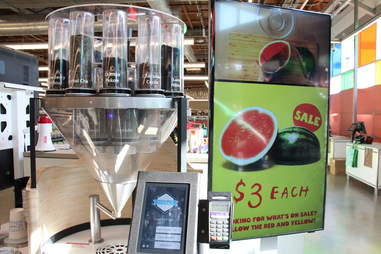 Jeff Miller/Thrillist
... Teabot -- a tea-dispensing robot that's pretty amazing: there are over 1000 combos you can create from the leaves in the dispenser.
Jeff Miller/Thrillist
You can control everything from the flavor ratio to the caffeine level to the drink temperature, giving you the perfect cup of tea -- and if you find a flavor you like, they'll even ship more of it right to you.
Jeff Miller/Thrillist
And if you prefer your caffeine from beans instead of leaves, they've got a full service coffee bar too...
Jeff Miller/Thrillist
... with a slew of fresh pastries (there's also a full-service restaurant concept coming soon).
Jeff Miller/Thrillist
So, overall? 365 by Whole Foods probably won't change shopping as we know it. But if you live in the neighborhood and don't need a fishmonger to slice a fresh filet for you, you'll probably want to check it out, and if you're passing by Silver Kale... er, Silver Lake, it's worth hitting for a tea. Seriously.
Sign up here for our daily LA email and be the first to get all the food/drink/fun Los Angeles has to offer.
Jeff Miller's favorite thing at Whole Foods is the sushi. Because that's his favorite thing at anywhere. Hit him up at @jeffmillerla on Instagram and @ThrillistLA on Twitter.