13 things you didn't know about Wienerschnitzel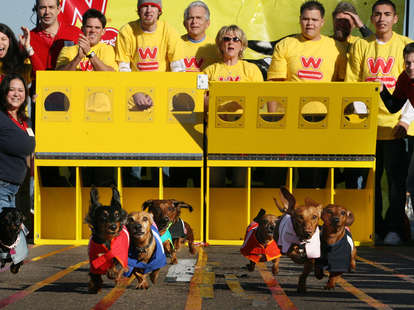 Wienerschnitzel
Wienerschnitzel
Here's what you know about Wienerschnitzel: they look kind of like IHOPs (or maybe IHOPs look like them?!?!?), they've got cheap and delicious hot dogs, and... uh... hmm. So there's a bunch of stuff you don't know, eh? In that case, here are 13 things to help get you up to speed.
1. Der Wienerschnitzel was founded in 1961 in Wilmington, CA by John Galardi
Wilmington is in between Carson and Long Beach, and is also home to the third-largest oil field in the US. Fun times!
2. Galardi's first job when he moved to California from Kansas City? Working at Taco Tia, which later became Taco Bell.
He got the job within three days of moving to LA, so you could say he ran to the border (*wink!*) pretty quickly.
3. The first hot dog sold at Der Wienerschnitzel cost $0.15
Meaning you could get 100 hot dogs for $15. Fifteen. Dollars.
4. When it opened, Galardi would constantly fry onions outside so that the smell would entice people to come in
This strategy is now employed by every single hot dog vendor in Hollywood.
5. In 1962, he instigated one of the first drive-thrus anywhere, because he didn't want people lounging around in the parking lot for too long
This ended up accounting for 70% of his sales and 100% of people in LA eating sausage in moving cars.
6. In 1977, the "Der" was dropped from the name because it made signs for new restaurants too expensive to produce
Well, der.
7. The first two Wienerschnitzel locations featured fire pits on the patio
Hello, date spot!
8. The dude who made the "W" logo also made the logos for AT&T and Quaker
Guy sowed some serious oats, amirite?
9. Baseball Hall-of-Famer Reggie Jackson was once the Wienerschnitzel spokesman
Because it takes a wiener to know a wiener (editor's note: let's go Dodgers, clap, clap, clap-clap-clap).
10. It's got a secret menu item called the "Wet Dog", which's topped w/ chili, lettuce, tomato, and pickles
Currently (Marma)duking it out for best secret menu item ever.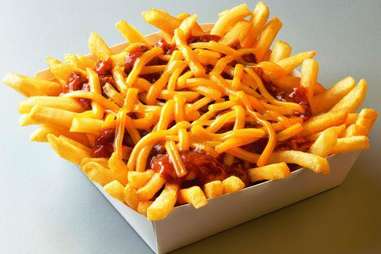 11. The drive-thru on PCH is a government-recognized historical landmark -- the only other food-side stand to have the designation is the SF Valley's Munch Box
And yes, there's a place called The Munch Box in the San Fernando Valley. Insert Chatsworth joke here.
12. Wienerschnitzel serves over 120 million hot dogs yearly
If you put them end-to-end, they'd stretch more than 11,000 miles, or about 10,500 more than The Proclaimers.
13. At one point, Wienerschnitzel was also a record label
They put out songs titled "Chili, Mustard, and Kraut" and "Der Wiener Winner". Insert other Chatsworth joke... here.
Jeff Miller is Thrillist LA's Senior City Editor and is just glad Reggie Jackson isn't his personal spokesman. Follow him on Twitter and Instagram.