LA has a lot of great restaurants. But man, LA also has a lot of really, really bad restaurant names. From Young Dong to Asian Box, these are the 12 worst restaurant names in LA, ranked from 12-to-1.
Super-Obvious Editor's Note: This has NOTHING to do with food. Many of these places are critically acclaimed or local favorites. But seriously... why that name???
12. Pink Taco
Multiple locations
Locking down frat-iness right there in the name may actually have been a genius business decision.
 
11. iPho
Multiple Locations
It's the worst pho pun in LA. Which makes it... the best pho pun in LA. Just go with it.
10. B.A.D. Sushi
Multiple locations
It's an acronym for "Best And Delicious." Seriously. Someone thought that was a good idea.
 
9. Tar & Roses
Santa Monica
They're descriptors for two of the flavors of Nebbiolo wine... duh?
 
8. Asian Box
Multiple locations
"Honey, what'd you have for dinner tonight?" "Asian Box!" *Slap*
7. The Stinking Rose
Mid-Wilshire
It's either describing garlic, or that woman on Lost. We're not sure.
 
6. Burnt Tortilla
Long Beach
Because nothing screams "great Mexican food" like BURNING THE FRIKKING MAIN INGREDIENT.
5. Young Dong
Koreatown
Old joke.
 
4. OK Chinese Food
Multiple locations
Yep. Just OK.
3. The Gadarene Swine
Studio City
It's a vegan restaurant. Sit with that for a moment.
 
2. Toe Bang
Koreatown
Not only does it sound wrong to us in English, but a friend who speaks Korean says it means "Vomit Restaurant" in its native tongue. Seriously.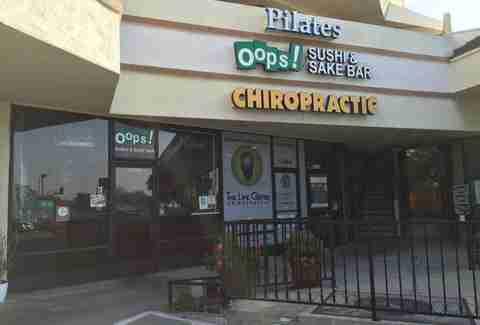 1. Oops! Sushi and Sake Bar
West LA
Oops, indeed.
Sign up here for our daily LA email and be the first to get all the food/drink/fun Los Angeles has to offer.
Jeff Miller is Thrillist LA's Senior City Editor. Let him know if he missed any other really good ones in the comments or on Instagram at @jeffmillerla and Twitter at @ThrillistLA.