Yangban Society Is a Hybrid Deli and Night Market That's Steeped in Korean-American Pride
Owners and partners Katianna and John Hong share the inspiration behind their new concept in Downtown LA.
Image by Grace Han for Thrillist
Image by Grace Han for Thrillist
The humble urban deli occupies a special place in American culture—oftentimes serving as an expression of the immigrant experience. But while delis have primarily been rooted in European and Jewish communities, evolving from the kosher butcher shops that cropped up in New York circa the late 1800s, a new, Korean-American concept in Los Angeles is upending our idea of a deli. Located in the Arts District, Yangban Society is an all-new deli/super hybrid, dreamt up by co-chefs and partners Katianna and John Hong and told through their Korean-American lens.
While this more casual endeavor is a departure from the husband-and-wife team's fine dining resume—which includes a stint at Santa Monica landmark, Mélisse, where they first met—it's by far the most personal and meaningful. Yangban serves as the brick-and-mortar expression of the culinary power couple's shared Korean-American heritage and distinct perspectives—Katianna grew up in upstate New York with adoptive parents and John hails from Illinois. It even pays tribute to their identities outside the kitchen, displaying their mutual love of hip hop, fashion, and streetwear culture.
"We both have vivid memories of visiting delis with our families, absorbing what we later realized is an experience that spans so many different cultures," Katianna explains. "A deli is a place where people come together, and we love that aspect; there's a universality and an approachability that makes it instantly recognizable regardless of the cuisine. Yangban Society was born out of that, but is also truly autobiographical for us. It's a reflection of our individual and shared trajectories navigating the spaces between our Korean heritage and our experiences growing up in America."
While Yangban Society is more laid-back than the white-tablecloth restaurants they've previously worked at, both Katianna and John leverage the creativity and technical acumen they've absorbed from critically acclaimed places like Napa Valley's The Restaurant at Meadowood and The Charter Oak.
While Katianna and John have mused about this concept for years, it wasn't until 2019—when the couple relocated back to LA from Napa—that their plans started to solidify. When Bon Temps shuttered as a result of the pandemic's economic fallout, much to the disappointment of many, its newly vacated Arts District location appeared perfectly suited to the Hongs' vision. Now the 5,000-square-foot space serves Yangban Society well—a silver lining for Angelenos who miss the beloved brasserie.
"The linear space is ideal for the flow and layout of our deli counter and also allows for a dedicated section for our super," says Katianna. The Hongs worked closely with design firm Folklor on the restaurant's statement-making visual identity, inspired by founder Shin Irvin's passion for color. "We all loved the bold juxtaposition of the red and blue color blocks against the wood and brick textures," she explains. "That duality of modern and historic feels fitting for the duality of what we are doing at Yangban as well."
The best way to describe Yangban Society? It's a choose-your-own-culinary-adventure, starting with an expansive deli counter of hot and cold side dishes, inspired by the idea of banchan, that can be plated or packaged to go. Korean-inflected seasonal veggies, pickled items, and ready-made eats—like coal-roasted cabbage slaw dressed in ssamjang vinaigrette and chilled acorn noodles with pickled perilla seeds—live alongside the Hongs' delicious homage to Italian and Jewish deli culture, such as giardiniera-style pickles, egg salad, and hot smoked trout schmear.
Guests can also peruse a mouthwatering menu of comfort-food dishes from the kitchen, like galbi-style ribs and a gochujang rice bowl. "We're really excited about our kitchen specials right now, like the baked sea bream that we coat in chili daikon paste and toasted breadcrumbs," says Katianna. "The chili paste was inspired by the Korean dish, daegu jorim (braised black cod), but we also referenced East Coast seafood restaurants that always serve some sort of broiled fish. We recommend ordering the sea bream with our ssam box, a collaboration with Girl & Dug Farm, so you can create your own experience with that dish, adding on sauces from the deli counter as suits."
If you've ever belted out ballads at a noraebang (a private room at a Korean karaoke joint)—where ice-cold Hite flows freely and the snacks are killer—or enjoyed a late night at any of K-Town's beloved bars, some of Yangban's menu items will really hit home. "With the deli, we're weaving in aspects of nightlife culture in a way that we hope is familiar to Angelenos from nights out in Koreatown," Katianna says. "We've recently introduced chicken wings, biscuits, and curry gravy; jajang black bean bolo fries; and other snacks that you crave when you're out drinking. We turn the music up at night and guests can come hang out, grabbing drinks from the super, adding on another order of wings when the mood strikes."
Then there's the standalone minimart on the second floor, where Katianna and John peddle a well-edited collection of pantry staples, snacks, drinks, and merchandise—with a nod to local LA makers and Asian-American-owned brands. "We find inspiration from Korean culture—like the super—and reinterpret it through the lens of our experiences," says Katianna, referring to the ubiquitous convenience stores found in South Korea. "With the super, we nod to the traditional form, but curate the items in a way that is deeply personal to us while also supporting other makers in the Asian-American community." The shelves are stocked with various sundries: Korean face masks and incense, Baisun Candle Company's votives, Steep LA's tea, Vervet's canned craft cocktails, Sawtelle Sake's exclusive-to-Yangban makgeolli rice wine, and more.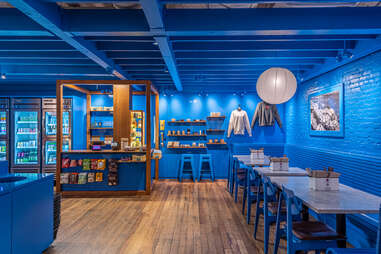 While Yangban Society opened when the world was still in the midst of a pandemic, its dynamic space is designed to cater to varying comfort levels as COVID-19 persists—including an outdoor seating area filled with low tables that mimics the feel of spreading out for a picnic. "Our concept is conducive to different experiences that allow it to be used in different ways regardless of the climate," says Katianna. "Guests can come in for dinner and have that late-night experience with friends, or they can grab things to go from both the deli case and super."
Now the deli's gearing up to pay homage to the upcoming Lunar New Year. "The Korean Lunar New Year is called Seollal," explains John. "It's one of the most important traditional holidays of South Korea and a very family-based celebration." While Yangban is closed on the holiday itself, a limited-edition Korean rice cake soup is available on Thursday, February 3. Of course, the Hongs have put their own stamp on this staple dish called tteokguk; for Koreans, it's a must-eat on New Year's Day thanks to the chewy-soft rice cakes' oval shape, which resemble coins and symbolize prosperity and wealth. "We're preparing the soup a little differently by making a very rich, dry-aged beef broth using our dry-aged ribeye trim, while also steeping the broth with dried matsutakes," says Katianna. "Traditionally, it's made with anchovy broth—at least that's the way my mother-in-law makes it! We're also using braised oxtails, rice cakes, roasted seaweed, and egg, which are all considered pretty traditional garnishes."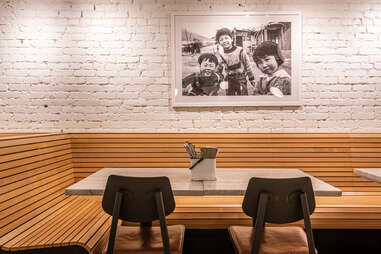 As Katianna and John observe age-old Lunar New Year traditions and establish new ones with their family, they hope to do the same at Yangban Society. Even its name—derived from a term for Korea's aristocratic ruling class during the Joseon Dynasty—is a playful reinterpretation, turning the original meaning on its head to express something far more approachable and accessible. "In some ways, it's an invitation to our guests to come together and be part of the inclusive experience we are hoping to create," says Katianna.
In the process of creating a concept that's inclusive to all, the Hongs have also carved out space for their own unique interpretation of what it means to be Korean-American. "There have been so many conversations about authenticity and cultural identity surrounding food, and we hope what we are doing at Yangban helps to shift that narrative," Katianna explains. "We cook food that is authentic to us and our two very different experiences being Asian-Americans. We believe that there is a newer generation of Asians with the luxury of exploring more of their passions and creativity, and as a result, we are witnessing the development of a new Korean-American cuisine. One that is authentic to us yet differently inspired, motivated, and executed."