The Best Brunch in Your Louisville Neighborhood
You need to do some laundry, hit the grocery store, and clean up the kitchen… but waffles, eggs, mimosas, and Bloody Marys wait for no one. The choice to blow off morning chores is easy. It's the next choice -- where to have brunch -- that has plagued Louisville for generations. Fear not, though, because we're here to provide guidance with our list of the best brunches in eight Louisville neighborhoods. So send out that group text, assure yourself laundry can wait, and hit the town for what is quite possibly the best meal ever invented.
Butchertown
Butchertown Grocery
High-end eating meets cozy brunch
High-end bar and restaurant by night, delicious brunch destination by morning. That pretty much sums up Butchertown Grocery, which is housed in a former grocery store in a booming neighborhood. From house-made pastries to smoked salmon bagels and the signature Butchertown eggs benedict, the menu has a little bit of everything. Play it healthy with a yogurt bowl or crank things up with the Hangover Plate, featuring two eggs, bacon, hash browns and toast.
Clifton
Con Huevos!
You like eggs? You've come to the right place.
"Con huevos" literally is a Latin term for "with eggs." It also has a slightly more intense slang meaning which we won't get into. Regardless, Con Huevos! is an "it" place for brunch in Clifton. From omelets to chilaquiles, this place is brimming with eggs and more eggs, but be sure to order the ones with the signature chipotle gravy. Of course, there's always the breakfast torta with Oaxaca cheese, arugula, tomato, avocado, cilantro aioli, and your choice of ham, bacon, or chorizo. Oh yeah, and eggs. Note: Don't forget, there's a second Con Huevos! in Holiday Manor.
North End Café
One of Louisville's brunch staples
A staple on Frankfort Avenue for years, North End has a steady flow of people pretty much all day long. The laid back local restaurant serves breakfast all day long, and because of that, you can have brunch whenever you want. The French toast is a favorite, but you can stretch your limits with house-smoked trout hash, breakfast tacos, or the meat omelet, with meat selections of the day. You won't ever leave North End hungry.
The Silver Dollar
Spicy Bloodys and hearty helpings
Long on hearty options, the house huevos rancheros is a chart-topper in this honky tonk whiskey bar. There are classic options like biscuits and gravy, but the Silver Dollar gets creative with dishes like the smoked chicken enfrijoladas and the Texas toast stack, piled with bacon, cheddar, a fried green tomato, a fried egg, and caramelized onions. Even the traditional steak and eggs gets a little update with the house-made salsa verde, and the Bloody Marys are next-level spicy.
Downtown
Proof on Main
The proof is in the purgatory (just like the eggs)
Proof on Main has become a name synonymous with the best in Louisville dining, and the brunch doesn't disappoint. While this may not be the place to nurse your hangover the morning after, it is perfect for brunch with the family or a date. Go for the French toast casserole or the signature Proof Benedict, made with a country biscuit, country ham, and red-eye hollandaise. And if you dive into the spicy eggs in purgatory, you may never want to come home, especially if you wash it down with a Bee's Knees cocktail.
Wild Eggs
A giant menu will have you coming back for more
From breakfast burritos to the Mr. Potato Head Casserole, the menu at Wild Eggs will take you a minute -- or 15 -- to look over, but you can't really go wrong. If you want to keep it simple, you can order some granola or oatmeal. But if you are daring enough to try the Mr. Potato Head, you'll be awash in hash brown potatoes baked with sour cream, diced onions, cheddar jack cheese, eggs, sausage, diced tomatoes, poblano peppers, roasted mushrooms, queso, and.. yeah, that about covers it.
Porch Kitchen & Bar
No matter your appetite, you win at Porch
At Porch, brunch on the go begins with baked goods to fruit smoothies, but it certainly doesn't end there. Breakfast nachos await a big appetite, but that's just for starters. Seek out the smoked brisket hash, the fried chicken and waffles, the Lil' Piggy Corn Cake Stack or just keep it simple with The American -- two eggs, bacon or sausage, choice of toast and hash browns. And yes, the bar will be open.
Highlands
Bristol Bar & Grille
The brunch buffet to end all brunch buffets
Skip breakfast and hit Bristol, where it serves up a "bountiful" (their word) buffet-style brunch, featuring Southern favorites like Belgian waffles, Weisenberger cheese grits, fresh fruits and vegetables, fried chicken, biscuits and gravy, and lots more, including seasonal items. Wash it all down with a Bloody Mary. I mean, you only need to think about two words when it comes to a brunch buffet like the Bristol's: "unlimited bacon." And there also are locations in the east end and Downtown.
Gralehaus
Seasonal deliciousness hits a homerun in the Highlands
Tucked away behind the beloved Highlands pub Holy Grale, Gralehaus serves up one of the most non-traditional brunches in town with a seasonal menu that yields biscuits and duck gravy, lamb sausage and grits, or crispy pork hash. The egg sandwiches (on a pretzel croissant) are particularly popular, topped with options like avocado, pepper jelly, and scallion kimchi. It also has a pimento cheese and pickle biscuit which tastes a whole lot better than it sounds.
Louvino
Jazzy small plates to soak up the moment
Louvino serves up a small-plate brunch with a side of jazz. Order any brunch entree and get $10 bottomless mimosas -- and check out some pancake tacos or a loaded tot benedict to help soak it up the morning juice. It doesn't stop there, though. The croissant BLT pairs eggs and bacon with fried green tomatoes, and the maple eggs Benedict speaks for itself.
Irish Hill
Le Moo
Don't drag your heels, head to Le Moo ASAP
There's brunch, and there's Le Moo's Drag Brunch on Sunday. It's a pretty easy concept to comprehend… you get a brunch buffet while you are also entertained by a drag show. The restaurant is a high-end steak place by night, but every morning it breaks out the brunch, with lots of creativity and fun. Just look at the Better Than Xanax, which is a giant bowl of cereal with whole milk, or go for spicy with the Love, Love Me Do, a chorizo hash dish with eggs and peppers. Oh, and Le Moo will assuredly keep your mimosa filled up.
NuLu
Garage Bar
A chic, hipster hangout does mornings right
Start your morning off with a breakfast shandy or a spicy Bloody Mary before easing into poached eggs and country ham with Weisenberger grits. There's even a ham and cheese bar, and this place will even put ham in your Bloody Mary (they really go, wait for it, ham here). You'll know you're in the right place when you see the head-on collision out front. But rest easy, it's just an art installation.
Harvest
A hearty brunch in a farm-to-table paradise
Harvest's farm-to-table brunch includes signatures like Louismill Grits-N-Goo, the Sweet Johnny Cake, or a Farmer's Omelette, packed with seasonal ingredients. Or keep it simple with a Big Ol' Biscuit & Gravy and/or the burgoo, a Kentucky dinner staple (stew made with rotating meats and vegetables) which is so good at Harvest, you can get it for brunch.
Toast on Market
Lip-smacking goodness with daily brunch
A Louisville brunch mainstay, Toast serves up a bulging menu of lip-smacking items ranging from lemon soufflé pancakes to an Atlantic omelet with smoked salmon and cream cheese. And you can't go wrong with the Monte Cristo, featuring two slices of brioche filled with ham, baby Swiss cheese, and a touch of orange marmalade. Or, just do it your way with a build-it-yourself omelet. (There's also a location in New Albany, Ind.)
Paristown Pointe
The Café
A place that's been doin' brunch before brunch was cool
The Café, a Louisville mainstay, covers three squares a day, but it's the breakfast and brunch that seem to keep bringing people back. The house version of huevos rancheros is a ridiculous portion of farm fresh eggs with chorizo, red potatoes, and piles of extras, but a dish called the Stephen Foster also intrigues as a country ham rendition of a classic Hot Brown, topped with a pair of sunny side eggs.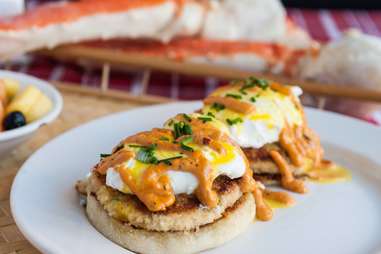 St. Matthews
Highland Morning
They dole out one of the best breakfast burritos you'll ever eat
A buzzing spot for brunches, Highland Morning has a solid reputation for satisfying appetites of all sizes. Whether you're ordering the famous Baja Benedict (a much-needed update on traditional eggs Benedict with chorizo), the Good Morning breakfast burrito (packed with three eggs, sirloin steak, bell peppers, and more), the classic breakfast (two eggs, meat, and a biscuit), or one of their specialty pancakes, you won't run out of options on the long and diverse menu.
Sign up here for our daily Louisville email and be the first to get all the food/drink/fun in town.
Kevin Gibson is a Louisville-based author who writes about everything from food & beer to the great city he calls home. In his nearly three decades as a writer, he has won numerous awards but doesn't know where most of them are now. He is the author of Unique Eats of Louisville, Secret Louisville, Louisville Beer, and other books. He currently lives in the Clifton neighborhood with his dog, Atticus.