Meet Thrillist Louisville's Best Chefs of 2016
Editor's Note: This article is part two of Thrillist Louisville's year-end look at the best of our city's local food and drink scene in 2016. In addition to our annual Best New Restaurants award, this year, we're spotlighting the men and women behind the dishes we love to tell you to eat. Whether they bucked the national trends, revived classic local flavors, or otherwise drove the city's culinary scene, these are the chefs that stood out this year. You can also check out our picks for the rest of America's 2016 Best Chefs, and then catch up on our Best New Restaurants.
Louisville's kitchens had it all this year. New chefs stepping up and throwing down to expand our culinary scene. Veteran chefs standing tall and doing anything but resting on their laurels. From classic comfort foods to fine dining, phenomenal dishes were everywhere around town. To celebrate a year well-done, we chatted with three chefs who really shook up the scene beyond their cuisine in 2016. They not only made Louisville a tastier place, but an all-around better town for everyone. For that, we at Thrillist have named them Louisville's Chefs of the Year for 2016.
Annie Pettry
As Executive Chef of Decca in NuLu, Annie Pettry plates American Cuisine inspired by her Asheville, NC roots. On her menu, you'll find sweet potatoes that have been given as much consideration as the steak tartare. She's snatched up several accolades in the past few years, including a spot on this season's Top Chef.
What currently excites you the most about Louisville's food scene?
Annie Pettry: The most exciting thing about the Louisville food scene is that we are located in an agriculturally rich area with an abundance of local farmers and producers. As a chef in Louisville it's easy to get your hands on amazing seasonal produce, pasture raised meats and dairy, and of course world class spirits.
How has your vision for Decca evolved in the few years the restaurant has been open?
Pettry: As we live and learn, we grow and hone in on what is important to us and in that way my vision for Decca has evolved over the years. What is important to us is that when you come here you feel taken care of and this goes for the staff as well as our guests. Of course we want to give good service and make delicious food and drinks in a beautiful environment but we also want to nurture and care for our guests and our community.
What's your favorite dish on the menu right now?
Pettry: Wild shrimp a la plancha with ember roasted squash, pepita romesco, shaved escarole, and pickled currants.
What are you looking forward to in 2017? Either for Decca or for our city's dining scene as a whole.
Pettry: I'm looking forward to growing as a team and as a part of the Louisville community.
How has Decca engrained itself in the Nulu neighborhood?
Pettry: We've been open for over four years now and are part of the landscape of Nulu. There are a lot of different experiences that Decca has to offer to the neighborhood and its visitors. From cocktails around our fire pit, to a glass of wine and a bowl of fresh made pasta at one of our two bars, to a cozy night of live jazz in our speakeasy style Cellar Lounge, or a multi-course dinner party in our dining room, there's something for everyday of the week.
Who is a chef (or chefs) that are doing interesting things in Louisville that you think we should keep an eye on in 2017?
Pettry: I'm really excited about the recently opened Red Hog butcher shop in Clinton Hill, it fills a niche that's been missing in Louisville. Also, I can't wait to eat Andy McCabe's food at Bar Vetti slated to open in 2017.
Congrats on Top Chef! In many ways this is your opportunity to put Louisville on a plate for the rest of the nation and help shape the ideas around contemporary southern cuisine... how's that going? :)
Pettry: Thank you. As a Carolina girl, I am thrilled to be a part of Top Chef season 14 featuring the great city of Charleston, SC. There is a great showing of Southern chefs on this season and I am so excited that I get to represent Louisville as part of the South and part of Southern cuisine. There are some amazing things that the audience will get to learn about the South on the show.
"Top Chef" takes on the culinary hotspot of Charleston, South Carolina, for the new season, kicking off with a supersized premiere on Thursday, December 1 at 10 – 11:15pm ET/PT on Bravo.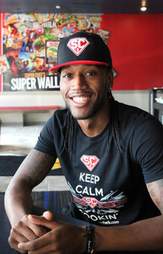 Courtesy of SuperChefs
Darnell Ferguson
Chef Darnell Ferguson overcomes, pushing past early hardships in life to become a chef. Before he was able to obtain his own space, he held pop-up restaurants around the city. When his first full-fledged restaurant in St. Matthews was destroyed in a fire, he reopened in a prime spot in the Highlands -- all before the age of 30.
What currently excites you the most about Louisville's food scene?
Darnell Ferguson: The competition. I feel like if I can make it here I can make it anywhere. Everyone's doing great food. Everyone's doing high quality.
How has your vision for SuperChefs evolved through all the ups and downs you've experienced?
Ferguson: I stopped wanting so much out of restaurants. I used to want a lot of restaurants and do all these things with them. But now that I have more experience and I know successful chefs on a more personal level now, I kind of see what gets them ticking, and I can see what really matters. I thought that having a certain number of restaurants is what mattered. Now, I just want one great restaurant and then I'll take the next punch as it comes.
What makes SuperChefs great in your opinion?
Ferguson: The community outreach that we do is a big part of it. We call it a "revolving door." People come in here and spend money and I make sure I got out there and give back continuously. Our goal is to have the most inspirational restaurant in the world and I think we're on our way there. [Laughs]
Food is one part of it, but the other part is inspire the people because I know that people look at what I do and they put it through a magnifying glass. Not in a bad way, sometimes in a good way. People will be like "Hey man you inspired us as young black men from the hood. We can own our own businesses and we can make it."
So, it's a lot more than just a restaurant for me.
What's your favorite dish on the menu right now?
Ferguson: My favorite creation is the seafood biscuits and gravy. It took four years to do a biscuit and gravy. We used to do it at the pop-up restaurants. 2013 was our first year and we have been asked to do biscuits and gravy ever since that first pop-up. I just did it when we opened this [location]. I waited until I could do it in a way I loved it.
What are you looking forward to in 2017? Either for SuperChefs or for our city's dining scene as a whole.
Ferguson: I'm looking forward to making it huge on the national scene in 2017. I represent Louisville in everything I do. So, when I fly out next Tuesday and do another Food Network show, I represent Louisville. Everything I do represents my city.
We had the Cooking Channel in here a few weeks ago. So, we're just trying to bring awareness to our food because our food is cultural. We call it urban eclectic. It's a representation of who we are, but also of what I've learned on my path to get to this point.
How has SuperChefs engrained itself in the Highlands neighborhood?
Ferguson: I get everyone from 60 years old and older to eighteen year olds that just got out of high school. We get every demographic. Superchefs just brings a little more flavor to the Highlands. You know since everybody misses Lynn's Paradise [Cafe].
Who is a chef (or chefs) that are doing interesting things in Louisville that you think we should keep an eye on in 2017?
Ferguson: Definitely Bobby Benjamin [of Butchertown Grocery]. That's probably my favorite chef and he's a good mentor. And also the guys over at Bistro 1860. I really love what they're doing over there with food. They do my style of food. You know like with creative flavors that don't really mesh together. They're free spirits. They do fun flavors and small portions.
What would you like to see emerge from Louisville's dining scene?
Ferguson: Something that goes against the grain. I love my techniques, I love my background in culinary, I'm a classic chef at core, but once it comes to a dish I break every rule. I want to give people something they've never had before, but something that is fantastic at the same time. I just like chefs that really do the food they believe in. We all do great things, but I don't think anyone's really stepped outside of the parameters yet and said "I'm going to create my own parameters."
In January SuperChefs will host a "Stop the Violence" luncheon on MLK Day with all proceeds benefiting a west Louisville charity.
Courtesy of The Table
Laura Rountree
Laura Rountree became Executive Chef of the The Table after growing disenchanted with her work at an upscale restaurant. At The Table, diners pay what they can afford, either with their wallets or by volunteering their time. And Chef Laura always make sure, no matter how you may, that you meal will be worth your while.
What currently excites you the most about Louisville's food scene?
Laura Rountree: Something interesting is how much focus is being put on food service workers. I have friends in food service who have come down here and [volunteered] for their food. It's not like they've said it, but I know what you get paid in food service. I think it's a shame that restaurants are doling out this really nice, fancy food, but their workers can't go to the doctor when they're sick.
I think there's definitely a conversation [happening] about providing a good living to our food service workers. I think that's really tied into food justice. If you're a restaurant and your focus is on sustainable food systems and food justice and you're not paying your workers a living wage then I don't really know what you're doing.
There are restaurants with concepts similar to The Table in other cities where diners can pay for their meals or volunteer their time to cover their check. How has running a restaurant like The Table in Louisville differed from your expectations?
Rountree: I remember talking to [the chef at One Bistro in Miamisburg, OH] and asking, 'How do you plan for the day?' His answer was 'It just works out.' I never really got a satisfactory answer, but the funny thing is, is that it really does just work out.
The thing that's been really surprising to me is that, I would have been happy if just the neighborhood, Portland, supported us, but the response that we've been getting from the city and the press, has just been… I was not expecting that. I never expected to do [Diners, Drive-Ins, and Dives].
What's your favorite dish on the menu right now?
Rountree: I really like our Autumn salad. The dressing on it is a toasted sesame dressing. Apples and onions, shredded pumpkin that we get from Gross Farms. And it's got greens. I try to do one really hearty salad on every menu that has a lot of chewing involved it. And that's the one. It's just a good chewing salad.
What are you looking forward to in 2017? Either for The Table or for our city's dining scene as a whole.
Rountree: We're working on developing a job training program. It's going to be culinary training, but unlike other culinary training programs a lot of the folks we have in here really lack some of the basic skills you need to be successful at a job. Either no one's really taken the time to work with them or we have people who have been incarcerated and there's a whole different set of survival skills that aren't necessarily helpful in the workplace. So, people exhibit behaviors here that would get them fired from pretty much any other place, but we have time to work with them. Our goal in the end is for people to be placed in steady, good paying jobs.
How has The Table engrained itself in the culture of the Portland neighborhood?
Rountree: We treat people with respect. They have an ownership over this place. We've had 900 people sign our volunteer slips this last year, which is crazy. So, 900 people have put their hands on this place to help build it. Some of the people that have been coming in often, when they talk about The Table, this is their job and they work here and this place belongs to them.
Portland feels very electric with possibility. I feel very welcome in this neighborhood. I didn't really spend time down here until about a year and a half ago. I've got nothing but good things to say about how I've been treated by people in this neighborhood.
Who is a chef (or chefs) that are doing interesting things in Louisville that you think we should keep an eye on in 2017?
Rountree: The Seafood Lady, I mean all the hype, it's so right. I am so happy for her that she's doing so well and that she's being recognized because the food she puts out is so, so good. It's definitely worth standing in line for and eating out of a box in the parking lot.
I'm really excited to see people like Louisville Grows and the things that they're doing. We've gotten produce from them before. The people from Catholic Charities, some of the refugee groups, have really extensive farming expertise. And so Louisville Grows has harnessed that. They've given them a plot in the south end and they're growing all kinds of stuff and selling it. ValuMarket down there buying it and there's a few restaurants buying from them.
The ability to change people's mindsets through a good meal must be one of the greatest rewards of heading the kitchen at The Table. Can you speak to that a little and how it's inspired you as a chef.
Rountree: I can't control what happens when people walk out of this restaurant or what their lives are like. But they can come in here and have a meal that makes them feel like they are being pampered and they are being taken care of. Something beyond that basic level of needs. Give them enjoyment and leisure. Treating themselves.
I think we forget that a lot when we talk about low-income neighborhoods. We always want to talk about crime and drug addiction and nutrition, which are important, but I think we forget that people need to enjoy themselves.
To learn about The Table and support the work they're doing in the community, please visit their website.
Sign up here for our daily Louisville email and be the first to get all the food/drink/fun in town.