Drive around Louisville, and the scenes around you change quickly. Cast-iron façades and skyscrapers quickly turn to Victorian homes, shotgun houses, and dive bars. Drive a little further, and you'll find culs-de-sac that give way to busy commercial streets, then sleepy neighborhoods dotted with local restaurants. Each of Louisville's unique neighborhoods has its own look and feel -- and its own food and drink styles. We ranked all of Louisville's top neighborhoods for nights spent indulging in the city's best food and drink from the absolute best pizza to seriously good vegetarian options.
12. Beechmont/Iroquois
Head south of Old Louisville and you'll find yourself in the Beechmont/Iroquois area, where a large Vietnamese population has made this the go-to place for pho. Vietnam Kitchen is a Louisville institution, while other great spots like Annie Cafe offer more options for delicious Vietnamese fare -- try the vermicelli bowl. Also make a stop at Little Jerusalem Cafe for some excellent shawarma.
11. Anchorage/Middletown
Home to The Village Anchor, the newest LouVino location, a wine-lover's haven here in bourbon town, French restaurant Brasserie Provence, and Guaca Mole, the Anchorage/Middletown area is a haven of low-key upscale dining. It's also home to what is arguably Louisville's tastiest pizza place, Coals Artisan Pizza, as well as Momma's Mustard, Pickles & BBQ and Cuban restaurant Havana Rumba. From atmosphere to accessibility, any of these spots is sure to offer an amazing dining experience, showcasing some of the best food and diverse cuisine available here in Louisville.
10. Schnitzelburg
Germantown's little sister, Schnitzelburg is coming into its own, with the addition of Finn's Southern Kitchen, Lydia's House, and Monnik Beer Co. Of course, you also have the old standbys like Dairy Kastle, Nord's Bakery, Zanzabar, and The New Vintage. No longer is Schnitzelburg just a quick stop or a place reserved for Friday night, but is carving out its own place in Louisville's food scene, rising up as a destination for a really good meal any night of the week.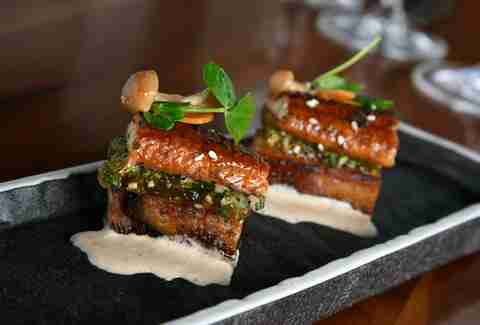 9. Old Louisville
Old Louisville is a diverse neighborhood, with residents ranging from college students to families who have passed their homes down for generations, and it's drawn in more and more dining options in recent years. Old standbys like Burger Boy Diner and Mag Bar have been joined by '80s-themed diner Slice, Pizza Donisi's inventive and delicious pizza specials, and the Old Louisville Brewery, the dog-friendly brewery just off of St. James Court. Toonerville Deli, Seafood Lady, 610 Magnolia, and Granville Inn (a great place for watching the Louisville game) also call the neighborhood home. Further south, you'll find amazing tacos at Coconut Beach Tacos & Cerveza and authentic Mexican cuisine at Santa Fe Grill and El Molcajete. Add to this the options at U of L, including the Comfy Cow's delicious ice cream in Cardinal Towne, and you'll see that food options in the area have positively boomed.
8. St. Matthews
While this area is known as a shopping mecca, St. Matthews is good for more than just malls. BBC, Momma's Mustard, Pickles & BBQ, Havana Rumba, Highland Morning, Simply Thai, and Molly Malone's all have locations in St. Matthews. You can also find Korean restaurant Charim -- beginners should order the bibimbap or bulgogi -- as well as Plehn's Bakery, 211 Clover Lane, The Ville Taqueria, and MexA Steak Tacos.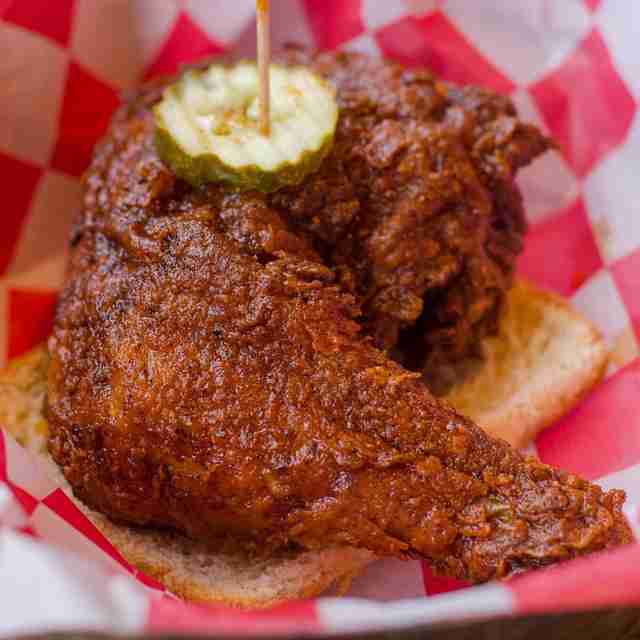 7. Crescent Hill
Just down the way from Clifton, Crescent Hill Craft House, Joella's Hot Chicken, Blue Dog Bakery, and Frankfort Avenue Beer Depot all line Frankfort Ave and feed the beautiful Crescent Hill neighborhood. Don't let the opulence of the reservoir's beautiful gatehouse fool you, these spots are friendly community spots, gathering places meant to feed the neighborhood. Grab a beer and some barbecue at FABD or stop into Crescent Hill Craft House for a cocktail and some Southern comfort food. Need some sweets? Annie May's Sweet Cafe offers desserts for a variety of dietary needs, including dairy-free, gluten-free, and sugar-free. Try the brownies -- you won't miss the gluten at all.
6. Clifton
Clifton is the kind of place where so many of the establishments feel deeply rooted in the neighborhood. Walk into the Silver Dollar (one of the best whiskey bars in America) or its neighbor Hilltop Tavern, and you'll join a crowd of friends and neighbors, many of whom stopped by for a drink while walking the dog. Explore more of the area and you'll find Sweet Surrender, Apocalypse Brew Works, Sergio's World of Beers (a wonder of the beer world), upscale French restaurant Bistro 1860, crepe place Four Sisters, At The Italian Table, classic pub the Irish Rover, new restaurant The Hub, El Mundo (those tacos, though), brunch paradise Con Huevos, and North End Cafe. Drop by a few of these places for lunch, dinner, or dessert, and you'll quickly find yourself looking up Clifton real estate options.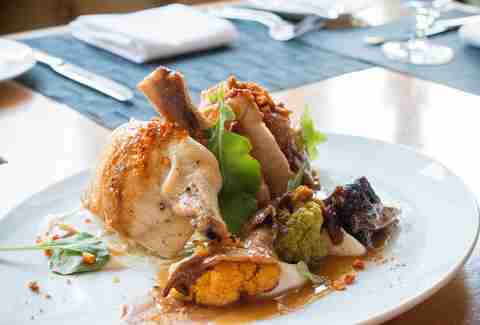 5. Downtown
Although it's been servicing office workers and out-of-towners, Downtown Louisville is having a revival, and it's home to some of Louisville's most highly-praised bars and restaurants. Chef Edward Lee's Milkwood is tucked under Actors Theatre, while Proof on Main resides in 21c. For the beer and bourbon crowd, fast-growing Against The Grain Brewery is located within Slugger Field and, just up the street, Haymarket Whiskey Bar (named one of the best whiskey bars in America) opens up the back room for small concerts. Rooftop bar 8UP and nearby Meta are the go-to spots for a night of cocktails. At Fourth Street Live!, TV personality Guy Fieri just opened Guy Fieri's Smokehouse. Recent initiatives to extend business east of Ninth St has given the perfect opportunity for Falls City Brewing to open the attached restaurant Over the 9.
4. NuLu
It's been a few years since NuLu rooted itself in what's technically Butchertown and Phoenix Hill. Even now, it feels like each season offers another round of great new restaurants and bars to open on E. Market. Royals Hot Chicken opened early this year to rave reviews, catty corner to its sister restaurant Feast. Grind Burger Kitchen, purveyors of some of the best burgers in Louisville, moved into the neighborhood when Taj and Galaxie opened their doors, as well. Please & Thank You remains one of Louisville's most popular coffee shops, flanked by The Louisville Beer Store, Akasha Brewing, Goodwood Brewing, Garage Bar, Rye, and Decca. Up the street a bit, Harvest continues to gain praise for its farm-to-table menu.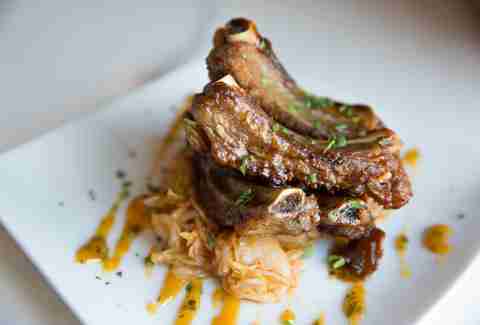 3. Southern Indiana
Those Louisvillians who are loathe to cross the bridge into Indiana don't seem to know what they're missing. Between Jeffersonville and New Albany, Southern Indiana offers a ton of food and drink options that rival any neighborhood in Louisville proper. Just over the Big Four Bridge, you'll find Big Four Burgers, The Red Yeti Brewing Company, Flat 12 Bierwerks, and Match Cigar Bar. Travel a little further to New Albany and the food options explode, with Feast BBQ, Toast, The Exchange, Dragon King's Daughter, Brooklyn & The Butcher, Gospel Bird, and NABC Bank Street Brewhouse. That bridge traffic kind of seems worth it, now. Begin your day with a brunch of eggs any way at Toast, and then grab beers at Flat 12, cocktails at Match, or the best fried chicken of your life at Gospel Bird. Finish the night in Brooklyn & The Butcher's secret speakeasy for drinks and jazz. Need something to help you recover the next day? Head to Big Four Burgers for a delicious burger, a milkshake, and a side of pork rinds.
2. Germantown
True to its name, Germantown is perhaps the best neighborhood in town for beer lovers. Nachbar and Four Pegs are essential spots for beer drinkers, and the newly opened The Pearl and Germantown Craft House add more quality options to the roster. While you're in the area, stop into Kaiju for some live music and Check's Cafe for a homestyle meal. Want classic German cuisine? Eiderdown offers an upscale experience. New York-style pizza from The Post and smoked brisket from Hammerheads are other fail proof favorites.
1. Highlands
If Louisville has a heart, the Highlands may be it -- Bardstown Rd is lined with a diverse collection of shops, restaurants, and bars, ranging from upscale restaurants to excellent, dirty dives. This hodge-podge of industry butts up against the beautiful Cherokee Park and the surrounding residential area, creating a high-traffic corridor that's alive all of the time. Within this are some Louisville hot spots, including bars like The Back Door, Holy Grale, and Highlands Tap Room, which are Louisville institutions. Restaurants like Ramsi's, El Taco Luchador, and Jack Fry's claim fame as some of the best places in town to grab a bite. Bunz Burgers, Gralehaus, Wiltshire Pantry, and the newly reopened SuperChefs are among the best of the dining options along this stretch. Pro tip: don't forget to stop by Kizito and grab one of those cookies... or 10.
Sign up here for our daily Louisville email and be the first to get all the food/drink/fun in town.