Jessica Fey
Jessica Fey
Chik'n & Mi is Louisville's Best New Restaurant of 2017
Everyone said the the oddly-shaped structure at 2319 Brownsboro Road was cursed. Any restaurant that moved in there was destined to shutter. A Domino's Pizza, a soul food joint, a Mexican restaurant, a Mediterranean restaurant… they didn't make it. What would make Chik'n & Mi any different?
It's what much of Louisville, especially in the Clifton neighborhood, had been saying for years. But husband and wife team Jason McCollum and Aenith Sananikone-McCollum, the owners of Chik'n & Mi, weren't buying it. "A lot of people came in here and they told us that," Aenith tells Thrillist. "We were nervous, but we know we can cook good food, and it's not one particular type of food."
Head chef/co-owner Jason chimes in: "We were looking for a place that was underappreciated. There are a lot of more popular neighborhoods, but that comes with expensive rent. We were looking for a neighborhood that was a little underserved, get a good price on the rent, and put the value back in the food."
The McCollums, who met while studying at the Culinary Institute of America in New York, needed to first get people to forget about the curse. They started with some tweaks on the design by adding a deck, a bar, and completely remaking the interior, all by hand. They even went so far as to throw down new flooring -- a touch Aenith took care of herself.
"I put the floors in, he did the ceiling," Aenith says. "For about three months, we were here 16 hours a day. Would I lay floors again? No. I don't care if they paid me."
Then came the food. And of course, it's all about the food. Both Jason and Aenith say the menu is still technically in development. But (for now) the focus is squarely on fried chicken with an Asian twist, along with ramen. Or as Aenith puts it: "Ramen and chicken, and everything in between." Fried cauliflower has been a big hit, as has the bone-in chicken and chicken nuggets, which can be ordered tossed in house-made sweet soy, jaew bong, or X-tra Hot sauces, or naked with a side of peppercorn ranch. The recipe is gluten-free, which has pleased quite a few customers.
If it's ramen you're after, you can choose from coconut ginger chicken, garlic miso pork, or vegetarian. There are also plenty of appetizers and sides, like the aforementioned cauliflower, bonito fries, seared octopus, tofu lettuce wraps, and plenty more. If it's brunch you're after, that's served every Saturday and Sunday. You can also expect more menu items to rotate in and out soon, namely due to seasonal availability. This, Jason said, will keep the regulars interested, while also allow the restaurant to branch out with the menu.
"We want to see what Louisville likes and wants," Aenith says, adding that there are cult followings for a number of dishes which won't be going away.
The plan is to ultimately expand on the concept and open more restaurants, which is certainly an attainable goal given the way Louisville has embraced the restaurant (and it doesn't hurt that Jason also has experience opening and operating restaurants in New York City, Nashville, Seattle, and LA). As of now, there's no timeline in place for a large scale expansion, but if the tide keeps turning the way it has so far at Chik'n & Mi, other neighborhoods -- and perhaps other cities -- might be getting a taste of what's made the restaurant such a standout.
"We'd like to expand on some aspects of the concept," Jason says. "Refine it a little bit. We're still just kind of playing it by ear right now. We'd like to figure out what our main goal is and what product we want to expand upon -- make sure we're solid financially."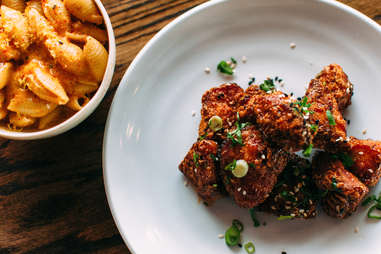 Chik'n & Mi attracts plenty of vegetarians and vegans, and even quite a few families, even though there's no children's menu, per se.
"If we can't cook it, we're going to learn about it," Aenith says. "Our menu has something for everybody."
But if the proof is in the clientele, it doesn't hurt that Chik'n & Mi has gained the attention of many of Louisville's best-known chefs and restaurateurs. Notable fans include Seviche's Anthony Lamas, Butchertown Grocery's Bobby Benjamin, Mayan Café's Bruce Ucan, Proof on Main's Mike Wajda, and even Elliott Graham of Top Chef fame.
Perhaps the curse on 2319 Brownsboro Road has finally been lifted. The McCollums certainly have left it behind as a mere speck in the rearview.
"We had an array of different concepts and ideas we thought would fit into various neighborhoods," Jason says. "We thought this would be most appropriate for the neighborhood and our budget. It just felt like something that would be a good fit for Louisville." And he's not wrong.
Sign up here for our daily Louisville email and be the first to get all the food/drink/fun in town.
Kevin Gibson is a Louisville, Kentucky-based author who writes about everything from food to beer to the great city he calls home. In his nearly three decades as a writer, he has won numerous awards for his work. He currently lives in the Clifton neighborhood with his dog, Atticus.