W
hat exactly is Louisville-style pizza? We wish we had a good answer for that. Louisville boasts such a wide variety of pizza joints with such varying approaches that there really isn't a
definitive
pizza style the city holds forth -- even if Impellizzeri's once claimed to have that market cornered.
Be it a margherita pizza or meat lover's, thin crust or deep dish, pizza is a big deal in the 'Ville, and these spots offer up some of the best pies in town. Plus, if you're looking for some genuinely excellent Italian restaurants of all kinds, Louisville is truly a great place to be.
Clifton
Hand-tossed pizzas at an excellent price
Set in a massive arts complex that once was a meat processing plant, Danny Mac's has made its hay in recent years as one of Louisville's top options for pizza at a great price. Since opening in the Clifton neighborhood, it's become a local go-to, particularly with the unfortunate closing of long-time favorite Clifton's Pizza. Start off with the mouth-watering Cracksticks, then grab one of the pizzeria's thick and gooey slices or pies -- and take a moment to relish the crispy edges on that hand-tossed crust. Also, the Philly cheesesteak is a winner, and should you be in the Audubon neighborhood, there's a second place to get D-Mac's: Tim Tam Tavern.
Germantown
Grab a signature slice in the voguish part of town
The Post has become a Louisville destination -- especially for the younger crowd -- where they flock to get the slice of the day and a couple beers on the patio. The pizza comes out as thin, New York-style pies, and while building your own is always an option, there are some delicious signature pizzas with monikers like The Army Brat (topped with bratwurst and jalapenos) and The New Colossus (with pesto sauce and chicken). The slice of the day is a chef's-whim surprise, but past selections have included jalapeno corn dog pies and a chicken Caesar salad pizza.
Butchertown
Traditional Neapolitan pizza in a historic setting
This place is located in an 1860s-era brick building, which already gives it an old-school feel, and vintage movie posters inside go right along with that vibe. But it also feels progressive in the way the interior is set up and arranged. It also doesn't hurt that LUPO's owned by seasoned musicians who also happen to love Italian food -- especially Neapolitan-style pizza. All of it's made from scratch, with fermented dough made fresh daily. So authentic is Pizza LUPO that the signature pizza oven was imported from Modena, Italy.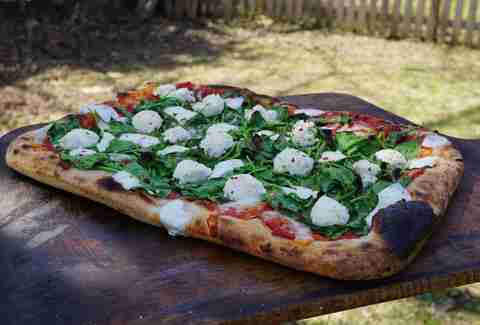 Anchorage
Wood-fired pizzas as well as an amazing bakery
Sure, the artisan, wood-fired pizzas are front and center here, but this pizzeria also doubles as a grain mill and bakery, with some of the best pastries in the city (those chocolate chip cookies though). But the entire restaurant, which resembles what might happen if you crossed a cathedral with a bard, was hand-built by owner Tom Edwards, and includes a pair of giant chairs, as well as a giant, 23-foot-tall grandfather clock. Hell, Tom even made the table tops. Naturally, the pizzas are as original and creative as everything else in the impressive restaurant, from the traditional margherita pizza to the signature sweet onion marmalade pie. It's destination dining at its best.
NuLu
Great farm-to-wood-fired-oven pizza
Housed in an old auto service station, Garage Bar uses local veggies and housemade meats to top its pizzas, which bake in a blistering wood-fired brick oven imported from Italy. While you're there, get yourself a tasting platter from the ham bar (yes, a bar dedicated to country ham) to pair with your pie. And don't leave without trying the margherita. Sure, it's perfect on its own, but there's no harm in adding shaved country ham, a farm egg, and fried kale chips. The car-themed décor and patio are worth a visit on their own if you just want to stop in for a beer or signature cocktail.
St. Matthews
Neapolitan-style pizzas inspired by Louisville 'hoods
Coals made an instant impact in Louisville with its Neapolitan-style pizzas, which are flash-cooked in a crazy hot oven until crisp and just barely burnt at the edge. A number of specialty pies are aptly named for Louisville neighborhoods, each topped with a union of fresh ingredients depicting the character of each corner of the city. The Crescent Hill is a classic: topped with Nueske's bacon, ham, marinara, fresh & shredded mozzarella, pineapple, and Parmesan, but we also fancy the Clifton, with Italian sausage, caramelized onions, piquillo red peppers, and fresh mozzarella.
Highlands
A thick, gooey Louisville original
Benny Impellizzeri coined the term "Louisville Style Pizza" in 1979 when he began selling his signature creations out of his father's butcher shop. Years later, Louisvillians still line up for Impellizzeri's original pizzas, with double layers of cheese and toppings making up these ample, over-the-top pies. If you're really hungry (and have time to spare), order your pizza Sicilian deep dish-style -- it's monstrous, and well worth the 45 minutes it takes to bake. Just make sure you bring some friends alon
Highlands (& other locations)
Setting the bar high since '93 with their house-made dough
Wick's has been a staple since '93, and the success of its large, piled-high pies has led it to open additional locations around the Louisville area. Loaded with cheese and a generous heaping of finely diced toppings, each pizza is baked until bubbling on housemade dough. Hell, a basic pepperoni pizza at Wick's is in a league of its own, but there's plenty more. The bacon chicken ranch pizza is topped with chicken and bacon (duh), and layered with plenty of mozzarella on top of some delicious ranch sauce. It's something you should try at least once (but it'll probably be more than that).
Bonnie & Clyde's
Pleasure Ridge Park
Louisville's premier pizza dive (and best in the South End)
Bonnie & Clyde's has been turning out the South End's best pizza for more than four decades, and while its decor could arguably use some updating, we hope that at least the recipes for the thin-crust pizza never changes. There aren't many pizza joints where you can top your pie with ingredients like Alaskan salmon, salami, and imported anchovies. They even make their own Italian sausage in-house. Try the Pizza Galore, which piles a little bit of everything on top. Just remember: order pizza at the counter on the left, beer at the counter on the right, and don't forget your greenbacks -- it's cash only.
Highlands (& other locations)
Unique, adventurous pies with high-quality ingredients
Focusing on premium ingredients, Boombozz's menu offers a number of unique specialty pies, from the familiar (the pesto Roma pizza with pesto sauce, four cheeses, and Roma tomatoes) to the adventurous (the Carnitas Libre with carnitas, ranchero sauce, and caramelized veggies, served with garlic sour cream and green chili jam). You can't go wrong with those or the Greco, the Primavera, Brisket, or the Chicken Sausage Peppadew. Should you become increasingly indecisive, you can always opt to just build your own. And the softball sized meatballs make a great appetizer.
St. Matthews and Highlands
Home of the infamous Gibbon pie
There's plenty to choose from at DiOrio's Pizza & Pub, with hoagies, wings, and a variety of fried cheese dominating the first half of the menu. But it's the pizza that keeps people coming back. Each one of DiOrio's pizzas is topped with house-made mozzarella, which serves as the piece de resistance of this Italian-inspired pub experience. The Gibbon pie sports signature, homemade marinara sauce and is layered with a mess of toppings including pepperoni, Italian sausage, meatballs, ham, tomato, onion, green & black olives, fresh mushrooms, and green peppers. You can get a single build-your-own slice at lunchtime for cheap, and, well, it's likely all you'll need for lunch.
Southern Indiana
Tasty, cracker-thin pies just across the river
A well-kept secret to many Louisvillians, Steve's Pizza King is an offshoot of an exclusively-Indiana chain that started back in the 1960s. This unique pizza is cracker thin, with toppings chopped into tiny cubes. The stone ovens cook the crust until it's scorched on the bottom, adding an interesting depth to the flavor, with the edges becoming crispy and the middle remaining pliable. Another aspect that sets Pizza King pies apart is that they are cut into squares instead of triangles, so be sure to grab three or four pieces at once before they're all gone. Try the BBQ pizza for sure.
Butchertown
A resurrection of an old favorite with New York-style slices
When Papalino's finally closed its doors in the Highlands, there was a collective groan that spread out across the entire area. It was a go-to for gigantic New York slices with fresh ingredients. Late-night or lunch, you could always count on quality. But it only took a couple of years for owner/chef Allan Rosenberg to re-imagine his beloved pies and open a new concept not too far away. There are a handful of signatures here, such as the 'Merica, with crispy potatoes, bacon, ranch, and green onions, but most folks just build their own, and mix and match. That is, if you can eat more than one of these enormous slices. Much of the meat is housemade or house-cured, and the veggies are all local.
Sign up here for our daily Louisville email and be the first to get all the food/drink/fun in town.