Given our reputation for making damn good fried chicken, and the intense love Louisvillians have for all things pork, one could mistakenly believe that being a vegetarian in this city is a sad existence. Luckily, Kentucky also grows a bounty of fresh vegetables, and when they're coupled with the talents of more than a few local chefs, these can make for a happy and thriving vegetarian food scene. Here's our list of Louisville's very best vegetarian- and vegan-friendly dining destinations.
Recommended Video
Go Green With Kale Pancakes
Highlands
Sitting side-by-side on Bardstown Rd, Roots and Heart & Soy are two different restaurants sharing the same motto: "mindful, compassionate cooking." Opened by Louisville restaurant veteran Huong "CoCo" Tran in 2011, Roots is the upscale dining end of the restaurant, a delicious counterpart to Heart & Soy's predominantly carry-out operation. Both establishments boast entirely vegetarian menus and offer a variety of options for those with food allergies and restrictions. Each restaurant features classic Vietnamese dishes and a long and impressive list of loose leaf teas. They even make their own tofu, with the process on full display in Heart & Soy's dining area.
Highlands
Ramsi's Cafe on the World has long been a Louisville tradition, serving up dishes from around the globe in its eclectic and perfectly unique dining room at the corner of Bardstown Rd and Longest Ave. There is truly something for everyone here, with vegetarian dishes carrying equal weight on the menu to the meat-heavy counterparts. Seitan chilaquiles, Medjool dates stuffed with house-made cashew cheese, and an East Indian paella are just a few of the meat-free highlights, with many of the vegetables coming from the restaurant's very own Raising Hope Organic Farm, located in eastern Jefferson County.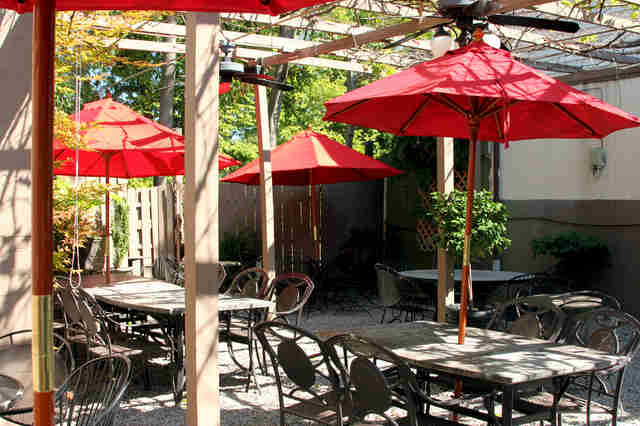 Clifton
Ask around, and you'll likely find that The Grape Leaf makes the cut for many local's top 10 favorite dining spots in the city. Middle Eastern flavors are central at this cozy Clifton restaurant, and the tree canopy-covered patio is the place to be whenever the weather permits. An order of the house-made hummus is the ideal way to kick off a meal of Indian-inspired vegetarian biryani or moussaka. And if you live in the Highlands and aren't up for the short drive to Clifton, swing by ZÄD Mediterranean, The Grape Leaf's more casual sibling, located on Grinstead between Baxter and Bardstown.
Clifton
Zen Garden is the go-to for meat-free Chinese food in Louisville. Using fresh ingredients and a modern approach, Zen Garden serves up Chinese dishes to Clifton residents and has long established itself as one of the neighborhoods most beloved eateries. Like spice? Then the Singapore noodles are for you.
Around town (food truck)
Whether you're a devout vegan or a lifelong carnivore, the comfort food turned out by the V-Grits food truck is going to be up your alley. Go for items like the Loaded Mac, made with V-Grits' own vegan cheese and topped with jackfruit BBQ, or the massive "Where Do You Get Your Protein" burger (hint: it's not cows). There are always more than a few daily specials to choose from, too.
Bowman
The addictive quality of injera, the traditional Ethiopian flatbread used in lieu of forks and knives, is beyond measure, and is one of the many reasons Queen of Sheba keeps us coming back again and again. Featuring classic Ethiopian cuisine, Queen of Sheba's dishes are served together on one large platter, encouraging sharing and a sense of community at the table. While there is plenty on offer for meat eaters in the group, the vegetarian options are just as satisfying. If you ask us, the vegetarian combo platter featuring misir wot, atakilt, and gomen wot is the only way to go.
Hurstbourne
Bombay Grill's lunch buffet is the single best way to satisfy your Indian food cravings. This all-you-can-eat spot is loaded with fresh naan, tandoori vegetables, and rich, healthful vegetarian favorites like mattar paneer, malai kofta, and dal thadka.
Iroquois
Vietnam Kitchen attained legendary Louisville restaurant status several years ago. Located in a small strip mall on the outskirts of the Iroquois neighborhood, its menu is comprised of classic Vietnamese dishes, with vegetarian favorites like avocado spring rolls, pineapple & tofu curry, and stir-fried mock duck with green beans ready to satisfy even the strongest Vietnamese food craving. This family-run restaurant is low on frills but big on flavor, and we can only hope it will continue to flourish for years to come.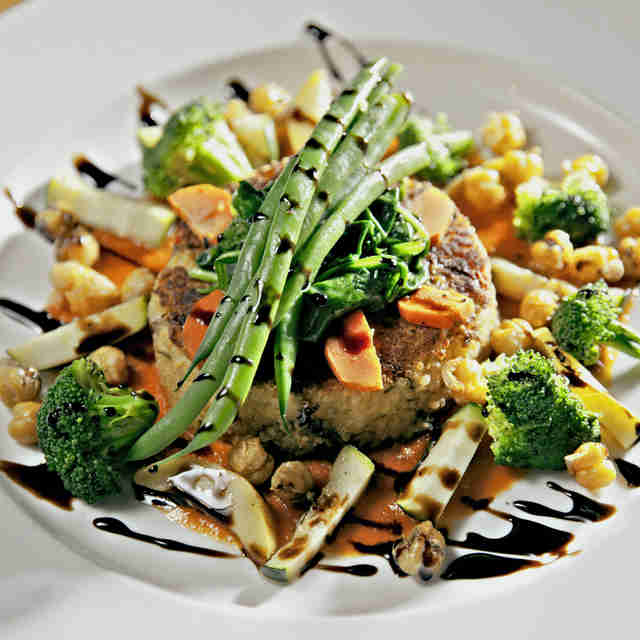 Clifton
Now in its 13th year, North End Cafe is the gold standard of all-day dining in Louisville, serving up breakfast, lunch, and dinner to hungry locals. Quality vegetarian and vegan options abound here, from vegan breakfast tacos to chickpea-quinoa cakes with grilled vegetables, goat cheese, and red pepper coulis (yeah, that one's kind of a stand-out). The award for our favorite meat-free dish, however, goes to the sesame noodle salad, a cold salad of soba noodles, cabbage, and carrots all tossed in a flavorful sesame ginger dressing.
St. Matthews
It's all about the hot stone bibimbap at Charim, Louisville's favorite Korean restaurant… OK, it's also about the kimchee fried rice, of course… and then there's the soybean paste soup, and, well, you get the picture.
Highlands
All those living a gluten-, peanut-, soy-, and meat-free life, take note: NOLAFARE is now open in the Highlands! Just over a month old, the NOLA in NOLAFARE stands for non-GMO, organic, life-giving, allergen aware. Owners Adriena Dame and Julia Crittendon aim to make eating out a fun and easy experience for those with food allergies. All items on the menu are free of meat, gluten, soy, and peanuts, and are made with organic, non-GMO ingredients. What NOLAFARE lacks in food allergens it more than makes up for in flavor, with menu items like the sassy kale wrap, sea carrot rolls, and a variety of freshly baked pies.
Buechel
The family-owned Mt. Everest View restaurant brought authentic Nepalese food to Louisville just last year, opening in the Buechel Station Shopping Center in July of 2015. Although there are several Indian dishes on the menu as well, it's the classic Nepali recipes like momo (dumplings) and thukpa (pasta soup with spices) that have us coming back time and time again. And nearly every item on the menu is offered with or without meat, ensuring that there will be something to please every one of your friends.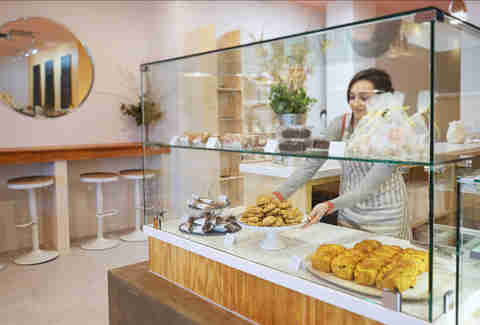 St. Matthews
This deli-style establishment features a variety of breakfast and lunch items, all made entirely of meat-free ingredients. Vegan sweet treats are on offer as well, including a variety of donuts and salted chocolate chip cookies.
Sign up here for our daily Louisville email and be the first to get all the food/drink/fun in town.