Louisville's 8 Best Bacon Dishes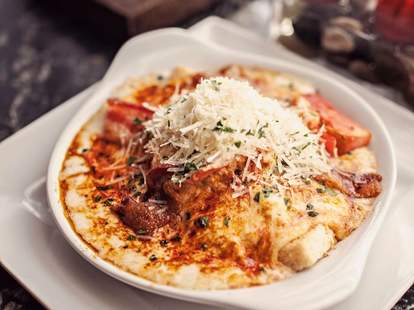 Courtesy of Chris Witzke
Yes, bacon has been a bit overexposed in the past few years, but there's a good reason for that: it's effing delicious. Also, it pairs really well with bourbon, which basically means that Louisville was built for it. And these eight local porcine dishes are here to prove it...
Hot Brown
The Brown Hotel (address and info)
Downtown
Without bacon, we would have no Hot Brown. Thank goodness we have bacon.
Bacon & Cheddar Pancakes
North End Cafe (address and info)
Crescent Hill & The Highlands
North End has cornered the market on pancakes, flipping up some of the fluffiest stacks in town. The addition of bacon and cheddar to its signature breakfast dish may seem outside the box, but it's oh so right, confirming once again, that sweet and savory are a match made in heaven, especially when bacon is involved.
Lindsey McClave/Thrillist
Maple Bacon Donut
Nord's Bakery (address and info)
Schnitzelburg
Nord's solidified its place in the Louisville donut hall of fame several years ago and went stratospheric with the introduction of its maple-glazed bacon confection. A crispy slice of bacon lends just the right amount of salty goodness to this otherwise perfectly sweet donut. Why not bring together America's two favorite breakfast items? We can't think of a more well-rounded way to start the day... or afternoon... or evening...
Pork Belly on a Stick
Against The Grain Brewery (address and info)
Downtown
Bacon on a stick. Need we say more? The only thing you need for these thick-cut slices of sorghum-soaked pork belly is a quick dip in the molasses glaze served alongside. That and one of Against the Grain's ever-changing, award-winning brews.
Lindsey McClave/Thrillist
Bacon Sampler
Ann Marie's Bacon Bar (address and info)
J-Town
A gratuitous love of pork is the foundation of this new addition to the Louisville restaurant scene, and with nearly every dish on the menu bacon-infused, it's practically impossible not to fulfill your piggish cravings at Ann Marie's Bacon Bar. So whether you order a classic BLT or the bacon-wrapped meatloaf, we suggest kicking off your pork-infused experience with the Bacon Sampler. Four varieties of its house-cured bacon offer a delicious glimpse into the varied world of cured meats, with the duck, beef, and turkey giving the classic pork bacon a solid run for its money.
Courtesy of Down One Bourbon Bar & Restaurant
Three Little Pigs
Down One Bourbon Bar & Restaurant (address and info)
Downtown
Pig on pig on pig. Roasted pork belly is topped with pulled pork and then finished with a layer of freshly fried bacon. A helping of BBQ mustard, cole slaw, and pickles are the icing on the cake of this truly awe-inspiring pork-fest.
The Bacon Breakfast Burger
Mussel & Burger Bar (address and info)
J-Town
Among a long list of superb burgers on the Mussel & Burger Bar menu, you will find the B.B.B. -- the Bacon Breakfast Burger. All of the best things about the most important meal of the day are sandwiched between two slices of bread, and the maple syrup-glazed pork belly is the piece de resistance of this mammoth burger, which is served with sweet potato fries and a smoked pineapple dipping sauce.
Lindsey McClave/Thrillist
Benedictine & Bacon sandwich
Stevens & Stevens Delicatessen (address and info)
The Highlands
Stevens & Stevens doesn't shy away from loading its signature deli sandwiches with bacon; its BLT is piled high with six slices of Applewood smoked goodness and the Hogs & Heffers offering layers hot honey ham, bacon, and pimento cheese between two slices of brioche. It's the Benedictine & Bacon that takes the cake for us, however, with Louisville's signature cucumber-laced spread topped with perfectly crisp fried pork.
Sign up here for our daily Louisville email and be the first to get all the food/drink/fun in town.