Now that the cat's out the bag and everyone in the other 49 states has realized that Louisville is a fantastic city, prices on most things have begun to travel north. Thankfully, though, part of being a fantastic city means remaining chock-full of delicious-yet-wallet-friendly eats...
Germantown
What you're getting: Large Derby Cone dipped in chocolate, $4.05
It's not officially summer until you've had your favorite cone or dog at Dairy Kastle, Louisville's most classic of walk-up-and-order-at-the-counter establishments. And getting the best bang for your buck is easy here, as virtually everything on the menu comes in under $6. Dairy Kastle is a seasonal treat, so hurry up and get your cone on before the sun sets on this go-to's 2015.
Old Louisville
What you're getting: Ollie Burger with cheese, $3.35
Don't forget to bring your cash, but not to worry, you'll basically just need sofa change at Ollie's. Perched at the corner of South Third and West Kentucky Streets, the Trolley has been a go-to in Old Louisville for years, with lines of hungry lunch-goers anxious to get their greasy-burger fix forming Monday through Friday. Like any good salt-of-the-earth establishment, the menu clocks in on the cheap and, while we recommend the burger, the sub-$5 options are seemingly endless.
Highlands
What you're getting: Carnitas taco, $3.50
The taco and torta game is on point at El Taco Luchador, the fast-casual joint that took up shop on Bardstown Rd in January 2014. We're partial to its highly flavorful pork taco concoctions, but also find the Baja fish and asada tacos addictive. With all tacos landing at an affordable $3.75 or less, why not sample the trio?
NuLu
What you're getting: Chocolate chip cookie, $1.75
This highly successful hipster haven is home to what many consider to be the best chocolate chip cookie on the planet. Grab a cup of its house blend to pair with your sweet treat and spend some time perusing the eclectic vinyl on sale at Mr. Friendly, the small record shop located in Please & Thank You's back room.
NuLu
What you're getting: Sally Lunn Roll, $1
With a terrific bar program and an ever-changing menu of inventive and locally inspired fare, there are more than a few reasons to visit RYE on Market. One constant that we can't get enough of, however, is its Sally Lunn Roll. Served warm with salted butter on the side, these rolls manage to be dense and rich and light and airy at the same time. They are made in-house and are a must-order with any meal.
Highlands
What you're getting: Chips & dips, $4
House-made chips are served with not one, not two, but four dips, including guac. For less than $5. Your margarita has never been happier. Not feeling chips and dips? All of the tacos at El Camino are terrific and are $4 or less. Dig in.
Germantown
What you're getting: Giant Slice of the Day, $4
The POST answered Louisville's call for true New York-style pizza in January of this year, serving up massive foldable slices of pie from its Germantown digs. A host of creative and classic topping combinations are available in 12, 16, and 20in sizes, however it's the rotating, Giant Slice of the Day that wins the prize for best value. A pizza purist? Regular ol' cheese and pepperoni are available by the giant slice as well, for $3 and $3.50, respectively.
Highlands
What you're getting: Benedictine & Bacon, $4.95
We've sang this sandwich's praises before and we'll sing them again... it's hard to beat the deli-greatness of a Benedictine & Bacon from Stevens & Stevens.
 
Multiple locations
What you're getting: Simply Southern in a waffle cone, $4.98
We as Louisvillians are partial to homegrown goodness and our love affair with Comfy Cow's 'ville-born ice cream is passionate. Don't let the lines deter you, this treat is well worth waiting for, especially a scoop of the signature Simply Southern, butter pecan ice cream mashed up with all things delicious about the South, including chunks of pecan pie, chocolate chips, and a splash of Old Forester bourbon.
 
NuLu
What you're getting: Boiled peanuts, $5
Don't knock 'em 'til you've tried 'em. They're beer -- and Ping-Pong's -- best friend.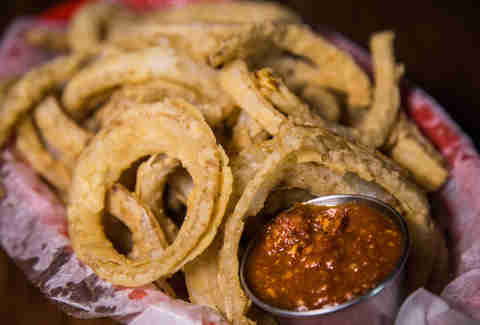 Clifton 
What you're getting: Onion rings, $5
These aren't your run-of-the-mill deep-fried slices of Vidalia. Silver Dollar dolls up its onions in a thin and crunchy coating of cornmeal, frying until crisp and meth-level addictive. Served with a side of made-in-house smoked ketchup, these onion rings are a heckofa deal in our book and beat out a basket of regular ol' fries every time.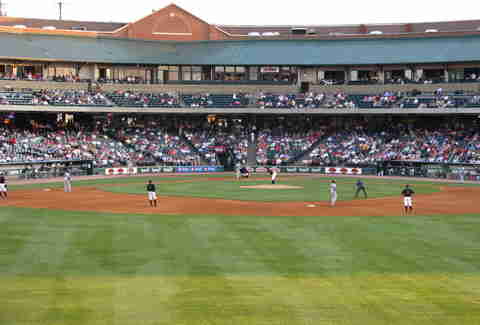 Downtown
What you're getting: $1 hot dogs on Tuesdays
We're pretty sure it's a felony not to eat a hot dog at the ball field. Luckily, they're available any day of the week at Slugger Field, but we recommend heading to watch the Bats play on Tuesdays, when dogs are a mere dollar a pop. Busy on Tuesday? Reschedule for Thursday, when they sling beer for a buck.
Highlands
What you're getting: Butter croissant, $5
Ordering a simple butter croissant amid the array of fresh-baked goods on display at Wiltshire Bakery & Cafe may seem too ordinary, but trust us... this is the best croissant you will find this side of Paris. It's just that good.
Sign up here for our daily Louisville email and be the first to get all the food/drink/fun in town.