Over the 9 is out to disprove two stereotypes: yes, you can cross over Ninth and Main and no, not all Kentucky-made wine sucks. Located in the industrial space that formerly served as the tasting room for Falls City Beer and Old 502 Winery, the menu offers up plenty of gastropub fare to pair with these local libations. A variety of small plates like lamb nachos w/ beer cheese & chimichurri are ideal for sharing and the creative burgers (did someone say chorizo burger with avocado purée and sunnyside-up egg?) offer a twist on the traditional Angus, which is also up for order, if you're keeping it classic.
After a year run as Rumplings, the Highlands' first ramen shop, the ever-creative visionary team of Dustin Staggers and Eric Morris decided it was time for a change and made a quick and complete overhaul of their tiny space on Highland Ave. The hot bowls of homemade noodles are now replaced by the most massive and epic of sandwiches, hence the name and spirit of this new establishment. Each creation is a monster, such as the huge pressed Cuban, or the fried pig and cheese: a sourdough behemoth served with your choice of fried mortadella or fried country ham buried with four different kinds of cheese and served with a sorghum-grape aioli dipping sauce.
Nestled in the old Uncle Maddio's location at the bustling corner of Grinstead and Bardstown Rd, Fontleroy's is a tasty blend of classic American cuisine with a healthy dose of southern influence. Dishes like duck & waffles with foie gras butter and bourbon maple syrup and fried green tomatoes with blue crab, roasted corn chow chow, and comeback sauce are part and parcel with watermelon and heirloom tomato salad and a goat cheese and Tillamook cheddar mac. Word on the street is that Fontleroy's serves up a mean cocktail as well; we suggest enjoying one on the Grinstead-facing patio during these perfect fall months.
We were pretty crushed when La Coop announced it would be shutting its French bistro doors on New Year's Eve this past year. Our spirits were quickly lifted, however, when the gastronomic and mixology geniuses behind Rye on Market revealed that they would be opening Galaxie Bar, filling a gap in the NuLu restaurant scene as the affordable neighborhood watering hole. Both the food and drink menus are short but spot on, the sharable meal offerings an interesting mix of Indian and Mediterranean flavors, and the cocktails stiff and complex, the house margarita setting the example for what all margaritas should aspire to be (and yes, you should order it spicy).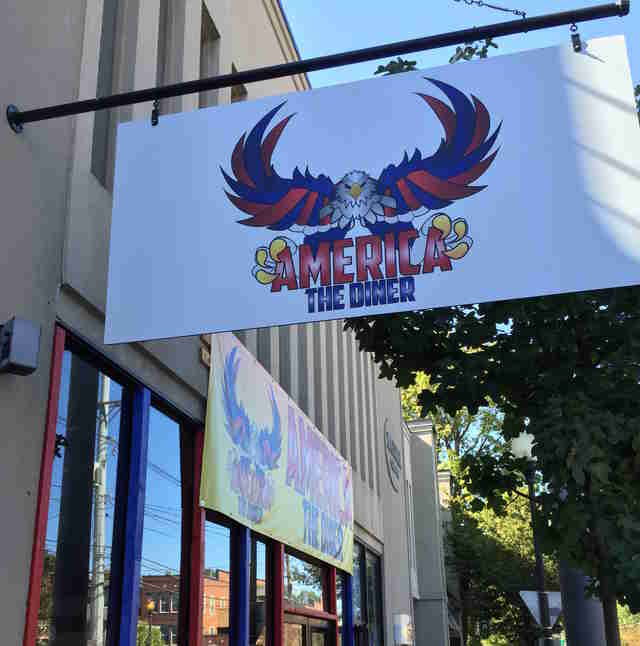 The menu here pays homage to the typical, beloved diner fare, but is not without creativity and excess, the Dirty South burger and/or hot dog featuring a diet-breaking combo of toppings including three-cheese mac and jalapeño roasted garlic aioli, with a crispy fried green tomato added to the burger and a thick slice of bacon to the hot dog. Best part? It's open 24-7 on the weekends and is located just a few steps from the Baxter Ave bars.
Hot chicken isn't just for Nashville and, given the fact that fried chicken is a Kentucky staple, it seems only right that this fast-growing we-hope-it-never-ends trend has crossed state lines into our bluegrass. While there are other hot chicken establishments in the works, Joella's is one of the first out of the gate and is off to a strong start, with veteran Louisville restaurateur Tony Palombino (of Boombozz Pizza fame) at the helm of the ship. Joella's hot chicken is brined overnight, fried to order, and tossed in your choice of seasoning oil including "tweener" (medium), hot, and "Fire-in-da-Hole" which is helpfully described as "inferno."
You could practically hear the jubilation all the way from Anchorage when restaurateur Kevin Grangier (of Village Anchor fame) announced he would be taking over the past-its-prime KT's and introducing Louisville to Le Moo, his take on a steakhouse with plenty of flair. Case in point: the Louis Vuitton booth, which was fashioned from the clippings of several vintage Louis Vuitton suitcases and bags. While steak is the restaurant's primary draw, there is something for everyone on Le Moo's menu, with salmon, sole, and a vegetarian cassoulet being worthy challengers to the beef that inspired the restaurant's playful name.
For a while it seemed like the old Azalea spot would never be replaced, the future of this location in the middle of a stretch of restaurant desert fraught with debate. Mesh finally put speculation to rest. Vast and modern, Mesh is a departure from Azalea in every way, the extremely popular patio the only sign of what once was. Enjoy upscale offerings like the tuna stack appetizer, and duck confit with waffles. What has proven to be the most popular thing about Mesh is the nightly drink specials, with half-priced martini Wednesdays giving locals a reason to stay out late on a school night.
Sign up here for our daily Louisville email and be the first to get all the food/drink/fun in town.
Lindsey McClave is a Louisville writer who is just glad pollen season is over. Follow her on Twitter at @FoodieGirlKY.
Recommended Video
Winter Starbucks Beverages Around The World