The 8 best food trucks in Louisville
The Yum! Center aside, some of the best fast food in Louisville is literally just that -- and although The 'Ville might have waited a few years to hop on the food truck scene, that definitely doesn't mean that we don't have a plethora of options to choose from. These are the best...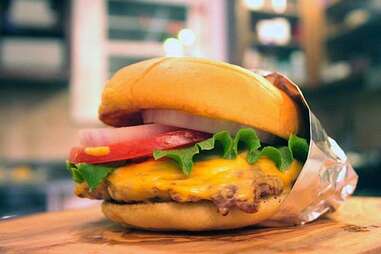 One of the original food trucks to hit the scene in Louisville, Grind has even climbed its way up to a bricks and mortar -- but its trusty wheels certainly aren't going anywhere any time soon (figuratively. It will literally be going places). Its burgers have changed the beef & bun scene in town forever, and forced everyone to up their game.
What you're getting: The Chain burger -- American cheese, smoked ketchup, and house-made spicy pickles. Definitely add the egg.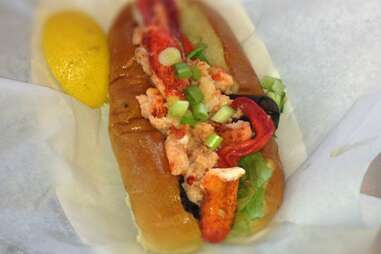 Like their name leads one to believe, they are best known for their rolls, but their chowders and cheddar biscuits are equally good. If you're feeling exotic? Go for their Greek yogurt-laden Maine-style rolls.
What you're getting: At the risk of sounding redundant, the lobster roll (traditional style).
Not the usual food truck you might say (you can grab a pastry of course), but the bearded fellows serving up espresso with a smile here emanate a love for creating delicious caffeine fixes. The beans are roasted locally, their espresso machine is a beast, and the results are near-perfect every time.
What you're getting: However you like your coffee, they'll make the best version of it.
What's your favorite donut? Well, whatever it is, you'll find it at Hi-Five. We know this because Hi-Five will literally make your pastry ring to spec -- choose toppings (like applewood bacon, candied cherries, etc.), and glaze (caramel-bourbon, p-nut buttah, and a ton more), and they'll put it together before your eyes. Of course, you might just accidentally invent their most popular pre-made number, the Caramel Bourbon Pecan...
What you're getting: Did you hear us? Caramel. Bourbon. Pecan.
With a rotating menu, one never knows what they'll end up snagging at Holy Mole, but it's guaranteed that they won't be disappointed. From crowd favorites like their soft-shell crab tacos to killer vegetarian options like Korean BBQ tofu with kimchi tacos, they're on this list for a very delicious reason.
What you're getting: If they have 'em, fish tacos. Basa fish lightly fried & thrown in jicama chipotle slaw w/ avo.
Unlike any other food truck in Louisville (or maybe the whole of Kentucky?), Jam Pan serves up traditional Jamaican-style fare, using only Jamaican-sourced spices, seasonings, and Scotch bonnet peppers. The result is pretty spectacular.
What you're getting: Not many places do jerk pork, and even fewer serve it with traditional hard-dough bread.
One of the crowd favorites in Louisville is Lil Cheezers, for the simple reason that they serve up some of the best grilled cheese this side of the Mason-Dixon line. They roll with a nicely varied cheese lineup (American, Brie, mozz, smoked Gouda, etc.), and will generally make your own favorite to order.
What you're getting: Legalize Marinara; a combo of pepperoni, mozz, and tomato sauce between slices of bread.
Craving an authentic Philly cheesesteak? Well look no further than Johnny's Diner Car. It takes the decor, theme, and menu of an old-school diner, and makes it mobile. Alongside the healthy steak sandwich menu, you can also get four types of fries, incl. portions covered in Cheez Whiz and some loaded w/ bourbon-smoked garlic salt & fresh minced garlic (served with a breath mint).
What you're getting: The Twist and Shout steak sando is covered in BBQ sauce, and pretty dependable.
Sign up here for our daily Louisville email and be the first to get all the food/drink/fun in town.