The Best French Fries in Louisville
Courtesy of 21c Museum Hotels
Louisville They're the ultimate side dish; the yin to a burger's yang. But all too often, the yang hogs all the glory. Well, not anymore. Today we celebrate the Louisville restaurants that've mastered the art of crisping the ever-humble spud. These are the joints with the finest French fries in town.

Truffle oil fries
Proof on Main (address and info) Downtown Arguably one of the best restaurants in the state, it should come as no surprise that the Culinary Maestros of Proof on Main fry a mean potato. Sliced thin, Proof's fries are crisped until golden and salted liberally, allowing for ample crunch. Served most happily alongside the famed bison burger. Popular toppings include loads of Parmesan and the otherworldly addition of truffle oil. More Stuff You Will Like
Boniato fritos
Havana Rumba (address and info)   Multiple locations Havana Rumba has long been Louisville's go-to spot for Cuban cuisine, and while the plantains are spot on and a go-to accompaniment to any dish, it's the boniato fritos that shine. Slim slices of sweet potatoes are fried until crunchy and crisp, their orange center remaining soft and steamy. We recommend enjoying with honey for dipping. Continue Reading
Courtesy of Zach McClave
Duck fat fries
Hammerheads (address and info)   Germantown Did someone say duck fat? For a few dollars more the good people of Hammerheads will happily fry your potatoes in this beloved oil, adding a depth of flavor that can't be beat. That choice is simple; it's the selection of your preferred French fry seasoning that is the challenge. We recommend going Grippo, a sweet and spicy BBQ seasoning locals generally associate with potato chips made by the company of the same name.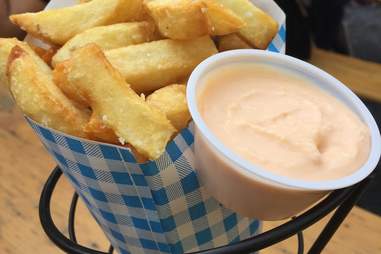 Lindsey McClave/Thrillist
Fritjes
Holy Grale (address and info)   Highlands People come to the Holy Grale for the beer and stay for the food, each and every dish designed to pair perfectly with one of the forever rotating brews. Menu items come and go, but the fritjes are a constant: thick slices of house cut potatoes fried twice, the outside golden and crisp, giving way to pillows of soft potato within. Your order comes with one sauce but, trust us, you'll want to pony up the additional $.50 per sauce for extras; with options of wasabi mayo, creole mustard, beer cheese, curry ketchup, malt vinegar, and samurai sauce... it is nearly impossible to choose just one.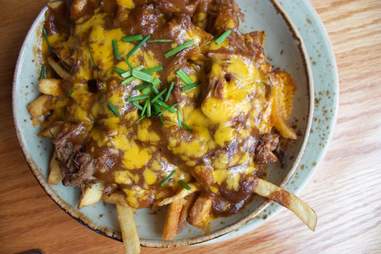 Lindsey McClave/Thrillist
Poutine fries
Crescent Hill Craft House (address and info)   Crescent Hill Thank you, Canada, for gifting the world with poutine, possibly the most ingenious French fry iteration of all time. If it weren't for Canada's take on the potato we wouldn't be able to enjoy Crescent Hill Craft House's decadent braised beef version: brown gravy and tender beef blanketing a bowl of crispy fries and smothered with melty cheese curds. Enjoy with one of the nearly 40 beers on tap, all of which are made within the confines of Kentucky and Southern Indiana.
Lindsey McClave/Thrillist
Belgian pomme frittes 
Caffe Classico (address and info)   Clifton Cafe Classico is Louisville's resident Euro Cafe, offering lunch and dinner daily alongside damn fine espresso and a well-curated, approachable wine and beer list. The Belgian pomme frittes may well be the best in the city, garnished with large flecks of sea salt and bits of fresh parsley and served in a cone for good measure. Three dipping sauces come alongside, each decidedly more American than European: a smoky chipotle mayo, spicy ranch, and, naturally, ketchup.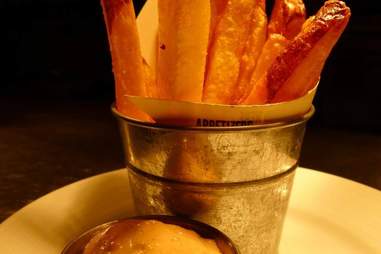 Courtesy of Rye on Market
Triple-cooked fries
Rye on Market (address and info)   NuLu The creative culinary crew at Rye is never content going along with the status quo. Take the simple French fry, which are cut in-house and cook not once, not twice, but three times, ensuring an idyllic potatoey experience. A chile-lime aioli is the (purely metaphorical) cherry on top.
Sweet potato fries
Village Anchor (address and info)   Anchorage The Village Anchor took the sweet potato fry game to the next level with this appetizer dish, an ode to sweet-meets-salty-meets-sweet with hand-cut potatoes seasoned with vanilla brown sugar and rosemary salt. Once fried, these not-so-humble spuds are layered over the Village Anchor's signature marshmallow creme and accompanied by a Bourbon BBQ sauce for dipping.  Sign up here for our daily Louisville email and be the first to get all the food/drink/fun in town.Lindsey McClave is a Louisville writer who is just glad pollen season is over. Follow her on Twitter at @FoodieGirlKY.