The 10 best Kentucky restaurants outside Louisville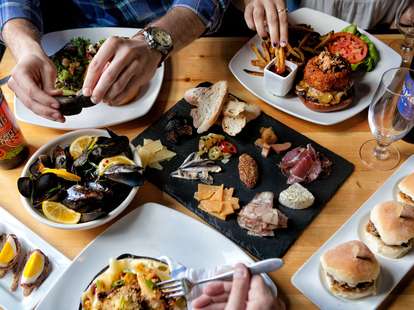 Sure, the state's culinary spotlight is firmly centered on Louisville, but that doesn't mean there aren't a bunch of excellent restaurants out in Kentucky that are deserving of your attention, appetite, and loosest belt notch. From 100-year-old establishments serving up some of the finest food in the South, to new gastropubs elevating the way we think about bar food, here's where to eat in the Bluegrass.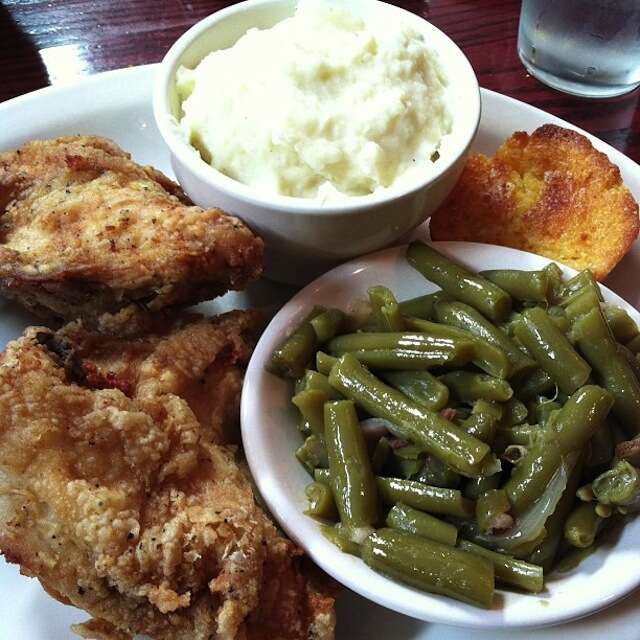 Shelbyville
What you're getting: Fried chicken
It is said that behind every great man is a great woman, and Claudia, wife to the one and only Colonel Sanders, was no exception to this rule. Forego the fast-food variation of the Colonel's world-famous fried-ness and indulge in a chicken feast at Claudia Sanders Dinner House, opened by the Colonel and his bride in Shelbyville in 1968. Don't miss the Sunday buffet, filled with old Sanders family recipes.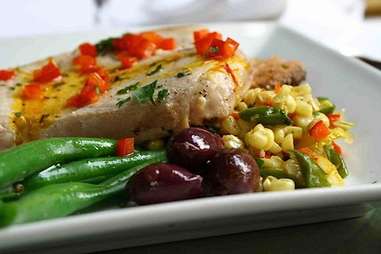 Midway
What you're getting: Shrimp and Grits a la Agnes
Ouita Michel has long been considered the queen of Kentucky cuisine. Heading the helm of six establishments, it is her flagship, Holly Hill Inn, that put her on the map, thanks to extensive training in French and Italian cooking. With nods from Southern Living, The New York Times, and James Beard, it's clear that Ouita's talents are well established and her star will only continue to rise.
Berea
What you're getting: Bluegrass Strip Steak cooked in a cast iron skillet
Nestled in the heart of Berea, historic Boone Tavern has been a high-class haven for travelers and hungry locals alike for over a century. Owned and operated by Berea College, the dining room serves three meals per day -- plus, it has 63 guest rooms to boot.
Lexington
What you're getting: Foothills Trout with cornbread crust
AZUR is a bright and bustling star in Lexington's resto lineup, impressing guests with creative dishes like Pretzel Crusted Oysters, Woven Shrimp with coconut sweet corn risotto, and Foothills Trout with cornbread crust and Appalachian soup beans. An impressive wine list and bourbon-focused cocktails round out this transportive dining experience.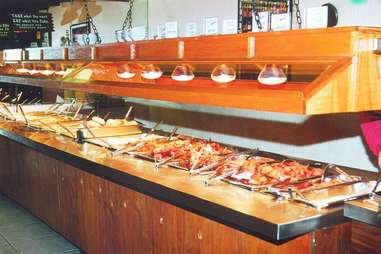 Owensboro
What you're getting: The mutton
Ever had mutton? Well, it just happens to be sheep meat that sets Moonlite Bar-B-Q apart. Grilled to perfection and doused in their signature sauce, the mutton has been served here for over five decades, and it's helped put Owensboro on the map as a BBQ destination and home of the annual International Bar-B-Q Festival.
Lexington
What you're getting: Buttermilk fried Quail & Waffles
Elevated pub fare is the name of the game at The Village Idiot, the first gastropub to hit the burgeoning Lexington food scene. Housed in an old post office building (circa 1825), this two-story foodie haven is home to 20 craft brews on tap and countless hard-to-find labels by the bottle, and has an extremely good food menu to go with it.
Harrodsburg
What you're getting: Two-Year-Old Country Ham
As Kentucky's oldest family-operated bed and breakfast, the Beaumont Inn has long established itself as a place to truly experience the traditions of our state. Its Main Dining Room restaurant is no exception and it offers refined takes on Kentucky classics like Two-Year-Old Country Ham, "Yellow-Legged" Fried Chicken, and its famous Corn Pudding, which all have been filling bellies since 1918.
Pikeville
What you're getting: Kentuckyaki Salmon
Pub-style Appalachian cuisine -- that's what you'll find at the Blue Raven Restaurant and Pub, located in Pikeville. The challenge is deciding what to order, its menu spanning a spectrum of ingredients from Bison Meatball Sliders to Chicken Mac N Cheese to Kentuckyaki Salmon with bourbon-soy glaze.
Versailles
What you're getting: The Inside Out Hot Brown sandwich
When you see the line wrapping its way around the side of Wallace Station, do not be discouraged. The wait is part of the journey and your reward is a hearty sandwich, with local meats and veggies piled high between two slices of homemade bread.
Lexington
What you're getting: Slow-braised Kentucky Rabbit
Just look for the leopard print awning and you will know you've found a la lucie. Every aspect of this Lexington staple is eclectic, from the mismatched photographs adorning the walls to the perfectly mixed-up menu of Broiled Escargot, Paella, and Kentucky Rabbit. A no-brainer for a date night and worth the 60-mile drive East, even if it means stepping foot into Wildcat country.
Sign up here for our daily Louisville email and be the first to get all the food/drink/fun in town.