It's 10:59am and everyone in town is beginning to think about lunch... before inevitably coming to the conclusion that it's going to be another boring sandwich. Probably tuna. Well, it doesn't have to be that way -- in fact, wherever you are in Louisville, there's a great lunch spot right by you. These are the best.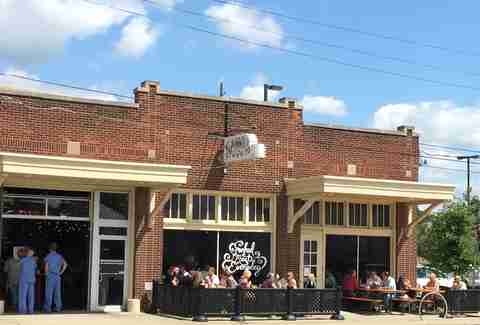 NuLu
Feast (address and info)
What you're getting: BBQ Salad
It seems impossible to visit Feast without ordering their loaded tots, however the BBQ salad is our go-to for a lunch that won't leave us in a food coma for the rest of the day. A mountain of fresh lettuce is topped with green & red onions and fried pickles, and served with sides of pulled pork, house-made BBQ sauce, and smoked mustard dressing.
Downtown
Bendoya Sushi Bar (address and info)
What you're getting: BOGO rolls
Who doesn't love a good buy-one-get-one-free deal? The BOGO spirit is alive and well at Bendoya Sushi Bar in Downtown Louisville, with crowds of the nine-to-five set lining up on Tuesdays, Thursdays, and Fridays to take advantage of this weekly sushi-roll sale. Bendoya resides in a relatively nondescript space on Fifth Street between Market and Jefferson, just enough off of the beaten path that it maintains a locals-only status. Plan ahead and visit early or late, this spot is slammed during the peak lunch hour of noon to 1pm.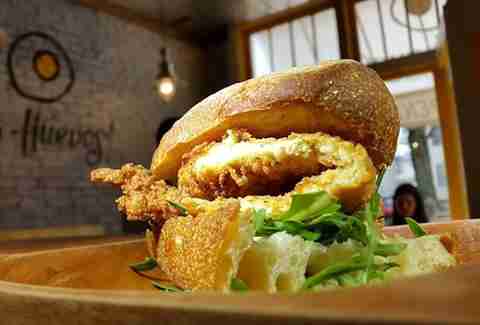 Clifton
Con Huevos (address and info) 
What you're getting: Torta Cubana
Con Huevos is Clifton's newest resident and, while tiny, instantly made an impression on the neighborhood with egg-laden Mexican treats. Since it is lunch we like to leave the egg-heavy dishes for the weekend, choosing instead the ample torta Cubana; a sandwich of both pork and chorizo, plus avocado and jalapeño aioli, and with a bit of fresh arugula thrown in for good measure.
Crescent Hill
Frankfort Avenue Beer Depot (address and info) 
What you're getting: Lou-a-vul beef brisket sandwich
With two massive smokers working away 24/7 directly in front of the Beer Depot's main entrance, there's no question as to what makes this establishment tick. The beef brisket is on point here, best enjoyed in sandwich form with plenty of pickles and onions.
St. Matthews
Lotsa Pasta (address and info) 
What you're getting: Italian sub
Order an Italian sub at the deli counter (sliced meat and cheeses showered with a house-made herby olive oil dressing) of this international gourmet grocery and get lost in the aisles while you wait, checking out the wide selection of cheeses, pasta shapes, and stacks of homemade bread. Plus, there are free samples, which in this context we consider appetizers.
Middletown/Anchorage
Anchorage Café (address and info) 
What you're getting: Cobb salad
Snag a seat in the tree-filled courtyard and tuck into the Cobb salad, a classic mix of fresh local lettuces, hard-boiled egg, roast chicken, and cheese served with your choice of creamy balsamic or buttermilk chive dressing (always go buttermilk).
Prestonia/Fair Grounds
Frank's Meat & Produce (address and info) 
What you're getting: Turkey sandwich
Located on Preston Hwy, Frank's is within a stone's throw of the Fair and Expo Center and has long been a go-to for those working in this chain restaurant-heavy part of town. Not much has changed with the times when it comes to Frank's, thankfully, including the prices. Practically all sandwiches, including the classic turkey, clock in at under the $5 mark, making this one of the most affordable lunch spots in town.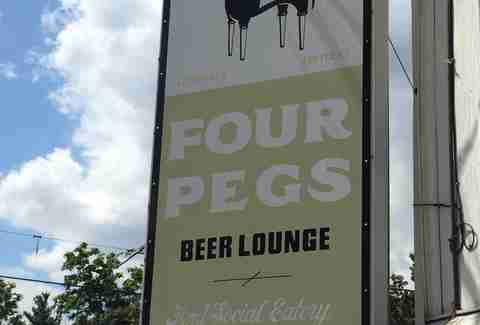 Germantown
Four Pegs (address and info)
What you're getting: Chicken and waffle sandwich
Be forewarned, the chicken and waffle sandwich from Four Pegs shouldn't be consumed prior to a large presentation or any sort of serious work activity. Because when you use waffles as bread, it WILL cause a food coma.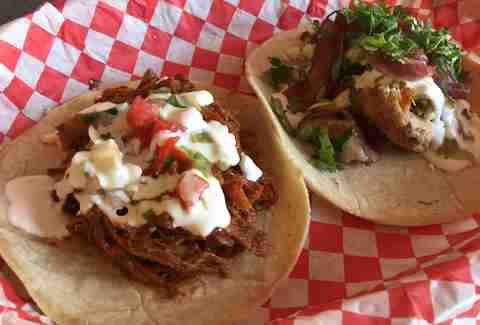 Highlands
El Taco Luchador (address and info) 
What you're getting: Tacos
Multicolored chairs, lucha libre-inspired art, and a menu loaded with boldly flavored tacos and tortas set the tone at this fast-casual Highlands lunch spot, where mole-tinged chicken is braised, carnitas are crisped, and fish is fried right before you eyes. We're especially fond of this place's take on a barbacoa taco: beef short ribs braised and spiced with guajillo peppers and topped with a dollop of guac, pico de gallo, and plenty of crema to ensure the heat level is just right.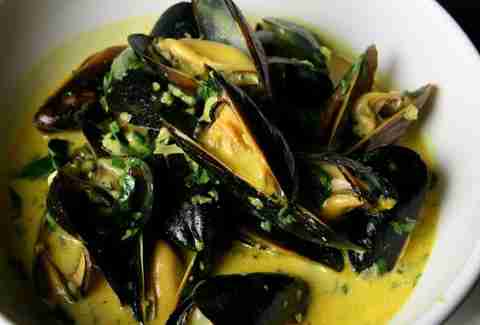 JTown
Mussel & Burger Bar (address and info)
What you're getting: Curry cream mussels
Mussel and Burger Bar was instantly slammed the day it opened in Jeffersontown at the beginning of 2013, giving this section of the city a much-needed local spot amongst a sea of chains. The menu is extensive and creative, with a burger and/or mussel preparation to suit any taste. We're a fan of the curry cream mussels, but are always up for overdoing it with the BBB, the signature bacon breakfast burger.
Hurstbourne
Bombay Grill (address and info)
What you're getting: The lunch buffet
The menu at Bombay Grill can be incredibly overwhelming, and choosing one of the expertly prepped and flavorful dishes a challenging task. Solution? Hit up the daily lunch buffet, where the resto turns out a variety of North and South Indian-inspired dishes, and you can have ALL of them. It's a steal at $8.99 during the week ($10.99 on the weekends) and will ensure your garlic naan, tandoori chicken, and tikka masala cravings are quenched in the most satisfying of ways.
Sign up here for our daily Louisville email and be the first to get all the food/drink/fun in town.