Sandwiches. Everybody loves them, and Louisville has some fantastic ones. The only problem is that as soon as you mention the words "sandwich" and "Louisville" together in a sentence, the Hot Brown muscles its iconic, sauce-smothered head into the picture... which would be fine, were it not for its untouchably iconic nature, and the fact that you really need a knife and fork to eat it. The only solution? For it to politely excuse itself from the debate entirely. So, without further ado, here are Louisville's finest bread-traps...
The Highlands
What you're getting: The Country Ham
In Louisville, "sandwich" ultimately equals Morris' Deli. In our language, the two are interchangeable. Housed in a little liquor store on the verge of the suburbs, this institution earned a visit from Andrew Zimmern's Bizarre Foods America, though its most bizarre features are its location and how amazing its meats are.
The Highlands
What you're getting: The Porchetta 
This mini B&B spin-off of the life-changing Holy Grale allows you to spend an entire day eating and drinking like owners Tyler Trotter and Lori Beck. Gralehaus' star chef, Andy Myers, serves up world-class sandwiches, crepes, and accoutrements -- the best garnishes, breads, and every other detail you can dream about.
Germantown
What you're getting: The Gnadinger Pork
Its Gnadinger Pork sandwich has been on the menu for as long as we can remember, a notable distinction for a spot that updates its items consistently. Braised in the Weizenbock-style beer Aventinus, with black currant and pistachio on a pretzel bun, we wouldn't be surprised if it's even more popular than its burger.
Butchertown
What you're getting: The muffuletta
This stylish lunch-must is a sibling to the beloved Cellar Door Chocolates, and it makes everything look easy without sacrificing quality. The muffuletta has been a favorite, and some current options include fried egg and pimento cheese -- or fried egg, bacon and cheddar. Which will you choose?
New Albany, IN
What you're getting: Your choice of panini 
Laura Buckingham's cleverly named morning spot has been surprising and delighting patrons since day one. Though she and her crew are working out of a small, unconventional old space now, her bread-based beasts are beyond fresh and exciting. Get a panini and taste the farm-to-breakfast table difference.
NuLu
What you're getting: Whatever the lunch special is that day
Sometimes we try to write a best-of-Louisville list without including Harvest, just for the challenge. Sometimes we fail. Whether for a friendly lunch or a family dinner, Harvest is hard to beat. Its sandwiches, burgers, pizzas, and whatnot are top-notch. Between the well-sourced ingredients, excellent service, and warm atmosphere, we only regret that we can't eat there five times a week.
Schnitzelburg
What you're getting: The DM's Cheesesteak
Beloved for his pizzas, local character Dan McMahon is no slouch with the sandwiches, either. There's the DM's Cheesesteak, for one, cooked from scratch with steak mixed with some cheeses, onions, green peppers, or mushrooms (the latter trio is up to you). Add a side of au jus and it's this gritty nabe's idea of a juice cleanse.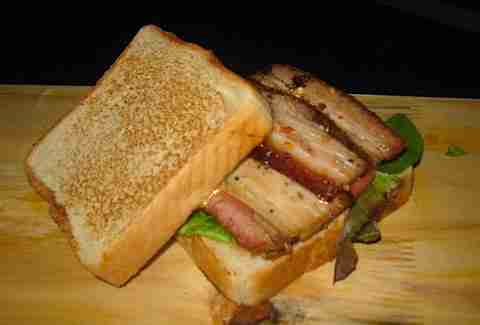 Paristown
What you're getting: The PBLT
Just the fact that Hammerheads even tried a PBLT (pork belly, lettuce, and tomato) sandwich tells you how pure and insane its overall approach is. This hidden innovator is both a local treasure and a laboratory of future ideas, perspectives, and chefs. The roasted duck sandwich is also a special treat; let your friends enjoy the ribs, burgers, or tacos while you're winning at sandwich.
Sign up here for our daily Louisville email and be the first to get all the food/drink/fun in town.