8 hugely underrated Louisville restaurants
Sure, many would argue that Louisville's food scene itself is underrated, but it's picking up new fans every day -- and as the city's culinary star rises, some spots are being left unjustly out of the spotlight. Here are some excellent places that you won't find on anyone's "Best Of" lists...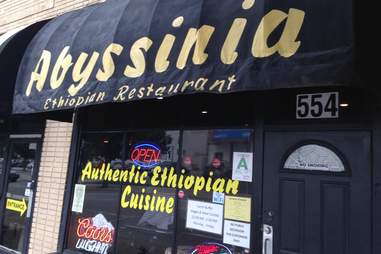 Peter Berkowitz
Downtown
Any local fan of Ethiopian cooking knows their favorites at Queen of Sheba by heart. But you're much less likely to hear about the also-terrific Abyssinia, where the homestyle meals are delicious, filling, and make you feel like you're in someone's home, in the best way. Somewhat hidden on a drab stretch of 5th St, it's not the type of place you'd make -- or need -- a reservation, and you get a lot for a little here.
Highlands
Owner Lee Tran is young -- early 20s young, so young he should be eating his own food after a long night out -- but he grew up in his Mother's Vietnamese restaurant, Annie's Café (another underrated gem). Don't mistake this for being just another Vietnamese restaurant though, because his spot deliciously honors traditional dishes while also giving them a modern, fresh update. Hidden in plain sight in the middle of the Highlands, BMH also has a food truck you can catch on the town.
Crescent Hill
Talk about a modern upgrade. This joint that should be a chain (or at least multiplied several times over around Louisville), but has nonetheless not attracted the necessary attention, offers some of the highest quality burgers around, made from grass-fed beef, bison, and other new wave ingredients. The toppings bar lets you adjust your desires accordingly, and the fries (hand cut) are not to be skipped. They say "Good is Good ... Local is Better," but when it comes to burgers, who wouldn't want it both ways?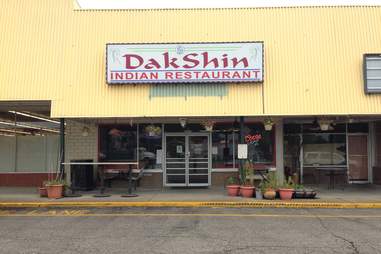 Peter Berkowitz
Buechel
Another traditional hot spot still overshadowed by what's closer, or has been around longer (one of Louisville's lesser qualities sometimes), DakShin's Southern Indian-centric restaurant (the more typical Northern options are also available) is worth the drive -- and it can be a drive, even in a city where few things are even 20 minutes away. Between the fresh, stunningly delicious food and the log cabin vibe bolstered by TVs showing music videos straight from the homeland, it's impossible to not love DakShin.
Schnitzelburg
Around his neighborhood (and sadly, not too far beyond), everyone knows Dan "Danny Mac" McMahon. It's due in part to his work running a Facebook page about what's happening in said 'hood, but also due to the excellent 'zas he's been making -- and some credit must also go to his garlic bread and Parmesan-smothered (his word) breadsticks, better known as "Cracksticks". If you think that would go well with, say, a Chicken Bacon Ranch pie, come to the AMVETS post he works out of and get an experience you won't find anywhere else.
University
While the also-wonderful Santa Fe Grill has dominated the Mexican food market in that sweet spot near Churchill Downs, just past the college, El Molcajete quickly won over some of its fans when it recently moved North from its original location. (Seems like there's a metaphor there.) Bold enough to list some very authentic items on its menu (try the brains tacos), this newcomer is a welcome addition to an area close to -- but just out of sight of -- where the tourists go.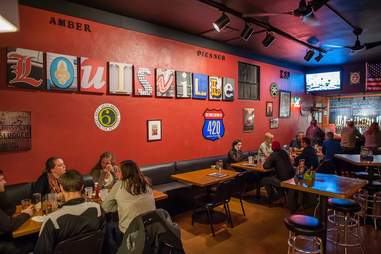 River City Drafthouse
Highlands
In the middle of a well-traveled area once the center of Louisville's counter-culture (hippies, not lunch counter), River City Drafthouse sits next to a more popular brewpub. Surely some of that content audience is sneaking over for -- if nothing else -- the giant pretzel. It's a meal by itself, and well worth the trouble. River City's main attraction is its well-curated selection of craft beers, but try the food, too. You'll be very satisfied.
Highlands
At the Southern end of the Highlands neighborhood, overlooking the highway to somewhere else, lies Winston's, the restaurant fueled by Sullivan University's culinary students, but overseen by veteran, celebrated Chef John Castro. Young chefs-in-the-making and servers not yet jaded by the years present world-class (and not inexpensive) cuisine in a suitably classy (yet not stuffy) setting. 
Sign up here for our daily Louisville email and be the first to get all the food/drink/fun in town.