The wait is finally almost over for Chick-fil-A's enormous NYC restaurant.
The Southern fried chicken purveyor announced Monday that its highly anticipated first freestanding location in the city will open on October 3rd at the corner of 37th St and Sixth Ave in Midtown. It will be the biggest Chick-fil-A in the country, featuring three floors spanning a total of 5,000sqft, the company said in a press release. 
Recommended Video
Timothy DeLaGhetto & David So Take Over LA's Premier Foodie Event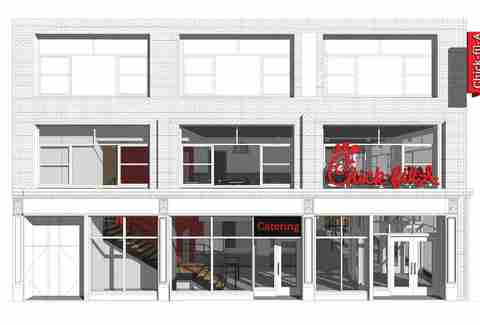 The forthcoming fried chicken fortress is "the first of many" restaurants planned as part of Chick-fil-A's grand, greasy invasion of NYC, with a second spot slated to open near Rockefeller Center at 46th St and Sixth Ave. The company is also eyeing additional locations for stores on the Upper East Side and the Financial District over the next few years.
Now, it seems like the city's fried chicken sandwich war is truly about heat up this fall, considering the recent debut of Shake Shack's first-ever fried chicken sandwich and David Chang's new Fuku concept. No fried chicken hankering is safe. 
Follow us on Facebook for a steady stream of daily NYC stories, and be the first to get all the food/drink/fun/news New York has to offer.
Tony Merevick is Cities News Editor at Thrillist and wonders if people will actually camp outside overnight. Send news tips to news@thrillist.com and follow him on Twitter @tonymerevick.