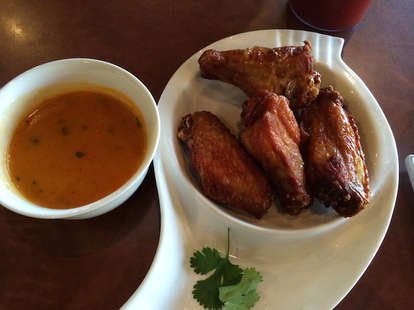 Stacey Greenberg/Thrillist
Stacey Greenberg/Thrillist
Second only to "where's the best BBQ in Memphis?" is the debate over which of the city's chicken wings reign supreme. With the combination of wing joints and sauce options near infinitum, it's a hard question to answer, but here are the eight best places to start your own personal poultry quest.
East Memphis
Mosa is known for its delicious Chinese and Thai food, but some of the best wings in the city can also be found on the menu. The Rainbow Wings feature a Panang Curry dipping sauce that includes fresh lime, lemongrass, and panang curry. The curry is sweet, spicy, and tangy all at once. You CAN taste the rainbow. The sauce is served on the side so the wings stay nice and crisp, so what you do with the extra is up to you.
East Memphis
Ellwood's specializes in smoked meats, and they have a serious fan base thanks to their BBQ, fish tacos, pizzas, hot dogs, sandwiches, and jerk wings. The whole wings are marinated for 24 hours in thyme, garlic, habanero, allspice and oregano. Then they're seasoned with sea salt, paprika, black pepper, white pepper, sugar, and chili powder, and smoked for 3 hours at 225 on pecan logs. Oh, and Ellwood's is the only place where you can have your wings with a giant slice of pineapple.
East Memphis
Honey gold is the most popular flavor at Ching's, but it's hard to pass up the challenge of the "suicide" option. Ching's also has its own special seasoning, found on the seasoned wings and French fries, and while the ingredients that are top secret, there are hints of curry, salt, and parsley. Other unique touches are the option to order a small croissant rather than a roll, the marinated carrots and celery that come on the side, and the Orange Mound Punch or G Street Punch -- fruit drinks amped up with extra sugar that form a perfectly sweet counterbalance to the salty wings.

Midtown & Downtown
It kind of makes sense that one of our best BBQ joints would also have some of the best wings. Central's wings have a nice, smoky taste, and the meat easily falls off the bone. Raw wings are marinated in Louisiana hot sauce for one to two days before being smoked, chilled, and flash fried up to temp. The last step is to season them (wet, naked, jerked, dry spice, honey gold, or sweet heat). Some customers like to order the wings "muddy," which means they come with a wet sauce and a dry rub. Those customers are friggin' smart.
South Memphis
Known for its super friendly staff and amazing chicken, Uncle Lou's is definitely worth the drive. The sweet and spicy love sauce -- hot or mild -- is a perfect balance of flavor. There's no fire to put out, so you can keep on eating wing after wing and it is great for dipping fries in. Don't forget to add a honey-dipped biscuit to your order!

Midtown
At Best Wings they certainly aim to please, letting customers choose to have their giant whole wings bathed in a number of sauces -- hot, mild, seasoned mild, honey-glazed, honey-glazed mild, barbecue, honey barbecue, lemon pepper, and regular salt and pepper. While mild sauce is the best seller, there are fans of every sauce. Those in the know recommend ordering half lemon pepper and half honey-glazed for the absolute perfect combination of sweet and spicy.
Downtown
Oshi specializes in burgers and hot dogs, but the Rajun Asian Wings are a must try for wing lovers. Sesame seeds, nuts, and sprinkle of cilantro dress them up nicely. The feta mint dressing is a nice departure from the standard ranch or blue cheese, and serves as the perfect coolant.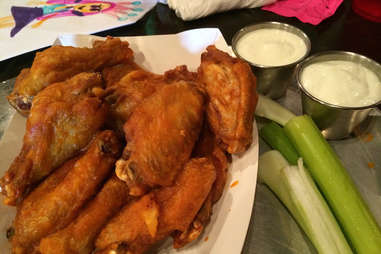 Midtown
The secret to these no-mess, no-burn wings is the perfect balance between Frank's RedHot sauce and butter. Slider's wings also are separated so they're easier to eat. The wings are fried, not battered, and then sauced. The simple, classic style is a winner, and sure to satisfy the strongest of wing cravings. Their motto is, "If you are going to get sticky fingers, we want you to get them sticky at Slider Inn."
Sign up here for our daily Memphis email and be the first to get all the food/drink/fun in the Blues City.