The 8 Best Sushi Spots in Memphis
From gas stations to food trucks, Memphians can find quality sushi just about anywhere. Roll (!) into any of these eight sushi restaurants and get your tempura on.
Various locations
What you're getting: Ocean Pyramid
Sekisui is the undisputed champion of sushi in Memphis. With six locations ranging from downtown to Collierville, great sushi is just a few minutes away from everywhere. Each location has its own manager and runs a bit independently, so there are some slight variations in the menus, but the tried-and-true standard at all of them is the Ocean Pyramid. It's literally a pyramid constructed from layers of tuna, salmon, whitefish, rice, avocado, and roe. Served with spicy ponzu sauce, it is definitely a head-turner.
Chip Chockley
East Memphis
What you're getting: Shrimp tempura roll
Even though it's pretty common now to see sushi in just about every grocery store in town, Lee's Fresh Sushi was the first to boldly offer it in a convenient grab-and-go style in a gas station. Our beloved "gas station sushi" has a special rice formula and substitutes cucumber for avocado to maximize its shelf life. Don't worry, rolls are made all day. The shrimp tempura roll is the top seller, but there's something for everyone with moderate prices and frequent-eater punch cards.
 
Various locations
What you're getting: A Red Dragon sushirito
Just when we thought we were special for having gas station sushi, Sushi Jimmi opened a food truck! Jimmi doesn't just settle for amazing patrons seeking out his sushi skills, he likes to innovate. Japanese tacos and sushi nachos grace the specials board and sushiritos -- sushi burritos -- are a regular menu item. Just imagine your favorite sushi roll, supersized. The Red Dragon includes spicy tuna, avocado, purple cabbage, cucumber, lettuce, and roe.
 
East Memphis
What you're getting: Seafood Naruto roll (salmon, tuna, avocado, and masago wrapped with cucumber) 
If you're on a budget, Tokyo Grill is the place for you. You can get three basic rolls (including hand rolls) for $9.95. All the time. Specialty rolls are available for big(ger) spenders in the $6.55-$9.95 range. I'm a fan of the Seafood Naruto roll -- salmon, tuna, avocado, and masago wrapped with cucumber. And unlike most sit-down sushi places, Tokyo Grill is open on Saturday afternoons.
Courtesy of SPR
East Memphis
What you're getting: SPR sushi pizza
SPR is just a little flashier and fancier than the average Sekisui and the sushi menu definitely reflects that. The standouts are the Elvis Roll (deep-fried with no rice), the Stop, Drop & Roll (wrapped in rice paper), and the sushi pizza. Yes, pizza. The nori serves as the crust. Piled on top is spicy crawfish, crunchy crab, masago, avocado, and Thai sauce. Of course it doesn't taste at all like traditional pizza, but it's magnificent.
Courtesy of Bluefin
Downtown
What you're getting: G. Parrish Anxiety Disorder
Bluefin is definitely the most metropolitan of the Sekisui empire, and offers the most diverse menu. However, sushi is still king, and the most popular roll is named after Gary Parrish of ESPN 92.9. It makes sense considering it's a perfect dinner spot for both Grizz & Redbirds fans. The roll features shrimp tempura, crab stick, and cream cheese inside; smoked salmon, avocado, eel sauce, and Sriracha on top.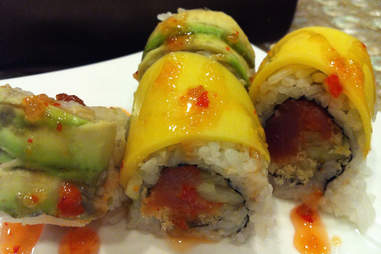 Stacey Greenberg/Thrillist
East Memphis/Germantown/Collierville
What you're getting: Hawaiian roll
There are two great things about the sushi at Osaka. First of all, you can order rolls by the half if you like which means you can try twice as many. Second, it's the only place I know that still does sushi boats at happy hour. Again, a great way to try lots of different rolls. The Hawaiian roll is a sure bet -- tuna, cucumber, and panko topped with thinly sliced mango and avocado and dressed with sweet-and-spicy sauce.
 
East Memphis/Germantown
What you're getting: Joyce roll
The rolls at Sakura are no joke. They are creative, delicious, and humongous. While you may feel confident eating two, three, even four rolls at a regular sushi restaurant, odds are you will barely make it through one at Sakura. If you want to try several, bring friends. The Joyce roll is (deep-fried) crawfish, shrimp tempura, avocado, fish eggs, and sauce. It comes out looking like four little cakes and even has a cherry.
Sign up here for our daily Memphis email and be the first to get all the food/drink/fun in the Blues City.