Smoke, sauce, and slaw. These are the things that define Memphis barbecue.
"We're in the hardwood capital of America. Our smoke source is hickory and pecan," says Craig Blondis, who's at the helm of Central BBQ, a locally owned chain that is known for its slow smoked Memphis-style ribs and recently opened its first Nashville location.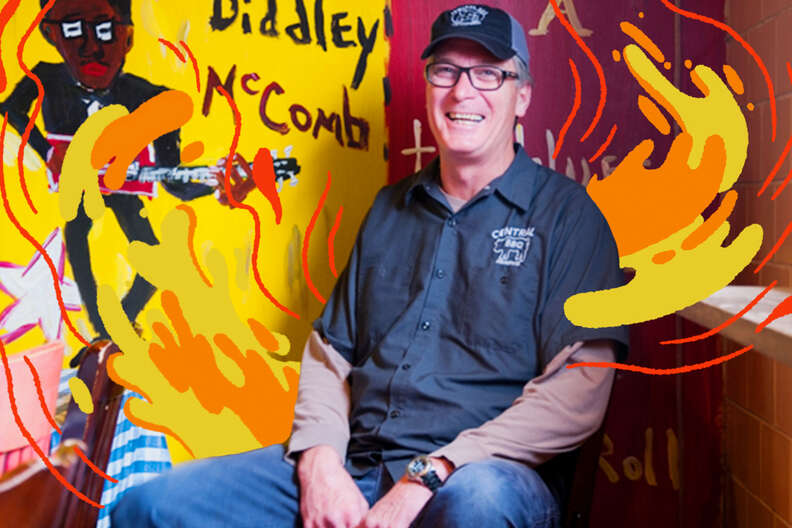 "You can go to 10 different Memphis barbecue restaurants and all of them will deliver you a very smoky barbecue product but all of them will still have a different taste," says Eric Vernon, owner of The Bar-B-Q Shop which is known for its Texas toast sandwiches and barbecue spaghetti. Eric says the way the sauce mixes with our own brand of coleslaw definitely puts our sandwiches in a league of their own.
Some restaurants use a dry rub, some serve their Q wet, and some do both. Every way seems to work. Being in the biz, Craig doesn't go out for barbecue too often, but says, "I can't think of any of them that I wouldn't go to."
So take it from the experts—there's really no such thing as bad barbecue in Memphis. We curated this list to include the big dogs (hogs?) in town, the long standing off the beaten path spots, and the locals' favorites. Work your way through this list and see for yourself.
South Memphis
Andrew & Rose Pollard founded A&R Bar-B-Q in 1983 as a fast food takeout restaurant. The original menu featured only barbecue and hamburgers. Now with two locations, its pork, turkey, chicken, bologna, polish sausages, hot links, hot dogs, and catfish are all crowd pleasers. The meat is cooked in a detached smokehouse behind the restaurant, and in addition to the pork shoulder and the homemade hot link sausages, the rib tip sandwich is a must-try.
How to order: Order online for takeout or delivery.

Orange Mound
Owner and pitmaster Merritt Bailey opened Ballhoggerz in the heart of Orange Mound three years ago. He has the trophies to back up his barbecue braggadocio. Ballhoggerz makes its own seasoning and sauce in-house and the meats are smoked on-site throughout the day. Try the ribs and the chicken wings.
How to order: Call (901) 279-1758 for takeout.
Midtown
In Memphis, traditional spaghetti is a common side at soul food and barbecue restaurants. At the Bar-B-Q Shop (originally known as Brady and Lil's), however, there's full-on barbecue spaghetti combining pork that is smoked for 12 hours, smoke-infused sauce, and soft, overcooked noodles. The pulled pork sandwich on Texas Toast and glazed dry ribs are also standouts.
How to order: Order online for curbside delivery.
Multiple locations
Now with four local restaurants and a Nashville outpost, Central BBQ frequently tops local polls for best barbecue. Known for the slow smoked Memphis style ribs, it's the barbecue nachos top the sales charts. Made with tortilla chips or house-made barbecue chips, two kinds of cheese, sauce, and your choice of pulled pork, smoked chicken, or a smoked portabella mushroom, they are hard to beat. Another bonus, when the dining rooms are open, is the self-serve sauces: mild, hot, vinegar, and mustard.
How to order: Order online for takeout or delivery.

South Memphis
Coletta's is Memphis's oldest restaurant. Primarily an Italian restaurant, it wooed the local population to embrace pizza in the 1950s by topping it with barbecued shoulder meat. Elvis loved barbecue pizza, which didn't hurt business one bit. The back room he always requested at the original South Parkway location is still designated the Elvis Room and decorated with his memorabilia. Visit the other locations in Cordova and inside the UT Food Court.
How to order: Call for takeout—901-383-1122.
Multiple locations
Corky's BBQ certainly has a local following and has expanded its reach into Mississippi, Arkansas, and Texas over the last 30-plus years. Its sauce is in every local grocery and food can be shipped anywhere in the country. Because of its commercial success, Corky's isn't the "coolest" place to say is your favorite, but it would be a bit snobbish to discount owner Don Pelts's life's work. Meats are slow-cooked over hickory and charcoal, each slab of ribs is trimmed to strict specifications, and every pork shoulder is hand-pulled.
How to order: Order online and pick up at the drive thru.

Uptown
A favorite of many locals, Cozy Corner is one of the most iconic shops in town run by four generations of Robinsons. Known for the barbecued Cornish hens, and rightly so, it is also highly recommended that you also try the ribs. Either way, plan to get messy. Raymond Robinsons built his legacy with a Chicago-style smoker where meat is placed on the lowest rack then progressively upward until it is smoked to perfection. HIs wife, Desiree, became the part-time pitmaster after his passing and was the first African-American woman to be inducted into the The American Royal Barbecue Hall of Fame in June 2020.
How to order: Call 901-527-9158 for takeout.
Germantown
The original Commissary in Germantown was a small country store for more than 90 years, until Walker Taylor bought it in 1981 and turned it into a barbecue restaurant. Their claim to fame is the creation of barbecue nachos in 1982, though this distinctive combination of pork, cheese, and barbecue sauce on a bed of tortilla chips didn't really gain traction until the late '90s when Redbirds Stadium opened and baseball fans were introduced to the Rendezvous' version. Now barbecue nachos are considered a standard offering at restaurants all over the city. There is a second location in Collierville.
How to order: Order delivery online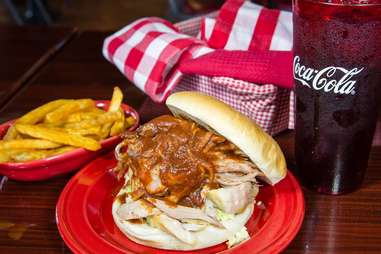 South Memphis
The Neely family is legend in Memphis, and James Neely put them on the map when he opened the original Interstate Barbecue on South Third in 1979. He has a specially built barbecue pit to keep meat fall-off-the-bone moist. His secret sauce is so delicious they can't keep bottles of it on the table lest they disappear. A large chopped sandwich with extra sauce is about as close to heaven as some of us may come. There is a second location on Winchester Road and a third in Southaven.
How to order: Call for takeout—901-775-2304.

Fox Meadows
Leonard Heuberger opened a restaurant called Leonard's Lunch in 1922, making Leonard's the oldest surviving name in Memphis barbecue. Its popularity can be traced to the daily barbecue lunch buffet. If you've ever wondered how Memphians began putting cole slaw on their sandwiches, look no further as the tradition began at Leonard's. Elvis was a regular, and is said to have thrown all night parties at the original location.
How to order: Call 901-360-1963 for takeout.
Whitehaven
Located just over a mile from Graceland, this 45 year old family owned restaurant offers to pick customers at participating hotels up in a Pink Cadillac and bring them to the restaurant. Offering late night service, fair prices and popular menu items like ribs, brisket and shrimp, Marlowe's offers an experience not to be forgotten.
How to order: Call 901-332-4159 for takeout.

Midtown
Three generations of Paynes have kept this modest cinder block building with a recessed pit set into the wall full of hickory coals going for four decades. Ronald Payne says, "Crispy and smoky bits in the meat and sweet 'n tangy dressings makes a chopped pork sandwich that stands out from any sandwich you've ever had."
How to order: Call (901) 272-1523 for takeout.
Whitehaven
Tarrance and Torria Pollard are the proud parents of local football star, Tony Pollard, who now plays for the Dallas Cowboys. So, if you like to talk football while you eat your barbecue, Pollard's is the place for you. What started as a catering business is now a friendly, welcoming Whitehaven home to smoked pork, beef, chicken, and turkey. You'll also find links, tamales, and more.
How to order: Call 901-398-2987 for takeout.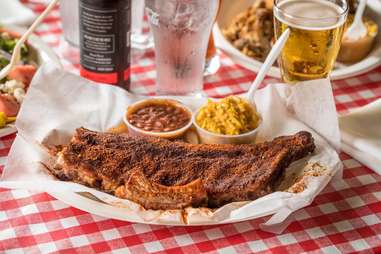 Downtown
The standard for "Memphis style" barbecue ribs was set in the late 1950s in a downtown basement restaurant when Charlie Vergos threw racks of ribs- - what was then considered scrap meat -- on the grill. He added a vinegar wash to keep them moist and created a dry rub based on his father's unique Greek chili recipe, cajun spices he discovered in New Orleans, and paprika. Friday lunch remains a prime time to visit and possibly start the weekend off a bit early. Check out the new outdoor dining area in General Washburn's escape Alley.
How to order: Takeout, curbside, and delivery available through ChowNow.
Multiple locations
Tops is our fast food answer to barbecue. All 16 locations cook their shoulders over charcoal in open pits. Also known for their cheeseburgers, it's quite common to add a little barbecue meat (sold by the ounce) to the burger for the quintessential Tops experience.
How to order: Order at the drive thru.
Stacey Greenberg writes in Midtown Memphis where she lives with her two sons. She is the author of award-winning blog Dining with Monkeys and is a regular contributor to The Memphis Flyer and Edible Memphis Magazine.