Brunch: It's between meals, anything goes, and best enjoyed on a patio with friends. It saves you from your hangover. It defines relationships (brunch together the morning after means you're basically engaged) and mends friendships (that tipsy spat doesn't matter once you're sharing hash browns). It's the meal that invented, then perfected the art of day drinking. It's made chicken & waffles, shrimp & grits, and Bloody Marys mainstream. Undoubtedly Memphis loves brunch, so here are the 12 places to get your morning swerve on in the Bluff City.
Downtown
Bardog Tavern offers a brunching man's brunch: hearty, simple, and heavy on the meat and carbs. Get a New York Strip and eggs, pancakes, fresh toast, or an avocado- and spicy mayo-laden lobster sandwich. Plus there are $4 Bloody Marys, mimosas, and "cheap screws" should you need some hair of the bardog.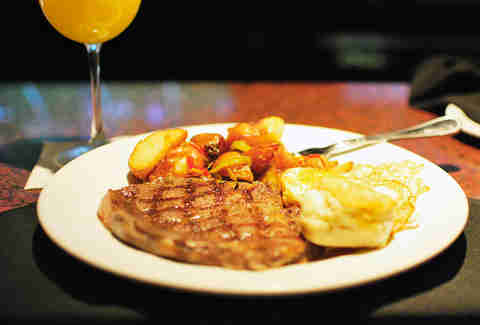 Downtown
The Majestic Grille has the best of both brunch worlds, with equal style and substance. Enjoy live music on the mezzanine of the 1920s Art Deco theatre while sipping a carafe of mimosas and noshing on veggie frittatas. Or saddle up to bar to watch football and tear into a rib eye Steak & Eggs served with potatoes, biscuits, and a Bloody Mary.
East Memphis
The NOLA-inspired eatery boasts a room-filling brunch buffet including tons of fresh crawfish, shrimp, oysters, gumbo, and jambalaya. A sous-chef skillfully flips omelettes made-to-order, and there's a Benedict station. The Bloody Marys are flowing and there's Bananas Foster and bread pudding for dessert (your pre-lunch dessert).
Downtown/Midtown/Overton Square
Both Local locations offer weekend brunch with a mix of brunch-y and regular menu items. Satiate your hangover hunger with bleu cheese and bacon bar fries, then indulge in the Chicken and Biscuit or the French Toast Monte Cristo with blueberry compote. The Bloody Marys and Main Street mimosas (with vodka and champagne) are just $5, or you can spring for a mimosa tower for the table.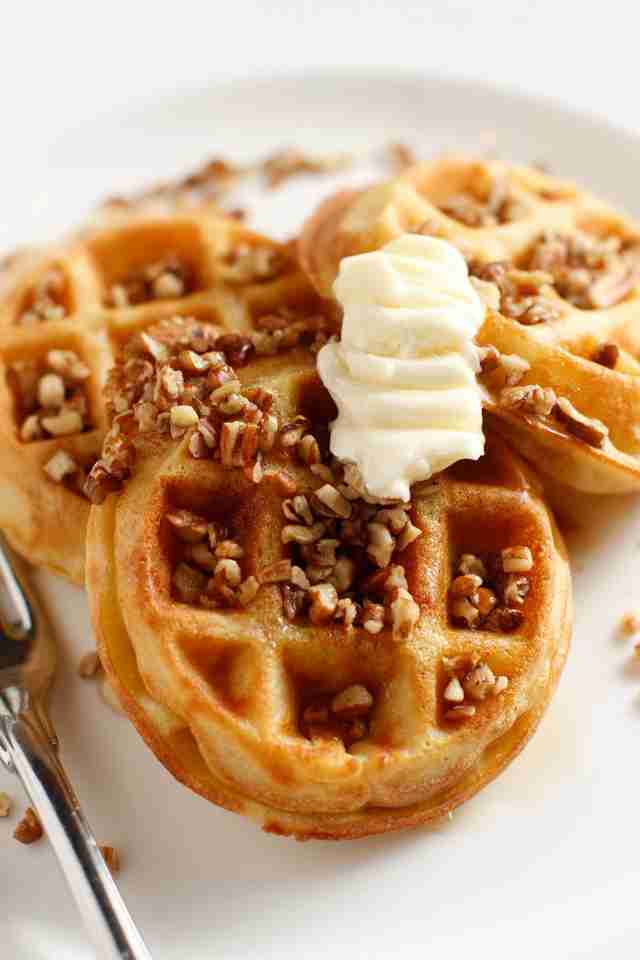 Downtown
If the Mississippi Delta begins in the lobby of the Peabody Hotel, then the American Southern brunch begins at the buffet tables of the Peabody's Capriccio Grill. You have platters upon platters of Belgian waffles, eggs, smoked salmon, salads, pastas, steaks, and bacon, plus a impressive display of baked goods, desserts, and mimosas.
Midtown/Overton Square
Boscos is the classic old-school Memphis brunch. By 10:30am, the bar will fill with regulars and post-church families waiting for a table inside (where there's usually live music) or on the spacious patio. Boscos doesn't mess around with it comes to the menu; it has dozens of Benedicts, hashes, and waffle plates along with sumptuous shrimp & grits with Tasso (spiced pork) gravy and a daily bread pudding special.
Midtown/Overton Square
The Bayou is the place for laid-back Midtowners to stumble to on weekend mornings. It's a no-frills kind of place with $3 brunch drink specials and a sought-after patio. There's a Cajun spin on classic brunch dishes, like the Andouille sausage eggs Benedict served on biscuits instead of English muffins, or the Eggs Pontchantran with fried oysters and bacon.
U of M District
Is it really brunch if there's no booze? Only if it's Brother Juniper's. The hour-plus weekend wait time and inclusion on every "must eat" Memphis roundup earns this quaint restaurant bragging rights. It's part family-run diner, part-cozy cafe, and the special roast coffee is not for java amateurs. Go straight for the open-face omelets like the San Diegan with portobellos, feta, and bacon or the Desperado with black beans, salsa, and avocado.
Midtown/Cooper Young
Bangers and rashers meet French toast and cheesy eggs and at this neighborhood Irish pub on Sunday mornings. Sit inside with football fans (both American football and "soccer" football) for fish and chips and $4.50 Bloody Marys, or enjoy mellow live music and a mimosa carafe on the spacious, heated patio.
Midtown/Cooper Young
Brunch gets a makeover at this Cooper Young hotspot, which is completely packed on Sundays with Midtowners looking for an upgrade to everyday omelettes. Try the Beneduck -- spiced, sugared crispy duck with jalapeño jam -- or country ham with red-eye gravy, green apples, and bleu cheese over eggs and hash browns. Spirits-wise, the Bad Boy Bloody Mary and the Big Boy Mimosa have you covered.
Downtown
For a swanky, boozy downtown brunch, settle in at Automatic Slim's for its 100oz mimosa towers, plus entrées like Seared Scallops & Grits and Chorizo-Potato Hash. Choose from pancakes or waffles in flavors such as red velvet, Oreo, cinnamon roll, Manhattan (with bourbon syrup), mint-chocolate chip, and the Elvis (peanut-butter syrup and sliced bananas).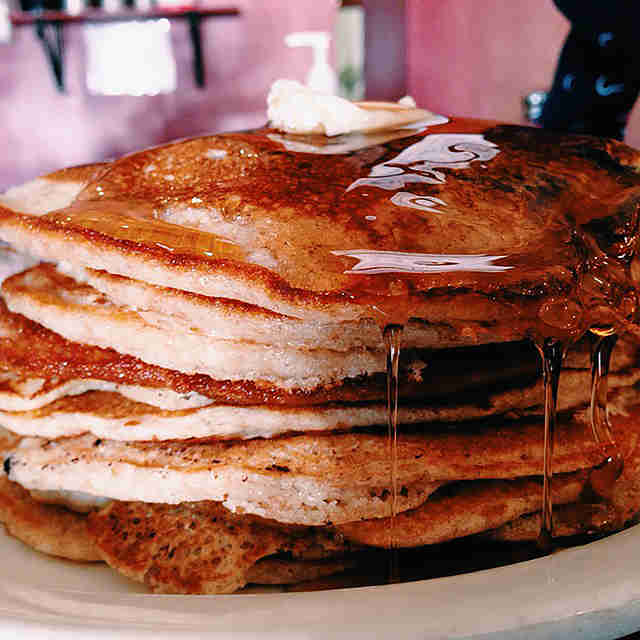 Vollintine-Evergreen/Harbor Town/U of M District 
Cafe Eclectic is the place to treat yo'self on weekend mornings if you're feeling a little wilted from the night before. There's an array of baked goods like fresh donuts, croissants, and enormous cinnamon rolls, plus egg-and-bacon based dishes and pancakes. All three locations are BYOB, or you can go for something on their extensive coffee drinks menu, like the Karamel Sutra or Crème Brûlatte.
Sign up here for our daily Memphis email and be the first to get all the food/drink/fun in the Blues City.