As wonderful as brunch is, you shouldn't be traveling far for it. You're likely in rough shape from the night before, so there's no reason to introduce a stressful commute into your already trying morning. That's why we've handpicked, out of Memphis' many fine restaurants, the best brunch in your neighborhood. So you can focus on what's important: filling yourself to capacity with eggs and conversation -- and yet another Bloody Mary.
Recommended Video
Ghost Kitchen: How This NYC Restaurant is Responding to Coronavirus
Bartlett
Asian Palace
Dim sum better than any traditional brunch
Bartlett hasn't embraced traditional brunch, but Asian Palace's Sunday dim sum is both delicious and memorable. The round tables seat eight and feature a giant lazy Susan in the middle, so bring friends and wait for the carts to come around. Take your time and don't fill up on the first ones offered. The closer it gets to noon, the more options there are! There's a chart on the wall with all of the offerings, so take a moment to peruse it. Steamed buns, fried dumplings, rice cakes, noodles, spare ribs, cakes, pastries, chicken feet -- they have everything. OK, everything except booze.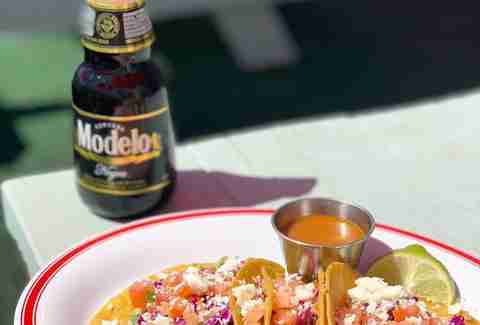 Broad Avenue Arts District
The Liquor Store
A classy joint close to everything
This Latin inspired diner was built in an old liquor store and has one hell of a cocktail program, but it's the food that packs customers in on both Saturday and Sunday. The food is as beautiful as the interior. Try a breakfast burrito made with scrambled eggs, choice of meat, cheese, fresh pico, and home fries tossed in a brown sugar chipotle bravas sauce served with a side of mojo and sofrito. Other crowd pleasers include beignets, pancakes, Cuban platters and sandwiches, the Impossible Burger, and loaded fries. Best of all, the pie case is loaded with house-made goodies all weekend long.
Collierville
P.O. Press Public House & Provisions
Farm to table with a global flare
P.O. Press is most likely on your list of restaurants to try, but keeps getting pushed to the side because it is all the way out in Collierville. Sunday brunch (10:30am to 3pm) is the perfect time to give it a try. Read: road trip! (If you plan to partake of the excellent craft cocktails, go ahead and budget in that $60 round trip Uber from Midtown.) Chef Jimmy Gentry cooks with the seasons and plans the menu around what's available from area farmers. The result is 100% worth the drive. The fresh produce dishes are served before the house-aged meat courses, and if you aren't careful, you'll realize that sometimes you don't need to eat meat to have an exquisite meal.
Cordova
El Mero Taco
Beloved taco truck sets up shop in the 'burbs
The beloved taco truck is now a real restaurant with beer and everything. Even though it is in Cordova, it's right off of the Shelby Farms Park Greenline which gives you the perfect excuse to bike to brunch! One caveat -- you'll have to brunch on Saturday as they are closed on Sunday. The good news is that brunch starts at 9am. Feast on their specialty horchata cold brew chilaquiles, breakfast tacos, and smoked cheese grits before biking back home.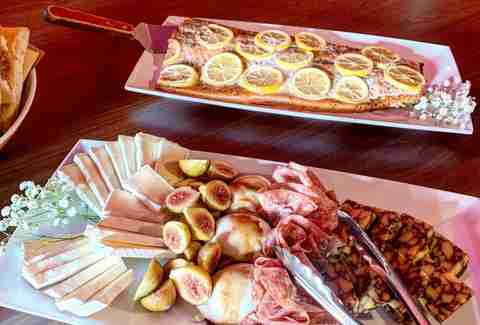 Crosstown
Midtown Crossing
Where breakfast pizza is king
Crosstown Concourse gets a little sleepy on Sundays, so the adjacent Midtown Crossing Grill is the brunch go to from 11am to 2pm. Midtown Crossing specializes in scratch cooking and offers waffles, egg scrambles, country biscuits, and eggs benedict pizza. There's also a $2.25 mimosa bar, live music, and patio.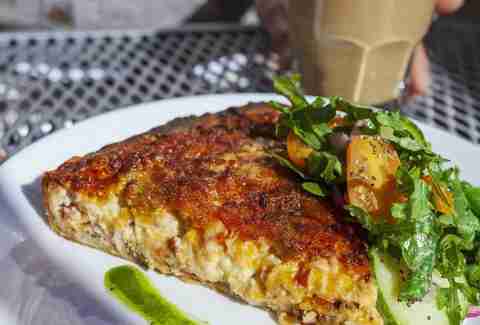 Edge District
Edge Alley
Redefining brunch with attention to every detail
This is not your average brunch spot. Chef/owner Tim Barker makes everything on the menu, right down to the condiments. He even roasts his own coffee. A standard order of bacon equals five pieces of bacon. "Add avocado" means you get an entire half of an avocado. Edge Alley serves brunch every Saturday and Sunday from 9:30am - 4pm with menu items ranging from biscuits to salads to breakfast plates to French toast waffles. (If you ask nicely, you can get the hearty overnight oats from the weekday menu.)
Evergreen
Ecco on Overton Park
Modern Europen Cafe in the heart of Midtown
Ecco only serves brunch on Saturday from 10am to 2pm so mark your calendars, especially if you've got a taste for crepes. Try them with everything from veggies to macerated orange & mascarpone to bananas & rum to salmon & shrimp. They have other brunch standards including frittata, steak & eggs, and biscuits & gravy. There's a full bar outdoor seating in both the front and back.
Germantown
Southern Social
Your fine dining brunch option
Despite the sprawl, Germantown is still a bit of a brunch desert. Southern Social, known for its buttoned up fine dining, does brunch from 9:45am to 2pm, but you will definitely need a reservation. It's a good opportunity to experience the menu items in a slightly more affordable fashion. We recommend you start with a Southern 75 (Seersucker Gin, blueberry, lemon, sugar, bubbles) and then hit the warm cinnamon rolls, fried pimento cheese sandwiches, and jumbo lump crab cakes. (Save the entrees for a future date night.)
Harbor Town
Paulette's
Views of the Mississippi River at a charming 40-year-old institution
Start the day with Paulette's signature fresh baked popovers with strawberry butter at brunch on both Saturday & Sunday 11am to 2pm. The Bel-Air salad (fresh California greens, sun-dried cherries, oranges, walnuts, walnut encrusted goat cheese, orange-balsamic vinaigrette), low country crab cakes, and chicken supreme crepe are all solid choices, but save room for a giant slice of K-pie (coffee ice cream in a pecan-coconut crust with fresh whipped cream, chocolate shavings, and Kahlua).
Medical District
Sunrise Memphis
Early risers rejoice with biscuits
This fast casual spot is a go-to for early risers all week long and brunch is no exception. Starting at 5am on Saturday and Sunday, brunchers can enjoy specials like pork belly hash served over avocado toast with two eggs, peppers, and onions, in addition to regular menu items like giant biscuit sandwiches, bacon, hash browns, grits, pancakes, eggs, and so on. There are vegetarian options available and unique dishes like Bi Bim Breakfast made of char siu pork (or tofu), fried egg, kimchi, scallion, pickled daikon, and sticky rice. Drinkwise, go for the beermosa, but they also offer regular mimosas, Irish coffee, and a Bloody Mary bar.  
South Main
Rizzo's Diner
Food full of joy, not pretense
Chef Michael Patrick isn't going to send anyone home hungry. Sunday brunch, which is 11am to 3pm, features $3 Mimosas and $5 Bloody Marys, so you won't leave thirsty either. The blackened catfish eggs benedict made with Lake Farms Mississippi catfish, cajun hollandaise, and poached eggs on an English muffin is a must try. This meat-centric menu does feature a few vegetarian friendly options that are just as decadent, like the French toast bananas Foster made with egg-battered Texas toast, caramelized bananas, and vanilla bean gelato.
Cooper-Young
Beauty Shop
Retro beauty shop with stylish global cuisine
Brunch gets a makeover at this Cooper Young hotspot, which is completely packed on Sundays with Midtowners looking for an upgrade to everyday omelettes. Start with an order of beignets. Then try the Beneduck -- spiced, sugared, crispy duck with jalapeño jam -- or country ham with red-eye gravy, green apples, and blue cheese over eggs and hash browns. Spirits-wise, the Bad Boy Bloody Mary and the Big Boy Mimosa have you covered. Be a hero and make a reservation in advance for your group! Sunday only, 10am to 3pm.
Downtown
Majestic Grille
Dramatic dining in downtown's core
The Majestic Grille has the best of both brunch worlds, with equal style and substance. Enjoy live music on the mezzanine of the 1920s Art Deco theater while sipping a carafe of mimosas and noshing on veggie frittatas. Or sidle up to bar to watch football and tear into a ribeye steak & eggs served with potatoes, biscuits, and a Bloody Mary. When it's nice out, the patio offers the best people watching Downtown has to offer both Saturday and Sunday 10am to 2pm.
East Memphis
Hog & Hominy
Wood-burning neighborhood eatery worthy of James Beard
There's a reason that Hog & Hominy is on damn near every "best of" list, and its brunch is no exception. On Saturdays and Sundays from 10:30am to 3pm, you can get bacon in more than three forms, shrimp & grits, pancakes, biscuits & gravy, home fries, and favorites like the crab claws, John T. Burger, poutine fries, and signature pizzas. Drink specials are available for Bloody Marys and mimosas, but the seasonal cocktail menu is one of the city's finest. Plus, there's outdoor seating and bocce ball.
Overton Square
The Second Line
Authentic everyday New Orleans fare
For those seeking a prime patio experience while brunching, The Second Line delivers. Not only will you soak up the sunshine, you'll enjoy specials like shrimp benedict (English muffin, shrimp piquant, poached eggs, and hot sauce hollandaise) and standards such as the brunch po-boy (ham, cheddar, three sunny eggs, halfway dressed). Best of all, after a few cocktails it's super-easy to convince yourself that you're actually on vacation in NOLA. Saturdays and Sundays until 2pm.
South Memphis
Gay Hawk
Comfort food, community, and peach cobbler
Not your average brunch, Gay Hawk provides soul food, good conversation, and fried chicken. The buffet is from 11am to 5pm and features soul food favorites like the aforementioned fried chicken, greens, yams, and peach cobbler. There's an incredibly friendly vibe, and it's not uncommon for folks to sit and enjoy the food and company all day long. Plan to sip on a sweet tea.
University District
Char Restaurant
Modern Southern cuisine, steaks, and jazz
Char is the star of the Highland Strip, and the brunch is not to be missed. The brunch menu includes staples like crab benedict, custard-fried French toast, and chicken & waffles. The full non-brunch menu is also available on Saturdays and Sundays, which means you can get a bowl of gumbo and crab claws with your mimosa. If you like jazz, be sure to reserve a table in the bar and enjoy live music from Le Tumulte Noir. Brunch is 11am to 2pm on Saturday and 10am to 2pm on Sunday.
Sign up here for our daily Memphis email and be the first to get all the food/drink/fun in the Blues City.