Hog & Hominy

| Sarah Rossi Voigt/Thrillist
Hog & Hominy

| Sarah Rossi Voigt/Thrillist
During my burger journey through Bluff City, aka the Home of the Blues, aka the resting place for the Best Dive Bar in the World, I turned to my friend Casey and said, "You know what we're doing?"
"Don't say it," he responded. There was some urgency in his voice.
"We're walking in Memphis, Case," I said.
So that was a low point.
But our trip through the Birthplace of Rock 'n' Roll had many high points. Memphis is an underrated city, and one with an old-school feeling, partially because there has not been the sort of huge Downtown rebirth that you see in many cities. In fact, as we walked through parts of Downtown away from the bustle and "Mustang Sally" covers on Beale Street, it was a ghost town.
But that didn't stop us from eating many burgers. Over the course of 24 hours in the city, we hit seven spots in and around the area, from old-school burger chains to classic dives and everything in between. My eating partner was Casey Hurley, my best friend from growing up. Here is a picture of him regretting eating upwards of 20 burgers over the course of three days with me (with bonus Marc Gasol fathead in the background):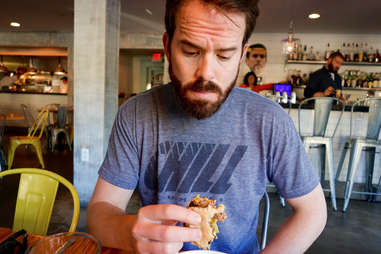 Anyway, in case you're new to my rankings, here are some guidelines: If the restaurant had multiple burgers, I tried to order its signature burger, or if that was too outlandish and stunt-y, the closest to a classic cheeseburger. If it came with options, I always picked American cheese and grilled onions. If you think I missed a place, please write a personally insulting note and mail it to Thrillist with a self-addressed stamped envelope. But until the postman comes, indulge yourself in my ranking of the best burgers in Memphis.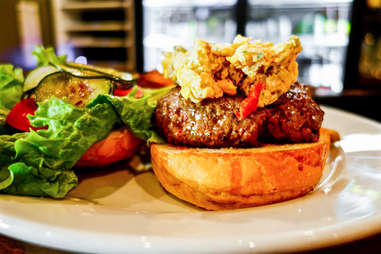 7. Pimento Cheeseburger
Cooper-Young is hip. I know this because I saw a young man with lots of facial hair smoking something electronically as we walked into Next Door, which is a perfect little bar for a hip neighborhood. Their pimento cheeseburger, however, was not perfect for me.

I should start by saying that I do like pimento cheese on burgers, but a little goes A LONG way, and this thing was topped by someone with a heavy hand. That saltiness combined with a 1/2lb of Claybrook farm beef overwhelmed the acid from the house pickles and anything else in the mix. Plus the bun wasn't toasted (this is a pet peeve of mine) and so it started to get soggy on the bottom quickly. If this was slider-size, I'd have been all in. It was not. Lovely folks though!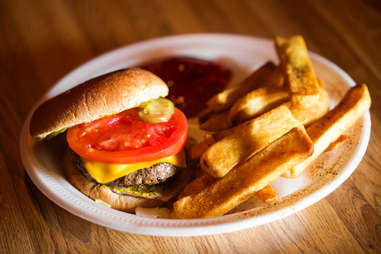 6. The Greek Burger
Alex's Tavern is Memphis' oldest family-owned tavern. I know this because the red awning out front told me, and I'm a journalist so I wrote it down. Also, it only serves drumsticks when you order hot wings, which is absolutely genius. In fact, everything on the menu looked amazing, from the ribs and the gumbo to the chicken tenders.

Of course, the burger is legendary, cooked up in an old skillet and topped with Cavender's Greek Seasoning and black pepper, with white onions tucked underneath. The patty was cooked a perfect medium and remained juicy throughout, and though the spot claims there are 13 spices in that seasoning, the garlic and oregano are really the main players. I have no problem with either spice, but they did make it taste more like well-seasoned meatloaf than an actual burger. The thick-cut steak fries were damn delicious though.
5. World Famous Huey Burger with Cheddar
"Look up," Casey told me as we sat down at Huey's bar. I looked up. Toothpicks stuck out from the ceiling like a porcupine's back. "Look at the walls," Casey said. I looked at the walls. They were covered in graffiti, including one passionate plea to elect Kanye president. "Look at the burger," Casey said, when our World Famous Huey Burger showed up. I looked at the burger. It was beautiful.

Huey's has a lot of burgers. And many of them sound delicious (I really wanted to try the Old Tyme A1), but alas, I am a professional, and so I got the basic enterprise, not, frankly, expecting a whole lot. But Huey's burger cooks know what the heck they're doing. The composition of the burger was perfect: The mayo and the Cheddar and meat all combined to form some sort of fatty, salty base that was balanced nicely by the acid in the mustard and pickle, and the cut of the onions.

There were some slight missteps: The meat was salty and well-cooked, with just a little bit too much snap and density, and the bun was well-toasted but the top was a bit dry and started to peel a bit towards the end. But those were minor complaints. Go to Huey's. And before you stare at that burger, look up.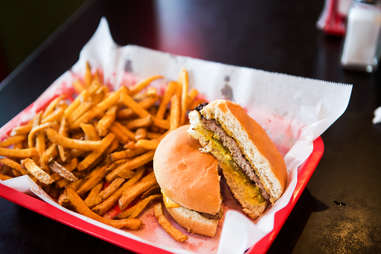 4. Dyer's Single with Cheese
If you've ever wanted a burger cooked in the same grease that your great-grandfather's burger was cooked in, Dyer's is the spot. Open since 1912, Dyer's is well-known for its "ageless cooking grease" strained daily and, though, it has changed ownership through the years, the restaurant still abides by the rules of cooking in the magical old grease.

Case and I walked down Beale through throngs of people drinking frozen boozy concoctions in tall glasses and humming "Mustang Sally," and popped into Dyers around 8pm on a Thursday night. It was empty save a couple of college guys crushing wings and talking about cars they'd buy if they were rich (everyone seemed to like Dodge Vipers), and the burgers came out quickly. The burger is thin, and griddled well in that grease so you can see the deep brown crust. The cheese blends in with the meat and offers up that great diner burger flavor, when butter and grease and cheese and meat all come together as one, though the mustard, pickle, and onions kept it from overwhelming.

The bun was a touch dry, but otherwise, it's a great diner-style burger with the extra cache that the grease on my lips might've also helped perfect a burger enjoyed by Memphis legends like Penny Hardaway and Jerry Lee Lewis. Or at the very least, Shannen Doherty.
3. The Burger with American & Sauteed Onion
Arlington, TN
Arlington is just outside of Memphis. And it is filled with farms. And close to those farms sits a giant barn. Outside that barn sit a lot of Ford trucks. And inside that barn is a pretty damn great burger joint.

When we went to Off the Hoof, it was around lunchtime and the place was packed with a mix of farmers, military folk, and a few other locals. We ordered up a burger and some "hot tops," because I can't go through a day in the South without eating fried jalapeño slices dipped in ranch. The burger clearly used quality meat, with minimal snap and a loose grind, and though it was slightly overcooked it had a great char. The toasted, buttered bun was a touch dry, but the composition was great, and it reminded me in many ways of a perfect backyard burger, cooked in a place where the backyards go on forever.

Oh, and those "hot tops" were damn near perfect too.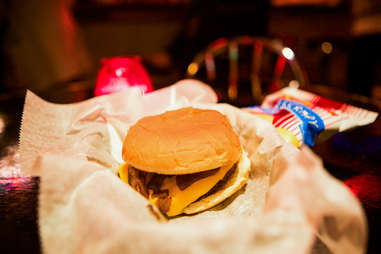 1. The John T. Burger
I don't enjoy re-confirming other people's opinions. In fact, if there ever seems to be a consensus about, say, a burger being so great, I'll admit it: I go into those experiences looking for mistakes. The John T. burger at Hog & Hominy is well-trodden territory for national burger lovers. Plus it's named for one of the legendary Southern food writers, John T. Edge, as an homage to his favorite type of burger. And because of that hype, I decided I wasn't going to like it.

En route, I told this to Casey. "I just can't see it living up to the hype" were my exact words. Casey didn't say anything, possibly because he was engrossed trying to figure out how to book an earlier flight home. But when we got to Hog & Hominy, Casey fell in love. "This is the exact restaurant I would create, if I were to create a restaurant," he said, swooning. I told him he would never build anything, but he ignored me, stretching to see if he could buy a novelty tee. And then when the burger came, Casey fell in love all over again. "Holy shit," he said maybe three or four times. He kept taking bites and then glancing back at me with this sort of shocked look on his face. And then he nodded several times vigorously. "This," he said, "is the one."

And so I took a bite. And dammit it all, if he wasn't right. The John T. burger is an exercise in perfection. There are no wasted ingredients and no wrong turns. The griddle on the loose and juicy meat is exceptional. The sesame bun is soft, but holds up to the meat and cheese. The pickled lettuce subtly gives every bite the acid needed to balance the flavors. The bite of the mustard addresses the need for some tang. The onion gives it bite. It is the best burger in Memphis, and one of the best in the country. And it comes from an Italian restaurant in East Memphis that only serves it at lunch. Plan accordingly.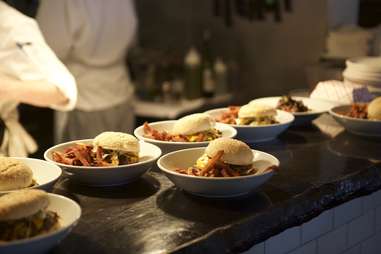 Sign up here for our daily Memphis email and be the first to get all the food/drink/fun in the Blues City.