Memphis is an easy town to live in: housing is affordable, traffic's not bad, and the food is amazing and sometimes amazingly cheap. Here you can skip the drive-thru when hunting for cheap eats, as many restaurants, even fine-dining spots, have you covered for 10 bucks or less. Save money by stopping at any of these 14 cheap eateries in town and put that extra cash toward beer and Grizz tickets.
East Memphis
What you're getting: Dutch baby pancake, $5
If you don't know about Dutch baby pancakes, you haven't truly lived. They're a cross between a pancake and a popover -- eggy and sweet, with a hint of lemon. It feels like eating dessert for breakfast, and what's better than that? It's so cheap, you can get a fancy coffee and still not break $10.

Overton Square
What you're getting: Bi Bim Bop $10.99, Bi Bim Bap burger $6.99
Come for a sizzling-hot bowl of rice, veggies, bean sprouts, spicy sauce, and the meat of your choice all topped with a sunny egg that's almost too pretty to eat. Grab some chopsticks and mix it all together while the sizzle evenly distributes the yoke. It's hearty, satisfying, and seemingly pretty healthy. To pinch a few more pennies, order the Bi Bim Bap burger instead and get all of the same flavors, no chopsticks necessary.
East Memphis
What you're getting: Rainbow Wings, $5 for four, $6.50 for six
Memphis has a lot of affordable hot wing options, no doubt, but there's only one place for Rainbow Wings. They feature a panang curry, fresh lime, and lemongrass dipping sauce, which is a total game changer. The curry is sweet, spicy, and tangy all at once, and the wings are perfectly crispy.
VECA
What you're getting: 3-Way tamales, $7.95
Dino's tamales are the perfect hangover food: tender, meaty, and pack a nice, spicy punch. Four of them serve as a base for a heaping helping of spaghetti and chili, which can and should be topped with cheese and onions.
Midtown
What you're getting: Mix & match sliders, $9.99 for three
With everything from brown rice, beet, and black bean to jerk pork, the mix & match sliders are both crowd and wallet pleasers. The Original Memphis and Chick-N-Fill-Ay buffalo style are favorites. An order of three (any three!) comes with Slider's famous salt and sugar sprinkled skinny fries and bourbon-mayo dipping sauce.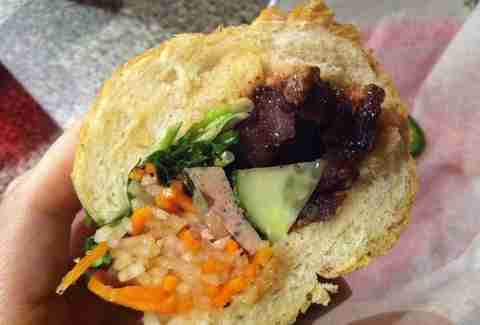 Chickasaw Gardens
What you're getting: Banh mi, $3.99
A small, crunchy baguette is the foundation of this sandwich, which includes house-made liver pâté, flavorful crispy-barbecued pork, cucumber, pickled carrots, daikon radish, sliced jalapenos, and fresh cilantro. The crispy pork makes it a standout from every other bahn mi in town. At $3.99 a pop, you can even afford to feed a friend.

Summer/Midtown/Downtown
What you're getting: BBQ nachos (half order, pork), $5.75
You have to feel sorry for people who don't live in Memphis and can't simultaneously get their BBQ- and-nacho fix. Now standard on many menus, Central's are the best and biggest. The nachos are simple, but delicious. There's processed cheese topped with tangy BBQ sauce, perfectly smoked barbecue, and pickled jalapenos if you so choose. Pro tip: Central's house-made BBQ chips can be substituted for the standard-issue tortilla chips.
Midtown
What you're getting: Prosciutto cotto, $5.25 half, $8.00 whole
All of the sandwiches at the one-and-only Fino's are deals, and a half is usually more than enough. The prosciutto cotto is sweet boiled ham, topped with provolone, and roasted red pepper marinade. The super-hard crunchy bread is often the best part, though soft bread is available upon request.

University District
What you're getting: Black bean breakfast burrito, $8.95
By the time you get a seat for a top-tier brunch at Brother Juniper's, you are sure to be extra hungry. The black bean breakfast burrito will fill you up and then some. The large flour tortilla is filled with black bean vegetarian chili, egg, and cheddar cheese, then topped with salsa and sour cream. You also get home fries or grits, and biscuits or toast.

@FuelFoodTruck for Location
What you're getting: Veggie tacos, $6 for two
We've got taco trucks and authentic Mexican restaurants up and down Summer Ave, so finding a cheap taco is not hard. However, should you want veggie tacos that are so good non vegetarians line up to order them, then track down Fuel Truck's current location. Made with fresh tortillas gently glued together with cheese, its signature veggie burger patties, and a load of toppings, an order of two is a meal in itself. Go ahead, add the fresh avocado for an additional buck (chicken and bison tacos are also available).
East Memphis
What you're getting: Shrimp tempura roll, $5.99
The shrimp tempura is the top seller at our beloved gas-station sushi spot, but all of the 12-piece rolls are worth a try. Instead of avocado, which tends to brown, Lee's uses cucumbers for a nice crunch. It also has a special rice formula that keeps the sushi from getting hard. It makes sushi fresh all day, and is mindful of the fact that the rolls can be refrigerated for several hours.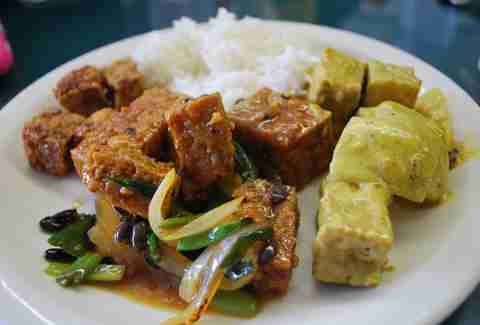 Midtown
What you're getting: Lunch buffet, eat in $7.49, to go $8.99
The Pho Binh lunch buffet (M-F 11am-3pm) immediately comes to mind for local cheap eats. It's where vegetarians and meat eaters alike gather to worship perfectly fried tofu. Lemongrass tofu, black bean tofu, and coconut curry tofu are just a few of the options available among more traditional buffet fare.

Medical District
What you're getting: A slice, $3.99-$4.99
There's no better or bigger slice of pie in town than at Trolley Stop Market. One is quite filling, but two is still in the budget. Go at lunch and get the Slice Combo Special: one slice of pizza, side salad, and fountain drink for $8.99. Slices vary by day and are displayed up front.

East Memphis
What you're getting: A|M Breakfast, $11
Breakfast-for-dinner lovers, unite! Have a seat at Andrew Michael's new bar and treat yourself to the best breakfast (for dinner) in town. The meal includes a perfectly poached egg, pork belly, polenta, and house-made pork rinds all together on one plate! It's the total package of crispy, creamy, salty, and fatty.

Sign up here for our daily Memphis email and be the first to get all the food/drink/fun in the Blues City.
Stacey Greenberg lives in Cooper Young with her two sons. She is the author of the award winning Dining with Monkeys blog.