Ask any donut shop what their best seller is and they will say glazed. Clearly, we have a lot of purists in this town. However, there are many more exciting donuts to try in Memphis, all over the city and at all hours of the day. Broaden your doughy horizons at any of these 11 spots.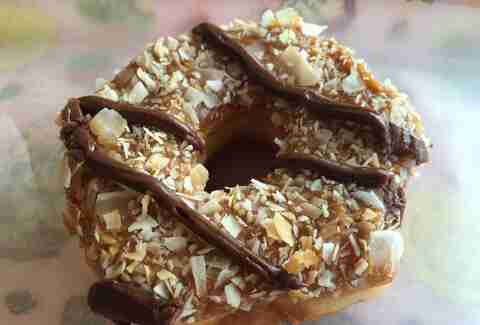 East Memphis
Gibson's is open 24/7 and the cooks are there for 12-14 hours a day. (Note to the night owls: donuts become half price at 11pm.) During the day, it's best to stay on your toes as the owner may throw a donut at you when you least expect it, or he might even give you a tour of the kitchen. Because Girl Scout cookies aren't addicting enough, Gibson's has a Samoa donut. This caramel, coconut and chocolate triple threat is even better than the cookie.
Cooper-Young
The ginger donuts with coconut sorbet at Tsunami have been a solid seller for five or six years. Smith says they tie nicely into the restaurant's Pacific Rim theme while also honoring the South's love of deep fried foods. The ginger donuts are about the size of golf balls, and have a crusty exterior and a cakey, gooey interior, and are dusted with powdered sugar. Their deliciousness lies somewhere between coffee cake and funnel cake. A big scoop of coconut sorbet is the perfect match and provides balance.
Cooper Young
Strano's Sicilian and Moroccan influenced recipes include Zappolies (available on the brunch menu by special request at dinner). Zappolies are reminiscent of a traditional beignet. Let's call them cousins. The Zappolies are a tad smaller, a little more free form in shape, and feature cinnamon sugar rather than powdered sugar. The texture is almost exactly the same. They are served with "berry sweet sauce" and a heavenly hazelnut dipping sauce. Imagine a thinner, warmer Nutella.
University District
When Rock'n Dough made its move to the University District (let's call it "almost Midtown") they added beignets to the menu. Not only are they the most authentic beignets in town, they are available at the drive-thru from 7am on Weekdays, and from 8am on Saturdays and Sundays. Grab a coffee and your choice of plain sugar, cinnamon, or chocolate, served up in a pizza box!
Midtown
Look for the giant, yet welcoming, pink sprinkled donut sign. Even though putting bacon on everything may seem oh so 2014, everything really is better with bacon. Especially donuts. Try the Maple Bacon.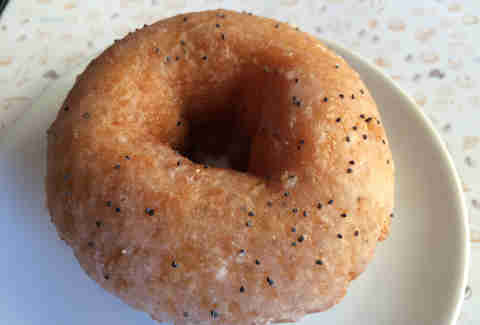 Midtown
Technically not a donut shop, Café Eclectic's small selection of freshly baked cake donuts definitely deserves a spot. Not only are they super yummy, at Café Eclectic you can pair that lemon poppyseed donut with a killer illy coffee.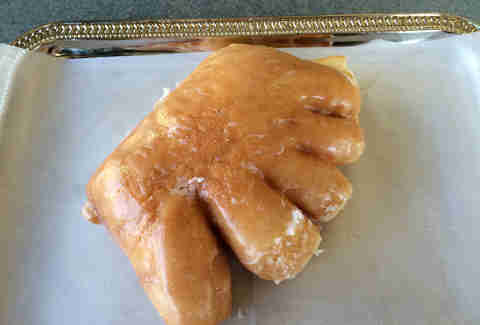 Midtown
I love everything about Donald's, but most especially the décor and the fact that you can enjoy your donuts at a retro counter. The bear claw, which looks more like a catcher's mitt, is formidable. And filled with apples. Definitely the right pick for those of you who are "only going to eat one."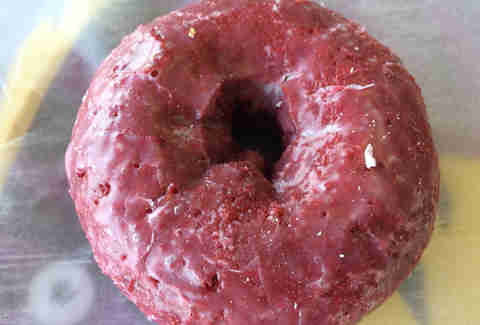 Multiple Locations
If Howard's is your favorite, you are in luck since there are five different locations. My favorite location is the Summer store where the tables look like they were salvaged from a Western Sizzlin and the donuts are inexplicably served on plastic, fish-shaped plates. Regardless, the red velvet cake donut is really something.
Germantown
At Jody's they let you get exactly what you want. Pick the donut—Bismark (round) or Long John (bars), pick your topping (chocolate, glazed, powdered sugar, etc.) and then pick your filling (various creams including cream cheese and numerous jellies including guava). They fill the donuts while you wait, which is deliciously sweet of them. The coconut cream filled long john is akin to a giant Almond Joy.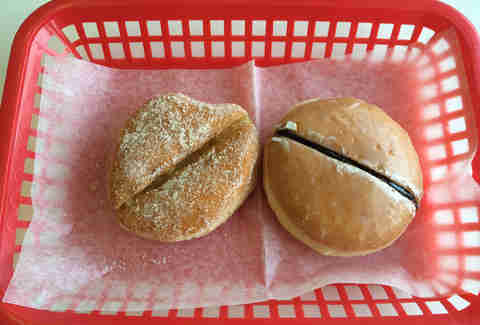 Raleigh
The Original Donut Man is definitely worth the drive, especially if you want a LOT of donuts. Their selection is quite impressive. I'm a fan of the filled Bismarks and not just because they look like giant happy pills with their neat slits down the middle. The slits both tastefully expose the jelly inside and allow them to be quickly & neatly torn apart and devoured.
Bartlett
If you like Donald's, you'll like Sam's, as the offerings are fairly similar. However, "Sam" experiments with the old-fashioneds a bit more. The blueberries definitely make them seem a less dowdy and taste extra good.

Love free donuts? Find out where to stock up for this year's National Donut Day on Friday, June 2, 2017.

Sign up here for our daily Memphis email and be the first to get all the food/drink/fun in the Blues City.

Stacey Greenberg lives in Cooper-Young with her two sons. She's eaten way too many donuts. She's the author of the award winning blog, Dining with Monkeys.