Ask any donut shop what their best seller is and they will say glazed. Clearly, we have a lot of purists in this town. However, there are many more exciting donuts to try in Memphis, all over the city and at all hours of the day. Broaden your doughy horizons at any of these 11 spots.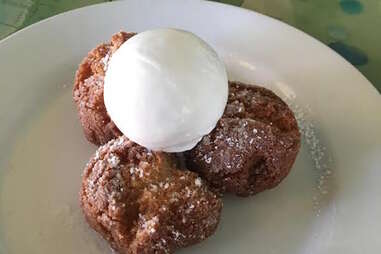 Cooper-Young
The ginger donuts with coconut sorbet at Tsunami have been a solid seller for five or six years. Smith says they tie nicely into the restaurant's Pacific Rim theme while also honoring the South's love of deep fried foods. The ginger donuts are about the size of golf balls, and have a crusty exterior and a cakey, gooey interior, and are dusted with powdered sugar. Their deliciousness lies somewhere between coffee cake and funnel cake. A big scoop of coconut sorbet is the perfect match and provides balance.
Cooper Young
Strano's Sicilian and Moroccan influenced recipes include Zappolies (available on the brunch menu by special request at dinner). Zappolies are reminiscent of a traditional beignet. Let's call them cousins. The Zappolies are a tad smaller, a little more free form in shape, and feature cinnamon sugar rather than powdered sugar. The texture is almost exactly the same. They are served with "berry sweet sauce" and a heavenly hazelnut dipping sauce. Imagine a thinner, warmer Nutella.
University District
When Rock'n Dough made its move to the University District (let's call it "almost Midtown") they added beignets to the menu. Not only are they the most authentic beignets in town, they are available at the drive-thru from 7am on Weekdays, and from 8am on Saturdays and Sundays. Grab a coffee and your choice of plain sugar, cinnamon, or chocolate, served up in a pizza box!