Food trucks are finally an active and vital part of the Memphis foodscape. It's become hard to imagine guzzling a frothy pint without a handful of food truck grub, as the trucks and carts are staples at our three immensely popular taprooms. Other great places to try out the local food truck scene are the Levitt Shell, Court Square Thursdays, and Food Truck Fridays at the Dixon. It's truly rare to find a special event without a food truck. Some of them have semi-permanent spots, but for the most part, you'll need to go online to find your favorite. And by online, we mean straight to this article.
Specialty: Tacos
Where to find them: A calendar shows their location on their website, and they regularly update their Facebook, Instagram, and Twitter
Jacob and Clarissa Dries are a husband and wife team who met in Austin, TX, while attending culinary school at Le Cordon Bleu. When they heard the news that Memphis, Jacob's hometown, was embracing food trucks, they decided to make a move. Since Clarissa is from Oaxaca, Mexico, they welcomed the idea of an American Southern/Mexican concept. El Mero is Spanish slang for "the best," and just so happens to be the name of their fried chicken taco (their top seller).
Specialty: Burgers and sandwiches
Where to find them: Facebook and Instagram
Jared Richmond is a self-taught cook who recently launched Gourmade (a combination of gourmet and homemade) in a repurposed FedEx truck. His current menu includes favorites such as the Gourmade burger, with truffle aioli, arugula, white American cheese, and pickled red onion, and a grilled mac & cheese sandwich with a three-cheese blend.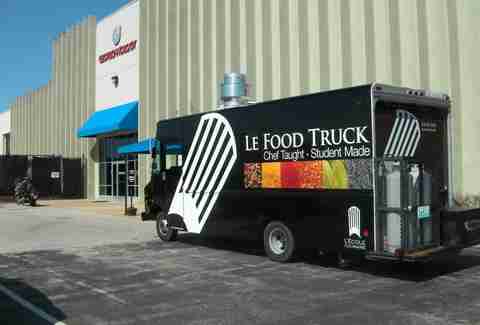 Specialty: Lunch
Where to find them: Twitter, Facebook
Le Food Truck is a class for students at L'Ecole Culinaire who are interested in learning more about the business of running a food truck. "Chef taught, student made" is their motto. The menu changes to reflect seasonal ingredients and student curriculum. Everything on the menu is $8, and includes house-made chips and a drink.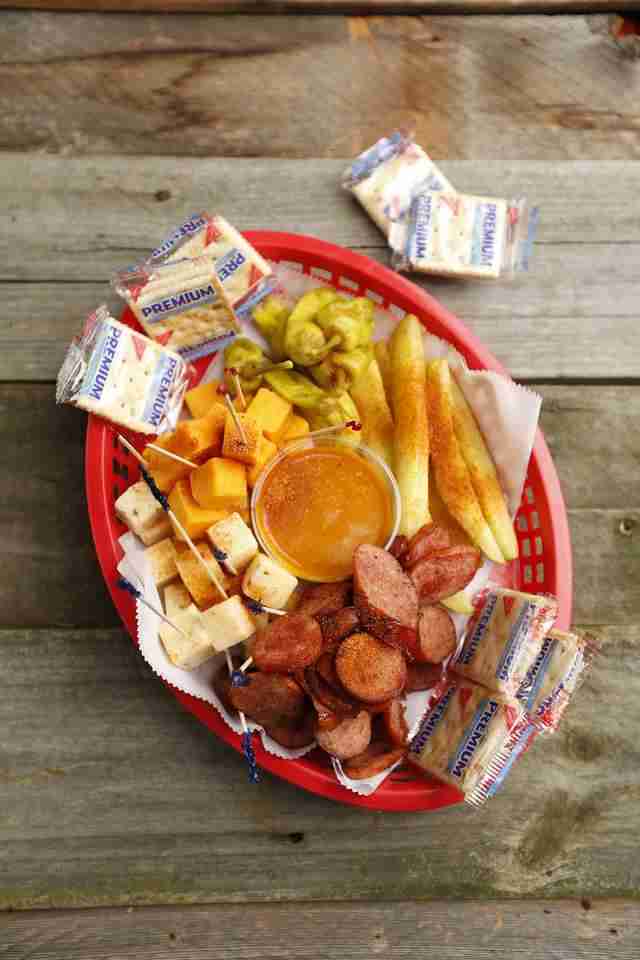 Specialty: Pulled pork BBQ
Where to find them: Facebook and Twitter
You can see Central BBQ's food truck coming from a mile away: the signature bright rainbow tie-dye design and smiling pig graphic is something Memphians would recognize anywhere. The truck has a scaled-down menu of classic pulled pork barbecue dishes, but you should count on getting a sandwich and nachos anytime you see it parked.
 
Specialty: Burritos
Where to find them: Twitter or by emailing hotmessthetruck@gmail.com
Unlike some veggie taco or burrito options, Hot Mess puts the actual good stuff in its veggie burrito -- sweet potatoes, black beans, squash, and onions -- and wraps it in a warm, flaky tortilla. Possibly the best name for a food truck in the history of food trucks, Hot Mess dishes out flavorful burritos with homemade flour tortillas. It has roasted tomato, tomatillo, and habanero salsas on chicken, veggie, catfish, or plain bean & cheese burritos.
Specialty: Frozen pops
Where to find them: Facebook, Twitter, and Instagram
The MEMPopS truck is definitely the most adorable food truck in Memphis, if not the entire world. Owner Chris Taylor saw a Craigslist ad for an old mail truck in Nashville and decided to buy it on a whim. Now our first "farm-to-stick" food truck, MEMPopS flavors vary depending on what's fresh. Signature flavors include roasted peach, sweet cherry, watermelon basil, watermelon cucumber, strawberry, blueberry lemonade, pineapple coconut, mint lemonade, and avocado lime. Pops sell for $3 each.
 
Specialty: The "Real Deal Philly Cheese Steak" (made with rib-eye)
Where to find them: Facebook and Twitter
If it's something you serve at a backyard cookout, it's something you can probably find on the menu of MarksGrill food truck. Think grilled juicy burgers (beef or veggie), hot dogs, pitas, gyros, cheesesteaks, and fries. It's THE truck you want to find after you've had a few.
Specialty: Gourmet raw foods
Where to find them: Eclectic Eye parking lot, 242 S. Cooper St, and Hollywood Feed parking lot, 5502 Poplar Ave. Also Facebook and Twitter
Raw Girls uses fresh produce from local farms and markets, so its menu changes all the time. You can count on finding the freshest, most delicious vegetarian entrees, salads, soups, medicinal broths, cold-pressed juices, and even desserts.
 
Specialty: Grilled cheese sandwiches
Where to find them: Facebook and Twitter
Adult gourmet grilled cheese sandwiches have been around for a while, but Say Cheese food truck takes them to the streets. Examples from the rotating sandwich menu: Cluck Me (buffalo chicken, bleu cheese, and pepper jack ), the PCB (pimento cheese and bacon), the spinach artichoke dip on baguette, and the "Pizza" with pepperoni, cheese, and marinara. It also offers tomato soup, naturally.
Specialty: Nathan's hot dogs
Where to find them: Facebook and Twitter
Todd Bourne started selling hot dogs in 2009, after he woke up one day and told his wife that he wanted to buy a hot dog cart. She's from Long Island and said it was OK as long as he didn't "put no red weenies on it." He sampled many varieties of dogs, but says his customers chose the "Big Nathan's," which are ¼lb all beef. His cart is most often set up at the Poplar Pike and Massey intersection during the week for lunch.
 
Specialty: Meat and veggie kabobs
Where to find them: Facebook and Twitter
Chicken, tofu, shrimp, beef: if you can cook it on a stick on a grill, Stickem food truck probably has it on the menu. Served up with a side of perfectly seasoned, grilled vegetables, Stickem's kebobs offer something a bit more on the healthier side of food truck fare.
Specialty: Fresh Gulf shrimp (duh!)
Where to find them: Facebook and Twitter
Fresh Gulf Shrimp's name may be simple, but it's absolutely obvious this seafood-laden truck takes its moniker seriously. When you get your piping-hot carton of fried shrimp, fried catfish, or plump chicken tenders with fries, it's obvious your food just emerged out of the fryer, beautifully battered and slightly spicy.
 
Specialty: Sandwiches and tacos
Where to find them: Facebook and Twitter
What do you do when you want a food truck (or trailer), but also want to serve meat fresh from a smoker? You simply build a porch onto your trailer and set the smoker on that, like any self-respecting Southerner who likes smokers. This is exactly what Food Geek did to ensure the best flavor for its sandwiches and tacos.
Specialty: Authentic Mexican tacos
Where to find them: Usually at Summer Ave and North Mendenhall Rd
While there are a plethora of taco trucks in Memphis -- many of which you'll find along Summer Ave -- the general favorite has to be Tacos Los Jarochos, which posts up at Summer and Mendenhall most of the time. Find the truck for authentic, Mexican-style tacos, quesadillas, tortas, horchata, Mexican Coke, and more.
Specialty: Water ice
Where to find them: Facebook and Twitter
Parker's Water Ice's big orange truck is one of Memphis' best ways to stay cool on the go via sweet, cold treats. What is "water ice?" Instead of a snow cone, where flavors are added to shaved ice, water ice is a creamier version where the flavors and ice are mixed together. This means no puddle of flavor at the bottom of your cup. Score. (Pro tip: mix the water ice with ice cream for an even creamier treat.)
Specialty: Sushi
Where to find them: Instagram, Twitter, and Facebook
Jimmy Sinh fell in love with sushi when he was 16 years old and working as a host at Benihana. He loved to watch the sushi chefs and told himself that he would someday be one of the best in Memphis. He specializes in sushi (duh), especially the Superman, Batman, Los Angeles, and Shaggy Dog rolls, as well as fusion dishes like Japanese tacos, spicy crawfish nachos, ceviche, and sushiritos.
Sign up here for our daily Memphis email and be the first to get all the food/drink/fun in the Blues City.
Stacey Greenberg is anxiously awaiting the Fuel Food Truck's return. She's the author of the award-winning blog, Dining with Monkeys.