The Best Late-Night Eats in Memphis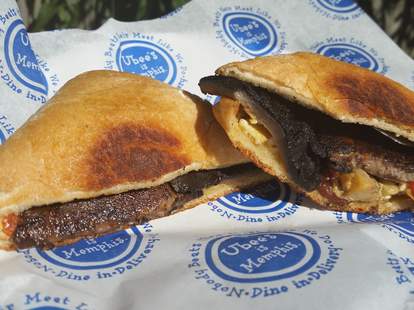 Ubee's | Sarah Williams/Thrillist
Memphis It's after midnight. You're hungry. Maybe you had a few too many cocktails and need to soak up some of that booze with a hefty serving of carbs and protein. Or maybe you've just got the late-night munchies and can't be satisfied by items from an after-hours drive-thru menu. That's okay. In Memphis, you've got options. Tasty, tasty options. More Stuff You Will Like
Courtesy of Schweinehaus
Chicken-fried ribs
Schweinehaus (
address and info
)
  Overton Square Between 10pm and 2am, Schweinehaus' executive chef, David Todd, gets creative. There are a few late-night menu staples, along with nightly chef's specials. If you're lucky enough to get there when he's cooking up chicken-fried ribs, order them. Pork ribs are breaded with panko bread crumbs, deep-fried, and smothered with tasso gravy. You heard that right: deep-fried, gravy-covered pork ribs.  Continue Reading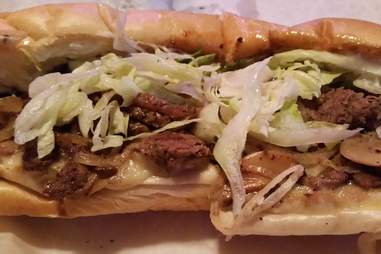 Sarah Williams/Thrillist
Cheesesteak (#32)
Juicy Jim's (
address and info
)
  University of Memphis The menu is a little confusing; some items are numbered, and a few numbers are missing from the sequence. Not to fret, you hungry little late-night adventurer. Juicy Jim, the man you'll most likely meet behind the bar, serves up delicious eats every night until 3am. His "New Jersey-style" pizza is some of the best pie in the city, but the cheesesteak -- for the love of all that is holy -- the cheesesteak reigns supreme. From the former, once sandwich-only and fully numbered menu, the #32: a hefty serving of 100% top sirloin steak, oh-so-gooey melted cheese, grilled onions, and mushrooms. Add iceberg lettuce for a cool crunch.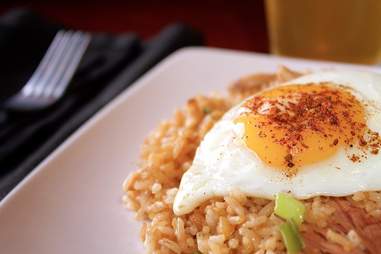 Courtesy of South of Beale
Duck fried rice
South of Beale (
address and info
)
  Downtown Memphis' "first gastropub" offers a variety of late-night options on Fridays and Saturdays from 11pm to 2am (and 10pm to midnight Monday-Thursday). The duck fried rice is one of the more popular dishes: a pile of rice married with duck confit and scallions, topped with a beautifully runny sunny-side egg and five spice. It's gluten free, which is a plus for the sensitive among us.
Courtesy of Blind Bear Speakeasy
Hibernation fries
Blind Bear Speakeasy (
address and info
)
  Downtown A pile of fries can really cure a midnight hunger hankering. Blind Bear, a Prohibition-themed bar and cocktail lounge, does them up right. From its "Hibernation menu" (available from midnight to 2am): the aptly named Hibernation fries will mostly likely put you to sleep (where you ought to be at this time of night!). Bear-rub fries are topped with spiced ground beef, nacho cheese, tomatoes, bacon crumbles, jalapeños, and ranch. Bon appétit! And sweet dreams.
Courtesy of Christopher Reyes/Slider Inn
The original Memphis sliders
Slider Inn (
address and info
)
  Midtown Inn Everyone loves a good burger. And these cute little sliders are no joke. A 100% ground chuck patty is topped with melted American cheese, ketchup, and mayo. Add a fried egg if you're feeling frisky. Slider Inn has a sweet patio, and its full menu is served until 2am.
Sarah Williams/Thrillist
The Dirty Hippie
Ubee's (
address and info
)
  University of Memphis Ubee's is best known for its aged, seasoned grease, with which it cooks up some of the city's most delicious burgers. But the Dirty Hippie is an equally tasty (and better-for-you) late-night option. It's a garlic-roasted portabella mushroom, roasted red bell peppers, feta cheese, and artichoke on ciabatta bread. And (if you're lucky and live near campus) you don't even have to leave the house for this one. Ubee's delivers in the University of Memphis area until 3am!
Courtesy of Bardog Tavern
Grandma's meatballs
Bardog Tavern (
address and info
)
  Downtown   Bardog's menu covers a lot of bases, from quesadillas and chicken tenders to New York strip and mussels. Its full menu is served until 2am, but what you'll want to order is grandma's meatballs, straight from the owner's grandmother's New Jersey kitchen. Grandma actually taught the cooks her signature meatball recipe. In fact, when she comes to town, she makes sure they're still making them as instructed.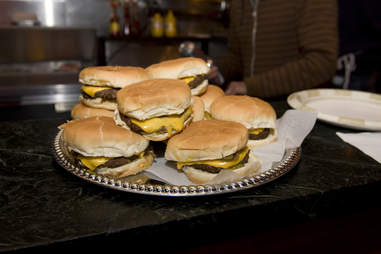 Courtesy of Michael Norris
The Soul burger
Earnestine & Hazel's (
address and info
)
  Downtown The Soul burger is an iconic late-night Memphis meal. Possibly due, in part, to its simplicity. A thin, seasoned beef patty is nestled inside a soft, plain bun. It comes topped with a secret (but delicious) "Soul sauce," caramelized onions, pickles, and melted American cheese. This burger really does soothe the soul after a long night of drinking.
Sign up here for our daily Memphis email and be the first to get all the food/drink/fun in the Blues City.