The 8 Best Mac and Cheese Dishes in Memphis
Macaroni and cheese: easily the most comforting of comfort foods. It's a simple enough dish, noodles covered with cheese, but just consider how your favorite childhood meal can be made better with adult ingredients. Lobster! Smoked Gouda! Any cheese that's not powdered! Move over boxed stuff, these Memphis places have you beat at the mac game. 
Downtown
This is possibly the number one mac in the city. Corkscrew noodles swim in a heavenly, oh-so-creamy blend of Monterey Jack, white cheddar, and colby cheeses. The dish is offered as a side, not an entree, but it's definitely filling enough to be considered a meal on its own. And it's topped with crispy bacon. We all know everything is better with bacon.
Sarah Williams/Thrillist
Downtown
The restaurant's whimsical grade-school cafeteria theme is only enhanced by the addition of an adult version of a classic mac on its chalkboard menu. It's made with cheddar, mozzarella, Parmesan, and cottage cheeses and baked in a single-serve tin. For a twist on a club sandwich, LUNCHBOXeats adds a scoop of this cheesy deliciousness atop hickory-smoked pork butt for its Leadership MAC & PORK Club.
 
Downtown
This place has a nice variety of salads, flatbreads, and sophisticated entrees, like chicken piccata and bourbon-glazed Cajun beef tenderloin, but the mac is where it's at. Ooey-gooey goodness made with white cheddar, Parmesan, smoked Gouda, truffle oil, and bacon.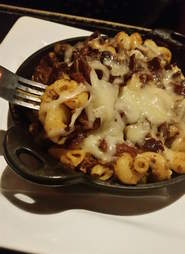 Sarah Williams/Thrillist
Downtown and Overton Square
Whether or not you're looking for a great beer bar, it's still worth stopping at Local for the mac and cheese "bar." Spiral noodles topped with Gruyère cheese and truffle oil are baked in a mini cast-iron skillet. It's delicious on its own, but you can (and will want to) choose add-ins: lobster, chorizo, bacon, short ribs, tasso, and/or blue cheese.
 
Cooper-Young, East Memphis, and Germantown
Offering Southern comfort food staples, like smoked pork chops and fried catfish, it's no surprise Soul Fish has a creamy, classic macaroni on its menu. For the choose-three vegetable plate, some opt for triple mac. (You know who you are! No worries, we aren't judging you.) And yes, we do consider mac and cheese a vegetable here in the South.
Sarah Williams/Thrillist
Cooper-Young
No, cheese isn't vegan, but vegans need comfort food, too. Imagine serves up two types of mac: yellow mac made with melted "Teese" cheddar, and white mac drenched with a house-made garlicky white sauce that includes vegan mozzarella -- so good, omnivores would never know the difference.
 
Cooper-Young
Alchemy offers a refined menu of small plates, with entree options like diver scallops with corn coulis and lemongrass cilantro salsa. From the "to share" menu: a fancified version of macaroni and cheese made with a three-cheese blend, buttered bread crumbs, and andouille sausage.
Sarah Williams/Thrillist
Midtown
This is pretty close to the mac you grew up on, with noodles so cheesy they stick together. Eclectic tops it off with lightly toasted ciabatta croutons and bacon. It's a hefty serving and comes with a side. Choose the side salad to feel better about the carb-loading.
Sign up here for our daily Memphis email and be the first to get all the food/drink/fun in the Blues City.