It's party time, and you've been tasked with picking the place to host 20 people, at the same time, comfortably. Don't panic. We've created the ultimate crib sheet. Memphis happens to be loaded with places that'll happily put up with you and your crew, whether you want BBQ and burgers in a backyard, or Japanese delicacies. In East Memphis, Downtown, or any other 'hood -- we've got you covered.
Downtown
Who doesn't love BBQ? Central even has the vegetarians covered. The Downtown location, which is by far the funkiest, has a private party room (the Memphis Room) that seats up to 120 and is perfect for buffet-style dinners. There's also the Shack, which is painted like a cabin, and seats 30. If that's not enough, there's the Kiss My Grits Diner, which seats up to 60 and has a backyard feel.
How to reserve: Call 901.672.7760 or fill out an online form.
South Bluffs
Loflin Yard has multiple indoor and outdoor seating areas, great food, cocktails, pitchers of beer, and wine by the bottle. You can have a spur-of-the-moment party with your 20 best friends and have no trouble finding a cozy spot in the yard, or you can plan something much more serious for up to 2,000.
How to reserve: Call the event coordinator, Gina Prater, at 901.310.5529, or fill out an online form.
South Main
The Majestic was once a movie theater, so it's huge. It's in the heart of Downtown. The menu features crowdpleasers such as sandwiches, salads, and flatbreads. The Innovator's Room seats up to 40, while the Mezzanine -- which overlooks the restaurant -- accommodates 60 seated and up to 80 for cocktails. You can even buy out the whole restaurant if you want to do something in the 200-500 people range.
How to reserve: Fill out an online form.
Cooper-Young
In addition to a full bar, sushi, Hunan, authentic Szechuan, and Mandarin dishes, Mulan features a private room with a karaoke machine and a dance floor. The dining room seats up to 35 hungry wannabe singers.
How to reserve: Online or by phone 901.347.3965.
Downtown
This upscale Southern creole restaurant can seat up to 120 people for dinner and is comprised of two contemporary-meets-Southern-charm-style dining rooms. The Grand Lobby is also available for private events. However, the one-of-a-kind patio with lush greenery, soft strings of white lights, and a soothing fountain is definitely THE spot to book.
How to reserve: Email Felicia at felicia@feliciasuzanne.com or fill out an online form.
East Memphis
ACRE is located in a renovated home nestled on a lush, tree-lined acre of land in East Memphis. In addition to the main dining room that features roomy booths, there are several options for larger groups. The comfortable bar area is centered on a stone bar that sits just beyond the main entrance; a south-side sunroom offers an airy space with a vaulted ceiling; and an outdoor seating area provides views of the terrace and lush garden. To really impress your group, sign up for a whole hog dinner.
How to reserve: Call 901.818.ACRE.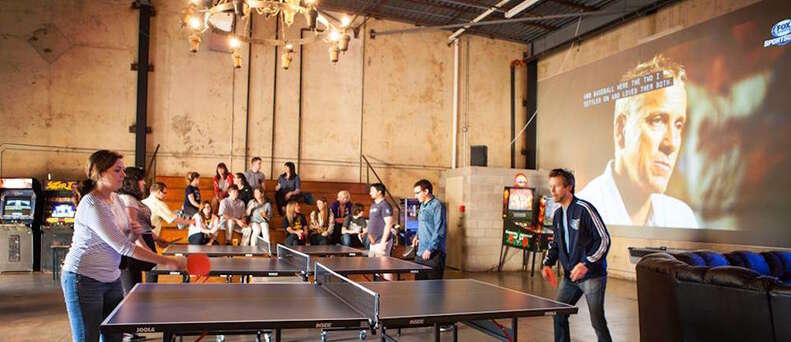 Broad Avenue Arts District
The Rec Room has six "living rooms" for rent that seat eight to 12 people, so if you wanna play video games, watch something on the big screen, or just have a place to park your butt between rounds of Ms. Pac-Man, the Rec Room has you covered. The food options are limited to pizza and popcorn, but there's plenty of beer and cocktails. Living rooms are $10/hr Monday-Thursday and $25/hr on weekends.
How to reserve: Fill out an online form or text 901.209.1137. For custom events of 30 or more, fill out this form.
Broad Avenue Arts District
Bounty is the only fine-dining option on Broad Avenue, and its private dining room can seat up to 25. All dishes are served family-style and feed three to four people. It's also the perfect place for groups who have gluten-free members.
How to reserve: Call 901.410.8131 or email info@bountyonbroad.
Cooper-Young
Thanks to long, built-in benches in each dining room, tables can easily be moved together to accommodate large groups. The menu also features daily small plates in addition to an izakaya menu, so there are plenty of Pacific Rim delicacies to nibble and share.
How to reserve: Call 901.274.2556.
Evergreen Historic District
Ecco's beautiful deck is screened-in and heated, so it's great for basically all four seasons. With cocktail specials and a European-inspired menu with broad-based appeal, it's a prime place to gather with a group of your friends.
How to reserve: Online or call 901.410.8200.
Overton Square
Lafayette's has a large dining room, an upper deck, and an upper and lower outdoor dining area. If you want your event to include music, then say no more. Lafayette's has the perfect intimate setting to catch great music and feast on Southern-style dishes.
How to reserve: Online
Overton Square
Local was basically designed for large groups. The downstairs area features a number of long "community" tables that can seat up to 10. Upstairs, there are several casual seating areas with comfy chairs and couches as well as a cozy outdoor patio. You can even reserve a whole floor if you like. The menu is basic pub grub and there are often food specials.
How to reserve: Fill out an online form.

Sign up here for our daily Memphis email and be the first to get all the food/drink/fun in the Blues City.