Memphis is experiencing a renaissance at the moment, with more and more young creatives planting their roots Downtown -- or in the artsy, historic neighborhoods around Midtown. And with new residents come new amenities and attractions (bike lanes, dog parks, food trucks) and, of course, trendy new restaurants and cocktail bars. Memphis' food scene is concentrated in those areas -- Downtown and Midtown -- with a small, yet phenomenal, exception in a pocket of East Memphis. Here's our ranked list of the top neighborhoods for dining in Memphis.
Recommended Video
Send Foodz: New York City Wine & Food Festival
7. Crosstown
Situated around the old Sears Crosstown building -- a long-defunct 1.4 million-square-foot warehouse and retail store -- is the Crosstown neighborhood, a diverse residential community of people from all income brackets. That massive building is currently being renovated for a second life as Crosstown Concourse, a "vertical urban village" with arts, medical, and education facilities, apartments, restaurants, a gym, and more. That project should wrap up in 2017, but you don't have to wait until then to find amazing food in the area. Midtown Crossing Grill is the pizza parlor and neighborhood bar responsible for some of the best pies in Memphis. The Artist Pizza, no doubt a nod to the area's status as a burgeoning arts district, features a unique pairing of tomato jam, mozzarella, and chevre. Midtown Crossing also features plenty of vegan options, including vegan cheese for pizzas and a tofu banh mi sandwich. Just down the block you'll find authentic Middle Eastern falafel, fava bean stew, and kabobs at Al Rayan, a dive-y mom-and-pop.
6. Beale Street
Beale Street is a straight-up tourist trap. But if you're passing through Memphis, it's a must-see just so you can say you've partied on Beale. If you wade through the hordes of partiers and shield your eyes from the glare of the flashing neons, you'll find some hidden gems. Itta Bena is a speakeasy-style restaurant located up the fire escape from B.B. King's Blues Club, and it offers a gourmet spin on Lowcountry Southern fare (think shrimp & grits or duck & waffles) and hand-crafted cocktails. For a not-so-classy experience, don't miss Blues City Cafe, home of gumbo cheese fries and Beale Street's best barbecue ribs.
5. South End
The South Main Arts District is home to galleries, boutiques, and plenty of restaurants, including SOB. It stands for South of Beale, an appropriate name since the gastropub is literally south of the Beale Street Entertainment District. SOB boasts an inventive menu of fusion foods, like Reuben egg rolls and Southern favorites, like fried chicken & waffles. It also has an impressive lineup of specialty cocktails, like the salted caramel martini. Just a few blocks south of the arts strip is a former warehouse district that's been transformed into a residential area with condos. There aren't as many nightlife or dining options on that end, but don't let that keep you away. It's worth the trip up the block to visit Loflin Yard, a unique outdoor bar and eatery with a covered patio, waterfall, drinking barn, and a massive green space for lounging with a bottle of wine (from the grab-and-go case) or one of Loflin's barrel-aged cocktails. There's a smokehouse on site, so the kitchen is cranking out smoked brisket and pork tenderloin po-boys.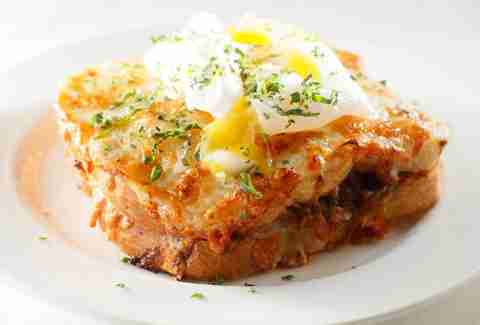 4. Downtown Core
The central area of Downtown sees most of its action during the work week, as office workers jump in and out of eateries in the Main Street Mall -- or in the surrounding neighborhood for lunch or coffee. On Fridays, you'll see workers gather at Felicia Suzanne's -- typically more of a classy dinner spot -- for its once-a-week, Southern-inspired lunch specials, like shrimp & dumplings or creole-spiced catfish. Bonus: Felicia Suzanne's offers 25-cent martinis during Friday lunch. There's plenty happening in central Downtown after dark as well. For a casual night out, Bardog offers local beer and comfort fare, like Grandma's Meatballs or the Mother Clucker chicken sandwich. But if it's a date night you're after, schedule a reservation for Flight Restaurant & Wine Bar. Entrees and wines are served in flights, which is a relief for diners who have trouble making choices. For example, the Butcher's Flight features pork tenderloin, veal scallopini, and Australian lamb chop, and the seafood flight features shrimp & grits, lobster gnocchi, and pan-seared sea scallop.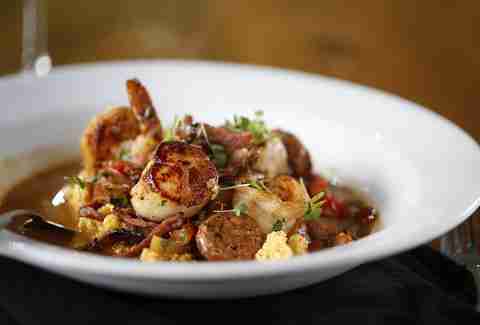 3. Cooper-Young
The Cooper-Young Historic District is hands-down the coolest neighborhood in Memphis, with 1920s craftsman-style bungalows, rainbow flags flying from every other porch, and a laid-back nightlife scene. The dining scene is equally hip. Strano Sicilian Kitchen & Bar offers seasonally inspired Italian fare crafted with local ingredients (think roasted & stuffed acorn squash or pesto cream gnocchi). Sweet Grass feels both informal and sophisticated with its casual atmosphere and New American-style menu of seasonal offerings and tapas. For high-end Pacific Rim cuisine, Tsunami offers a seafood-heavy menu with a special izakaya menu that features snacks like bacon-wrapped dates or Asian nachos (which are almost exactly like regular nachos, but more proportional with the toppings).
2. Overton Square
Overton Square is the cool cousin of Beale Street. It's the entertainment district where locals go to drink and dine, and there's plenty to keep you busy all night. If you're looking for fine dining, make a reservation for Restaurant Iris -- acclaimed chef Kelly English's upscale creole and French restaurant (the five-course degustation menu offers diners a surprise meal prepared according to the chef's whim). On a laid-back Friday night, grab a beer and a brisket grilled cheese at Local Gastropub, or order a tapas plate of tacos, guacamole (made fresh at the table), and a TC Iced Tea (sweet tea vodka, mint, and lemon) at Babalu Tacos & Tapas. Robata Ramen & Yakitori Bar offers up authentic Japanese-style ramen and meat and veggie skewers, plus it has a solid selection of sake.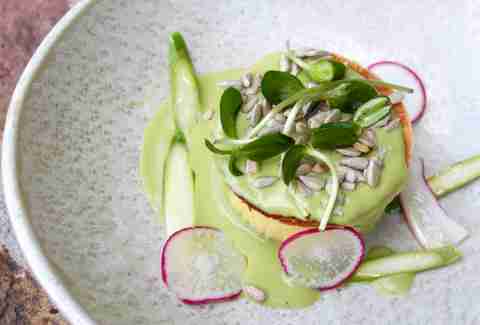 1. Brookhaven Circle
All of the spots featured thus far are located in Midtown or Downtown, both of which are regarded as being home to some of the best restaurants in the city. But there's one pocket "out east," as Midtowners and Downtowners call it, that's worth the drive. Along Brookhaven Circle in East Memphis, you'll find two of Memphis' most acclaimed eateries -- Hog & Hominy and Andrew Michael Italian Kitchen. Both are run by the same pair of lifelong best friends (Andrew Ticer and Michael Hudman), and both offer a contemporary spin on the Italian fare they grew up eating with their families. Hog & Hominy is the more experimental of the two restaurants and features Italian food with a Southern twist (think biscuit gnocchi with beef short ribs), while Andrew Michael Italian Kitchen features more traditional dishes and some secret family recipes, like Maw Maw's Ravioli with meat gravy.
Sign up here for our daily Memphis email and be the first to get all the food/drink/fun in the Blues City.