The 9 Best New Bar and Restaurant Openings in Memphis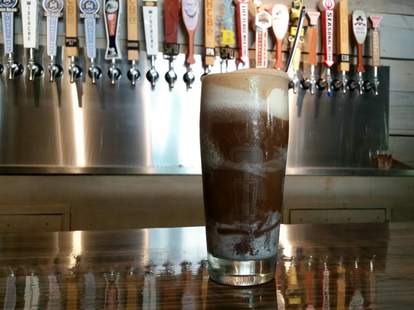 Doling out everything from health foods to alcoholic slushies, the latest crop of new (and in some cases, improved) restaurants and bars has a little something for everyone. They feature sleek interiors, record-breaking free-standing elevators, rooftop patios, food trucks, and even Ping-Pong -- and if these nine spots don't move your needle, you may need to be recalibrated.
Downtown
The new Bass Pro in the Pyramid is touristy, sure, but locals can't resist taking a ride on the highest free-standing elevator in the country. It delivers you to The Lookout, where you can enjoy local beers, cocktails, and appetizers (duck wings, poppers, flatbreads) while taking in the view. A selfie from the observation deck is definitely the latest thing. At $10 a pop (kids are $5 before 4pm), this adventure is sure to be a one and done, unless friends come to town and you are persuaded to make a return visit.
Rec Room
Broad Avenue Arts District
Our one and only bar arcade just got its liquor license, so now you can enjoy red & white wine and signature cocktails like the Mario-rita in addition to its selection of craft beers while you play Xbox, foosball, pinball, or Ms. Pac Man. This is a kid-friendly space before 9pm and most games are free, so drink up! That's how it pays for the air-conditioning.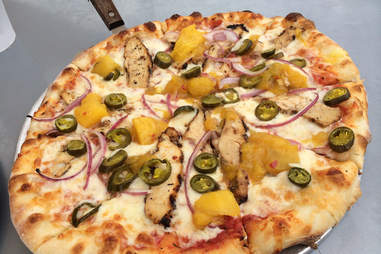 Stacey Greenberg/Thrillist
Cooper Young
Aldo's Midtown has everything you love about the original, and an amazing rooftop patio to boot. The spicy Willie, Cheech & Bob pizza (with chicken, red onion, jalapeño, and mango chutney) is perfect when paired with a cold beer. (The Midtown location even makes its own mango chutney.) Space issues have been worked out in the kitchen, so slices are now available at lunch. On weekends, you can grab a beer next door at the Memphis Made taproom while waiting for a table on the roof to open up.
Julles Posh Foods
East Memphis
East Memphis gets to brag a little with this latest offering. Tucked into an average strip mall along Poplar, Julles Posh Food is anything but average. Nutritious and delicious entrees and juices are prepackaged and ready to go, or available fresh in its beautiful dining room. The menu changes often, but the salmon shrimp cakes with green salad, roasted potato wedges, and citrus dressing have earned an almost permanent spot due to their popularity.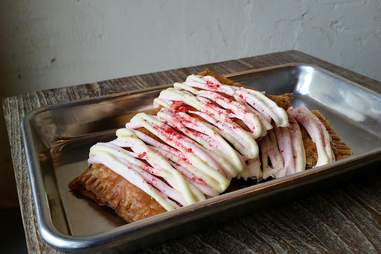 City & State
Broad Avenue Arts District
Here, you can snag iced coffee crafted from Intelligentsia roasts or cold-brew coffee made using the Oji from Japan that takes three to four hours to brew using iced water. With the latest addition of grab-and-go food  items from the James Beard-nominated chefs at Porcellino's, you can also enjoy pastries like Strawberry Lemonade Pop-Tarts at breakfast or a veggie sandwich made with marinated chickpea salad, roasted red peppers, olives, and mozzarella on ciabatta bread at lunch.
Burrito Blues
Downtown
The Downtown lunch crowd and late-night revelers now have a fairly cheap and hearty option on Beale St. Burrito Blues keeps it basic, but fresh. It offers build-your-own burritos, tacos, bowls, salads, and nachos. It throws in some Memphis flavor with the inclusion of brisket (Peppadew pepper piquante-seasoned, hickory-smoked, and chopped) and smoked pork (dry-rubbed, hickory-smoked, and chopped). If that's not enough, it's the only build-your-own-burrito place in town where you can get a margarita (16-100oz!) and even drink it on the street if you want.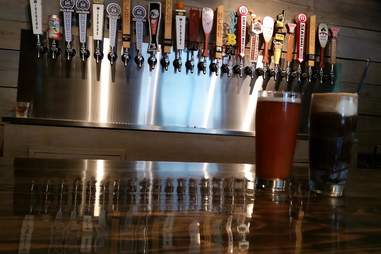 Hammer & Ale
Cooper Young
Previously known as The Growler, Midtown's one-stop shop for sitting and sipping local and regional craft beer has been rebranded as Hammer & Ale. Best of all, it now offers food. Its grilled pimento cheese sammy, cheese plates, and beer floats are the top sellers on the restaurant side. Beer-wise, stop by to sample the High Cotton ESB, Wiseacre Ananda IPA, and Southern Prohibition Suzy B Blonde Ale.
Raw Girls, LLC
Overton Square
The Raw Girls are now selling their pre-packaged foods and juices in Overton Square every Wednesday morning from 8am until they sell out. (They park next to the Hattiloo Theatre across from The Second Line.) Must-haves include raw cantaloupe and coconut soup served with mint pesto, their famous taco salad, and their cold-pressed superfood coffee, "The Buzz."  Stop by and load up for the week.
 
Broad Avenue Arts District
Just as out of place as the previous tenant, this sports & cigar bar makes no apologies for its wild ways. The menu has all of the basic bar food staples, but what you really want to do is to sit in a swing at the bar, sip an alcoholic slushie, and then saddle up on the mechanical bull. You choose your flavors of slushie and what kind of liquor you want in it. Obviously, you can also watch sports and smoke cigars too. It has a huge, two-story patio case you need some fresh air.
Sign up here for our daily Memphis email and be the first to get all the food/drink/fun in the Blues City.