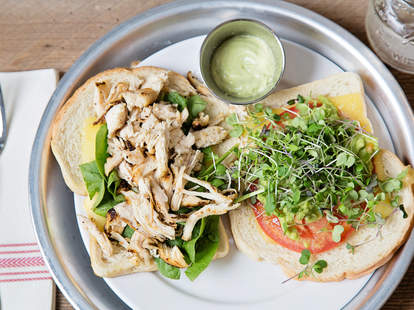 City Silo is Memphis' Best New Restaurant of 2017
This year we saw a lot of restaurant openings in new and exciting places, namely Crosstown Concourse and the Edge District. And while we are over the moon with Next Door's delicious and healthy offerings (Hey, Kimbal, how you doin'?), as well as Edge Alley's excellent coffee program, homemade biscuits, and sleek retail component, this year's best new restaurant accolade is presented to a place not only serving delicious meals, but also making Memphis a healthier place because of it: City Silo Table + Pantry in East Memphis.
That's right. East Memphis.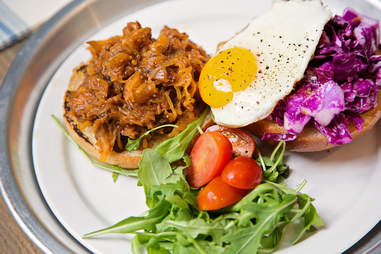 Courtesy of City Silo
Opened in January by Scott and Rebekah Tashie, City Silo is unlike any other restaurant in town. The Tashies set out to create an all-inclusive menu that's clean and fresh, which means that most of the food offerings are vegan but can be customized with the addition of cheese, eggs, and/or chicken. Some of the reasons we love them? They have three kinds of vegan cheese, and the chicken is cooked off-site to prevent having raw meat in the kitchen, as well as to eliminate the threat of cross contamination. Anything can be made into a wrap. They have classic, vegan, and Lydia's locally-made gluten free buns, and zucchini noodles can be substituted for grains to please the Whole 30 crowd. "The only thing we can't really change is the smoothies," says Scott. "But we can customize the smoothie bowls."
"Being in Memphis and the South -- the food is awesome, but after, you want to go home and take a nap. We want people to feel great leaving," Rebekah states.
Some standouts in the food program are the Buffalo tempeh and sesame cauliflower hearty bowl (roasted sesame cauliflower, Buffalo marinated tempeh, red onions, bell peppers, roasted sweet potatoes, seasonal garlic greens, oven roasted organic corn, and roasted sunflower kernels with cashew sunflower ranch), The Foxy BBQ (named in honor of famed chubby vegetarian, Justin Fox Burks, it's roasted sesame spaghetti squash, grilled and tossed in the Rendezvous gluten free barbecue sauce, and topped with tangy purple slaw on a freshly baked bun), and Get in the Chopper (chopped salad consisting of oven-roasted organic corn, arugula, quinoa, balsamic marinated cherry tomato halves, roasted pepitas, raisins, pink salt, and Parmigiano-Reggiano with creamy basil dressing). Plus, there are a number of excellent veggie burger options, like the Silo burger (black beans, lentils, quinoa, peppers, tamari, and spices), the beet walnut burger (beet, walnut, red onion, carrot, and a blend of spices), and the marinated portabella burger.
Courtesy of City Silo
And because breakfast is the most important meal of the day, City Silo will dish up the McSilo sandwich, a fluffy, toasted English muffin with house-marinated tempeh, fried fresh farm egg, Cheddar, spinach, and serrano avocado spread. In addition to cold-pressed juices, smoothies, and super smoothies, they offer Dr. Bean's single origin Ethiopian coffee, wellness lattes, kombucha cocktails, and hand-picked wines and beer.
As you can tell, Scott and Rebekah Tashie are working hard to create a versatile menu, but they're also focused on health and hospitality. Scott's family, who owns the Malco Theater chain, has been in the hospitality business for over 100 years, and his brother owns Ciao Bella. In 2012, he got involved with Cosmic Coconut, which was just a juice bar at the time. He quickly realized that healthy, high quality food was a crucial element missing from the operation and brought in Will Byrd, a young vegan and gluten-free chef, to fill the void.
"Will has a very positive vibe. He's very creative and very researched. He's an encyclopedia of health. He's really good at changing regular recipes to be clean and vegan," says Rebekah.
Courtesy of City Silo
In 2015, The Tashies partnered with I Love Juice Bar, which was founded in Nashville by their friends John & Vui Hunt, to open a juice bar in Midtown (they opened a second I Love Juice Bar in Crosstown Concourse earlier this year).
"After a year, maybe not even, we were talking a lot about Cosmic Coconut and what direction we wanted to go in. When the space next door opened, John suggested we come up with a cool, new restaurant idea," says Scott.
It was a no-brainer. "We both eat healthy, we both cook a lot at home, and we have a great synergy with Will. We put together a menu that anyone would enjoy, whether they eat meat, are vegetarian, or are vegan."
They closed Cosmic Coconut in July 2016, right after their wedding, and started construction.
The Tashies worked with long-time friend and graphic designer Tom Martin to come up with a name and logo. "City Silo symbolizes a silo in a city, which is not super common, and that's what this place is all about," explains Scott. "A silo is where you store grains, and we sell a lot of those. There's nothing hidden in a silo -- we have an open kitchen."
Rebekah adds, "We drive on Highway 61 and see silos a lot. It was the idea of bringing the farm to the city without calling it 'farm to table.' We also wanted a unique name in case of expansion. There are a lot of farm names out there."
As for plans to expand, Scott says they'd love to, but right now they're still fine tuning. And the Tashies know that Southern-style healthy food is a hard market, but if people in Memphis will eat it, then hopefully they'll be able expand to other markets and capitalize on the success.
City Silo opens at 7am Monday through Saturday, serves breakfast all day, and stays open until 8pm on weekdays and 9pm on weekends. Chances are you'll see both Scott and Rebekah anytime you go in, as they decorated the interior like their actual home to feel more comfortable.
"We like being here," says Rebekah. "It's a happy space." And we think you'll agree.
Sign up here for our daily Memphis email and be the first to get all the food/drink/fun in the Blues City.
Stacey Greenberg lives in Cooper-Young with her two teenage sons. She is the author of the award-winning blog, Dining with Monkeys.