Whether you eat it hot or cold, meaty or veggie, late night, early morning, or any meal in between, pizza is undoubtedly the most versatile food on the planet. However, not all pies are created equal. That's why we've put together this list of all the best pizza places in Memphis.
Medical District
Pizza master Jeremy Denno, now of Rock 'n' Dough, created the Trolley Stop's signature New York-style crust and sauce. Its direct line to Whitten Farms and other local farmers provides a host of fresh farm-to-table toppings that please all manner of pizza lovers (but especially the vegans and vegetarians).
Downtown/Midtown
Aldo's Midtown location's rooftop patio is the premiere place to enjoy a slice and a pint in Memphis, weather permitting. This New York-style pie is commonly ordered with Aldo's famous vodka sauce, which is a go-to for those looking to branch out from regular tomato sauce.
East Memphis
Hog & Hominy delivers a taste of Italy to your table with the city's most authentic pizza. Its margherita is damn near pizza perfection, with simple tomato sauce, fresh mozzarella, and fresh basil leaves. The chewy, lightly charred crust can easily be overwhelmed by some of the heavier toppings, but the flavors and textures work so well that they quickly become addictive.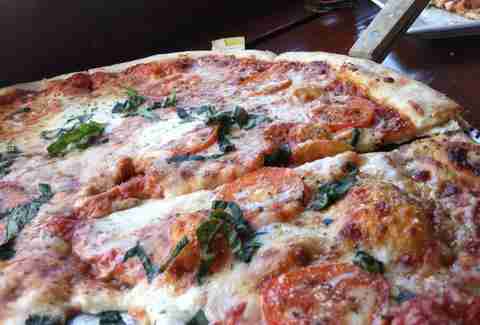 Cooper Young
Strano's pizza excellence comes from the crust: it's thin, but not floppy, crispy, but not crackly, and tastes like the dough's recipe comes from someone's Sicilian grandmother (fact: it does). This is the city's most expensive pizza, so order at lunch if you wanna save a few bucks.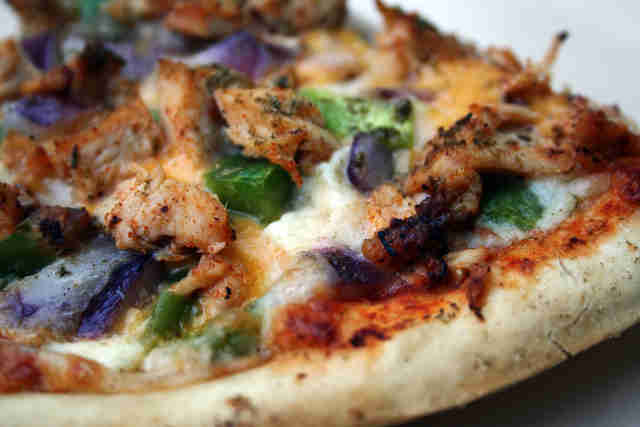 Midtown (& other locations)
Memphis Pizza Cafe has crowd-pleasing, super-crispy, thin-crust pizza that can hold its own against any toppings. Its thinness also allows you to eat twice as much as you could at other pizzerias. It makes a mighty fine buffalo chicken pie, but the local favorite is the Alternative, a simple pizza with no sauce -- save for olive oil -- topped with garlic, tomato, crushed basil, and cheese.
University District and Germantown
Rock 'n' Dough is steadily taking over the Memphis pizza scene with its new and improved restaurants. It now has a full menu that includes grinders, burgers, wings, pizza bowls, and beignets, and it's not unusual to see a line out the door. The style is a hearty, New York-style pizza that can be topped with all manner of fresh and delicious toppings.
Midtown
For a taste of authentic Italian New York-style pizza in an unassuming atmosphere, you're headed to Little Italy. Choose the cheese pizza or add pepperoni for an extra kick of spice (and grease). You're getting a pie with slightly sweet tomato sauce, precisely melted cheese, and whatever toppings you add. The flaky, thin crust gets those perfect blackened bits and cracks just right when you fold it up, because folding is basically required at Little Italy.
Binghampton/East Memphis
Broadway Pizza is a Memphis institution. It served pizza and soul food from an unassuming joint on Broad Ave for decades before opening a second location in East Memphis in 2014. While it's certainly no deep dish, Broadway offers a thick crust and heavy portions of sauces & toppings, all baked in and under the cheese. You'd be hard-pressed to eat more than a slice or two. Call ahead to reduce your wait time -- it takes more than a hot minute to cook these monsters.
Crosstown
Midtown Crossing Grill offers oven-fired crusts that hit that sweet spot between thin & thick, and crispy & chewy. MCG offers a variety of off-the-wall combinations, but you should make note of the Hangover. It's like a big, bold breakfast on said crust, with Alfredo sauce instead of tomato sauce, plus crispy bacon, caramelized onion, a melted blanket of medium cheddar, and a fried egg or two plopped right down in the middle.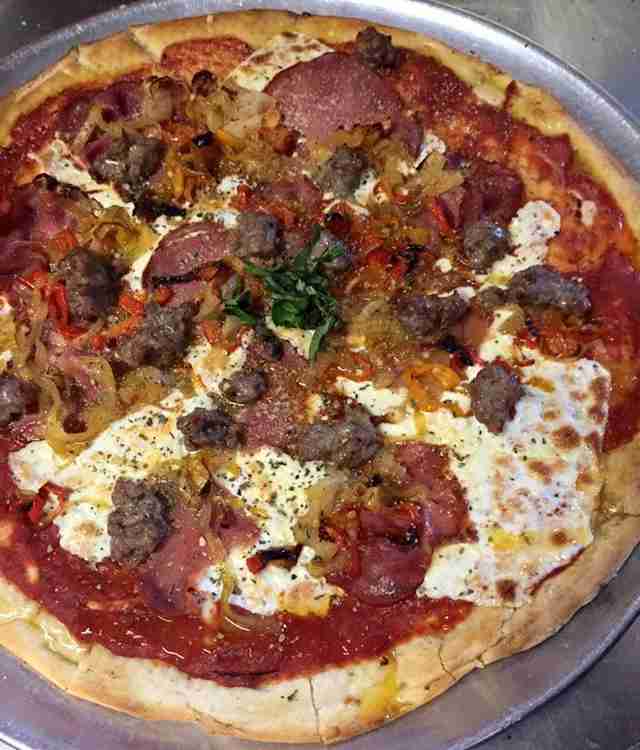 High Point
High Point is your quintessential neighborhood pizza joint, located right near the access point to the Shelby Farms Greenline. (Biking to/from your meal is not required, but highly recommended). The menu offers a great selection of standard and specialty pizzas, and the daily special always brings the wow factor (i.e. Pize Toscano: olive oil sauce, manchego, Asiago, crimini mushrooms, arugula, and prosciutto, and finished with a balsamic truffle glaze). The crust is thin and foldable, and is brushed with a mouthwatering garlic butter.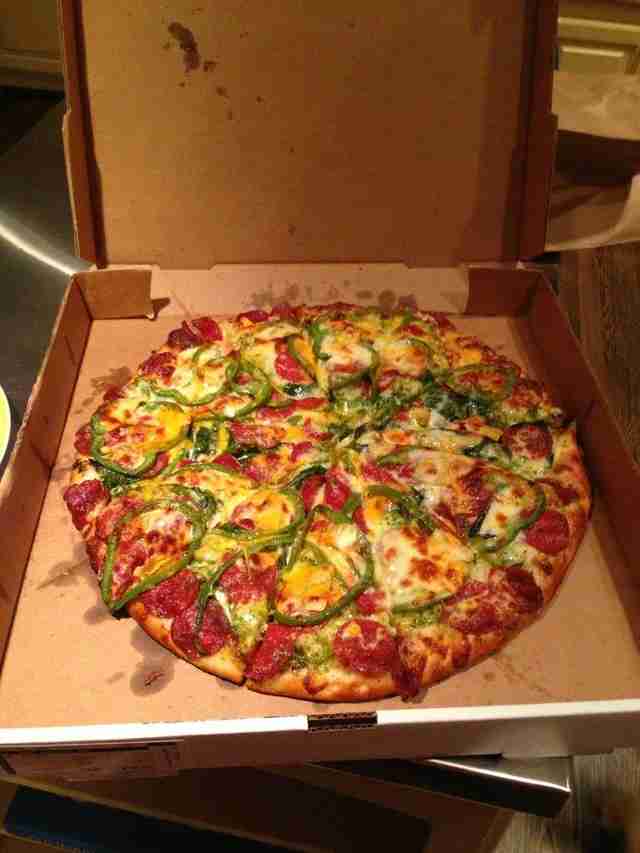 Midtown
When the party is winding down and everyone has had plenty of Wiseacre Tiny Bomb, it's time to call Camy's for a late-night delivery. Sure, it has a dine-in area and other tasty sandwiches and salads, but when you need hand-tossed, super-cheesy, fat & tasty late-night pizza transported directly to your face, Camy's is it.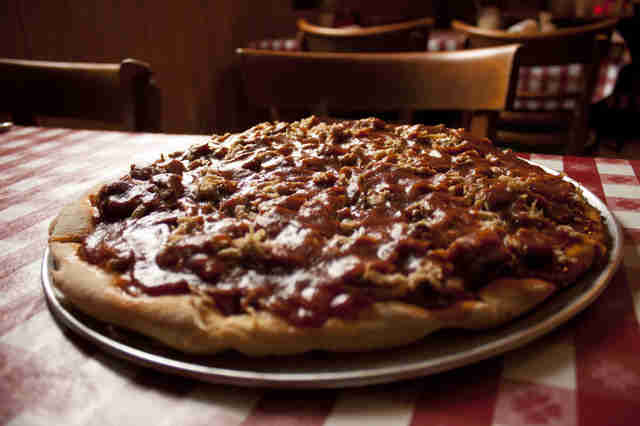 South Memphis
Many pizza places in Memphis and around the country offer a "barbecue pizza," but Coletta's is where to go for the original real deal. It fires up a traditional cheese pizza in its burning-hot pizza oven, and then adds a generous layer of house-smoked pulled pork shoulder after it's done, so the meat stays tender and tasty. Pour on a dose of Coletta's barbecue sauce, and you're ready to eat BBQ pizza from the place that invented it.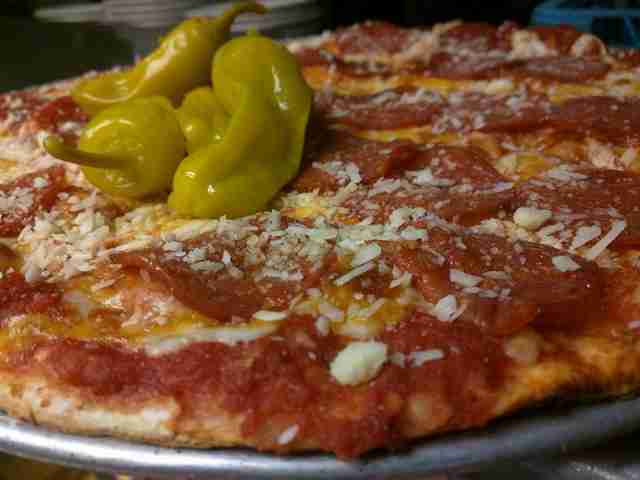 East Memphis
Pete and Sam's is an institution. While pizza isn't its main focus, it is certainly worth a trip just to try it, especially if thin crust is your thing. This is the one and only place where you can actually get a "baby pizza" as a side dish to your entrée. The baby pizza is about 5-6in wide, and is crispy like a cracker. Pizza is also available in standard sizes, but the baby pizza is where it's at. Just don't put it in a corner.