The average person likely only thinks of Memphis food in terms of barbecue (and with good reason), but Memphians do not live by pork ribs alone. There's a divine variety of food that's been brought to the city by families, restaurateurs, and world-class chefs alike.
This list is but a small cross section -- a tempting morsel -- of the current Memphis dining scene. From the trusty steakhouses, soul food, and classic fine dining that have fed the city for years, to the up-and-coming gastropubs, farm-to-table eateries, and ethnic offerings, here're 14 restaurants that represent our gastronomic greatness.
Midtown
Chef Kelly English has amazed Memphis since 2008 with his skillful combinations of Southern, French-Creole, and fine-dining cuisine. Reservations are in high demand at the award-winning, 13-table Restaurant Iris (even Tony Parker was once turned away because he didn't have a reservation). That's due to dishes like the fried oyster and blue cheese-stuffed New York Strip, the lobster knuckle sandwich, mahi-mahi with roasted corn custard, or the chef's choice five-course meal with wine pairings.
Midtown
As the casual cousin of Chef Kelly English's Restaurant Iris, The Second Line offers up simple, authentic New Orleans fare. Think juicy roast beef po' boys with bread delivered fresh from NOLA as well as heaping trays of fried seafood, crawfish pimento cheese fries, Fancy Ass Cole Slaw, and Natchitoches meat pies. It turns out that English also knows how to run a darn good bar, too. The drink menu is on point with local beers and herb-infused artisan cocktails like the Kudzu, made with Mississippi Cathead vodka, ginger beer, and cilantro.
Midtown
There will be a line out the door on any given weekend afternoon at the Central BBQ location on Central Ave in Midtown, Memphis. Locals swear by the pulled pork sandwich (you have to get it with slaw), succulent dry rub ribs, hot wings, and BBQ nachos, which are best ordered on house-made potato chips. What also makes a meal at Central BBQ otherworldly is the satisfying quality of the sides like the creamy mac & cheese, potato salad, collard greens, and baked beans.
Cooper Young
Chef and restaurateur Karen Carrier's menu at the Beauty Shop is a myriad of bold international flavors and is just as inventive as the location: a '60s-era beauty salon redone as a swanky, eclectic restaurant with a few wash sinks and hair dryers still intact. The Cooper Young location offers daily specials for ravioli, crêpes, sandwiches, fish, and steaks, along with go-to dishes like beet-stained salmon gravlax with avocado-tangerine salsa, cocoa-ginger-spiced brisket, and watermelon and wings. Getting a table at brunch is something of a miracle as Memphians line up for the Benedicts, frittatas, and egg-topped bruschetta.
East Memphis
Every city needs a quintessential steakhouse done well and in Memphis, that's Folk's Folly. The family restaurant has been an institution and a go-to venue for proms, birthdays, graduations, engagements, and special family dinners since 1977. The traditional, upscale atmosphere and dependable service is matched by surf-and-turf staples like prime-cut filets, strips, ribeyes and porterhouses paired with fresh lobsters, she-crab soup, and crab legs.
Downtown
The sign says "world-famous" and it's no exaggeration. Gus' secret recipe of crispy, spicy, juicy fried chicken is served on Styrofoam plates with beans, slaw, and Wonder Bread, of course. Since the 1950s when the first spot opened in Mason, Tennessee, right outside of Memphis, locals and tourists have been lining up alongside one another and waiting patiently for its made-to-order fried chicken. Now you can get it at seven locations in four states, though the unassuming Front St location is the best-known.
East Memphis
When childhood friends Andrew Ticer and Michael Hudman opened their first restaurant in 2008, they combined Memphis' reverence for pork with their own Italian culinary training. Go for the monthly no-menu Monday and you might find yourself enjoying sweetbreads, pork snouts, and other pig-related delicacies you wouldn't trust yourself to prepare. Any other night, guests might be served beef tartare, squid ink bucatini, or local pork roast with vegetables. The chefs' strength is consistent execution of an ambitious menu, down to the last detail; it's no wonder they earned a spot on Food & Wine's 2013 Best New Chef list.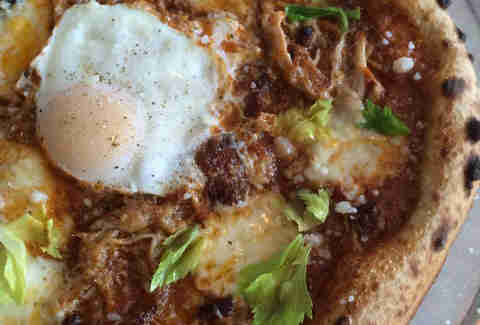 East Memphis
A second, more casual concept from Ticer and Hudman earns a spot on the list for its wood-fired pizzas like the Red Eye -- with pork belly, celery leaves, and a fried egg -- along with a menu of collard greens, short ribs, meatballs, and an unforgettable peanut-butter pie. Push on the bookcase in the back to reveal a hidden seasonal dining area known as the Holding Pen, where a late-night ramen selection and a raw bar were two past menu themes.
Downtown
Located inside the historic Peabody Hotel Downtown, Chez Philippe has provided Memphis with precise, graceful fine dining for decades. The ornate dining room and top-notch service live up to the quality of food, ordered in seasonal three-, five-, or eight-course dinners paired with an extensive wine list. Classical French cuisine from executive chef Andreas Kisler includes poached lobster with a black-eyed pea brûlée, herbed escargot with fried quail egg, venison, veal, and lamb (but never duck).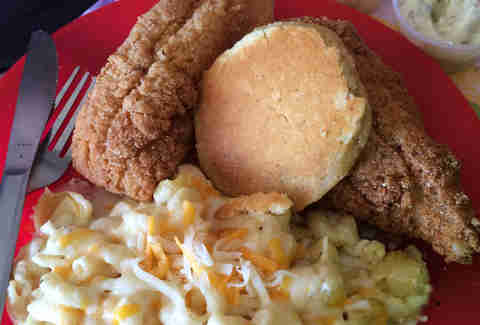 Downtown/The Pinch District
Prepare to be greeted at the door by owner Betty Joyce "B.J." Chester-Tamayo with a big, back-cracking hug at her Uptown soul food restaurant (named after her Mother). She'll take your order, cook it herself in the small kitchen, and probably deliver it to your table, too, before selling you some bread pudding to go. Going to Alcenia's for lunch or for chicken-and-waffles brunch is an immersion in Southern hospitality and home-cooking. The interior is bright and colorful, and the Ghetto-Aid (a mix of Kool-Aid flavors) is tooth-tingling sweet. On the menu: white and dark meat fried chicken, catfish with pickled tartar sauce, special-recipe meatloaf, and a litany of ethereal vegetables and sides including the inexplicably great cabbage, macaroni, and hoecakes with apple butter.
Downtown
Arguably the most famous barbecue restaurant in the city, Charles Vergos' Rendezvous started out as a family sandwich shop in the late '40s. Since then, the Vergos family's Greek dry rub ribs have become an integral part of the city's barbecue identity. Sure, don't pass up the cheese and sausage plate, the brisket, or the pork shoulder sandwich, but it's those tender charcoal-broiled pork ribs that raise it to "can't miss" status.
Germantown
Far from the usual Tex-Mex, Pepe Magallanes and his son Jonathan have brought authentic Mexico City cuisine to an unassuming shopping center just outside the Memphis city limits. There's a line out the door most days for lunch for the supremely fresh fish tacos, guacamole, tortas, elote, and aguas frescas.
Binghampton/Broad Avenue
Having opened in late 2014, Bounty's already a hit with scores of Memphians who are as eager for new eats and drinks as they are to visit the up-and-coming Broad Avenue neighborhood. Tables will share dishes like the addictive creamed kale with polenta, mushroom and citrus salad, fresh oysters on the half shell, scallops with pears and pearl onions, and the sublimely moist Chicken "Under a Brick." It's doubtful many guests realize (or would care) that the whole restaurant is completely gluten-free.
Midtown
Yes, there are three barbecue restaurants on this list, but that's just the tip of the smoky, tender, irresistible iceberg. Yes, locals will argue about which joints are the best for all eternity, but the Bar-B-Q Shop on Madison Avenue holds its own for its fall-off-the-bone, tender ribs. The secret is the Vernon family's 50-year-old sauce recipe, a thick, vinegar-based elixir that adorns pork ribs, beef brisket, barbecue spaghetti, barbecue bologna, and pulled pork sandwiches on Texas toast.

Sign up here for our daily Memphis email and be the first to get all the food/drink/fun in the Blues City.