Memphis' Best Taco Trucks, Ranked
Stacey Greenberg/Thrillist
I spent a Saturday driving from Summer to Jackson to Winchester to Germantown Rd looking for the best taco trucks in Memphis. I found many. But mysteriously couldn't locate one of the most popular ones: Chile Verde (with the strawberry salsa). Please call me, Chile Verde, and let me know you're OK. Regardless, there are still tons of delicious tacos to be had (unless you're a vegetarian), so, I had them. And then I ranked them all.
8. Taqueria Express #5
4590 Summer Ave
Taqueria Express is known either as "Superman Tacos" because of its location in front of the Superman Discount Market or "$.99 Tacos" because of its boldly advertised prices. Regardless of what you call it, this is by far one of the most popular trucks. Be prepared to place your order, take a number, and wait about 10-15 minutes. The $.99 taco choices include beef, chicken, pork, chorizo, tongue, and gut (tripe). The doubled-up corn tortillas are grilled and a bit crispy, and standard toppings include cilantro and onion with a side of pickled carrot, fresh radish, and lemon. The red salsa has a nice flavor, with a strong kick.
7. Pupuseria "Anitas"
4681 Summer Ave
This taco truck adjacent to O'Reilly's Auto Parts was different than the others we found for several reasons. First, it's an RV, not a truck. Never call someone's RV a truck, they'll get really upset. Second, it's technically a pupuseria -- pupusas are thick corn tortillas that are traditionally stuffed with beans, cheese, and/or meat. However, this particular one also sells tacos. This was the only truck to ask if I wanted lettuce and tomato (both of which were top-quality). The $2 tacos also include chunks of Mexican cheese and are served on one flour tortilla. Both the hot & mild salsas were tasty, but the meat (pork, in this case) was the real standout. It was grilled to perfection and was indisputably tasty and flavorful. There's a cute seating area, and they sell desserts in an adjacent truck.
6. Jalapeño's
4011 Jackson Ave
Jalapeno's, which is right in front of an AutoZone, wins the award for fastest tacos. They are $1.50 each and take approximately one minute to whip up. Each comes with thick grilled onions, cilantro, and lime. They also come on doubled-up corn tortillas, served with a side of green salsa -- which you can take to their seating area. There's not a detailed menu, so you'll have to ask what meat is available. And if you're tacoed out, they'll sell you a sweet, delicious pupusa.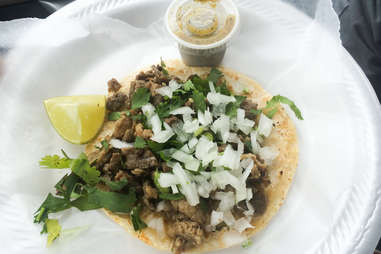 5. Taqueria la Huasteca
6616 Winchester Rd
This taco trailer can be found in the Winchester International Farmer's Market parking lot. These $2 tacos are quite hearty, come on one corn tortilla, and are made basic, with cilantro and onion. The accompanying green salsa, however, is amazing... like, so amazing, you'll want to buy a bucket of it. There's a good selection of drinks offered here as well, from Jarritos sodas to Starbucks Frappucinos.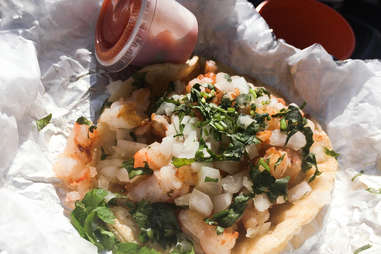 4. Taqueria La Guadalupana
1150 N. Germantown Pkwy
The La Guadalupana truck parked in the Cordova Farmer's Market lot has a very similar menu to the brick & mortar (only slightly scaled back). It was one of two trucks offering seafood (see No. 1), and it also boasted the most expensive tacos at $2.25 a piece. It was also the only truck that hadn't run out of tamales -- I don't know what this means, but I'm into it. The shrimp taco I ordered was wrapped in foil -- as opposed to being served on a Styrofoam plate like all the others I've had. And the sizzling chopped shrimp were mixed with cilantro and onion (it was delicious). Also, the red salsa also did not suck. Nice work, Taqueria La Guadalupana.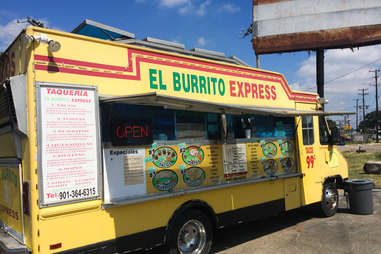 3. El Burrito Express
4038 Jackson Ave
El Burrito Express, which parks next to the Rub-a-Dub laundromat, has one of the most exhaustive menus that I've ever seen on a taco truck, as well as the friendliest owner, though I don't believe the two are mutually exclusive. If you're looking for something off-the-beaten-path (like throat tacos), this is the place. Tacos are $.99 and come on doubled-up corn tortillas with onion and cilantro. The portions are (understandably) small, but pack a punch, especially if you take advantage of the pickled carrots and radish. The creamy, avocado-based green sauce here was my favorite of the day. There's also a spicy red salsa if you feel like burning your tongue a little. Usually, there's about a five- to 10-minute wait, BUT they do accept call-in orders.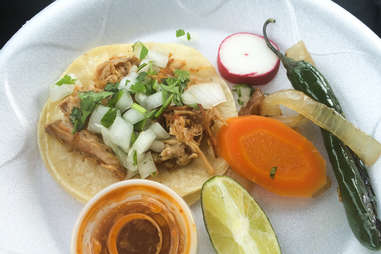 2. Taqueria Los Compadres
5895 Winchester Rd
Taqueria Los Compadres parks at the BP Station near Big Daddy's Pawn in Hickory Hill. At first glance, it looks like it might be getting gas, but it's not. Some of its most noticeable attributes are its disco lights and the cooler full of Mexican Cokes. Aside from that, the tacos are amazing. The salsa is fire. And the fixings are all there for customization (cilantro, onion, lime, pickled carrots, fresh radish, extra grilled onions, and -- wait for it -- a grilled pepper). And at $.99 each, these are well worth the trip.
1. Tacos Los Jarochos
4900 Summer Ave
Los Jarochos has a wider selection than most other trucks -- it offers a variety of meats, including shrimp, and you can have your choice of corn or flour tortillas. It also has a covered deck with ample seating, accepts credit cards, and partners with a Mexican ice cream shop (which has A/C). It has two different red salsas and a salsa verde (all made there) that are fantastic (and not for the faint of heart), and similar toppings to the other trucks (limes, radishes, avocado sauce, etc), plus a few others like cucumbers, bell peppers, pickled jalapeños, and cheese.
Sign up here for our daily Memphis email and be the first to get all the food/drink/fun in the Blues City.