Sarah Voigt Rossi/Thrillist
Sarah Voigt Rossi/Thrillist
They said there've been 13 people who met their maker in Earnestine and Hazel's in Memphis, Tennessee. But I'm here to tell you about their burger.
To understand the Soul Burger at Earnestine and Hazel's, you need to understand Russell George. And to understand Russell George, you need to understand Earnestine and Hazel's past. Its lure is its lore -- there are hundreds of stories floating around about the bar. I read every one I could find from sources credible and otherwise, and none seem to drive down the same street of logic. But let's try and take its history for a spin.
When the building that houses Earnestine and Hazel's at 351 South Main St was built in the late 19th century, it was originally intended as a church. In the 1930s, it became a dry goods store, and then possibly a pharmacy owned by Abe Plough, who went on to become a multi-millionaire pharmaceutical chairman, owner of Coppertone suntan lotions and one of the bigger philanthropists in Tennessee history. Supposedly, as he became more wealthy and his business expanded and everyone started putting suntan lotion on their backs and elbows, he was feeling generous and decided to hand the building over to the two cousins who ran the beauty salon upstairs, Earnestine Mitchell and Hazel Jones.
Enterprising women that they were, they went with an old-school model of the shared workspace, turning the downstairs into a jazz cafe, keeping part of the upstairs for the salon, and renting the rest of the rooms to, shall we say, ambitious ladies of the evening. Earnestine's husband, a man who went by the glorious street name of Sunbeam, was cool with the A&Rs and artists over at nearby Stax Records, and decided to open up a music spot called Club Paradise in the same area. Sunbeam's connections and proximity to Stax helped him book huge acts (Aretha Franklin, Chuck Berry, Ray Charles, etc.) and many of them would perform at Paradise and then make their way over to his wife's cafe for the afterparty, so they could get down on food, drink, and, um, merriment before retiring back to the Lorraine (aka, where MLK was shot, now a Civil Rights Museum) two blocks over.
He'd have a one-item menu, something people could eat quickly after a full night of dancing the boogaloo and drinking beer. He'd call it the Soul Burger.
Then it became the '70s, and in the '70s Downtown Memphis was in disarray. Club Paradise had shuttered. Stax Records became insolvent and folded in 1975. Sunbeam likely picked up a more depressing cloud-based nickname. Through it all though, the cafe and brothel kept going. In the bar, I found a menu (pictured below), handwritten by Earnestine on Thursday, March 19th, 1983 advertising a Hog Maws Dinner for $2.89, and Fried Fish for $3.18. Neck Bones were a steal at $2.59. But by the early '90s things were looking bleak. Earnestine and Hazel were getting old. The brothel crowd scared regular folk away. Neck bone sales were down. The building needed someone to see it for what it could be, not what it was. That man was Russell George.
They said Russell George didn't dance like a white boy. They said it was because his parents were hip to the good music, playing soul, blues, and jazz for him at a young age. They said Russell George took to it like a pig in shit. He had the moves, all of them. The camel walk, and the boogaloo; the funky chicken and the mashed potato; the splits. He could keep his torso upright and move his legs like a duck paddling beneath the surface, a twitch, as if his body was only having a seizure in his legs. James Brown-style blurred-feet-shuffle moves. And to prove it, George went to the Mid-South Coliseum on Early Maxwell Blvd to compete in the James Brown Dance Contest judged by the Godfather of Soul himself. They said he was the only white boy in the competition, but Brown saw something in the way he moved and picked him as the winner. He was 10-years-old.
They said Russell George didn't dance like a white boy; Russell George just danced.
But dancing wasn't George's only passion. By the age of 15, he'd already opened a definitely not-legal bar out of an apartment, which he -- perhaps using hilarious teenager humor -- called Jefferson in the Rear. In his 20s, he helped open Murphy's Oyster Bar on Madison Ave, and became band manager and a dancer with the R&B band The Memphis Icebreakers.
On a rainy day in 1992, a nightclub operator friendly with George took him by E&H and proposed he turn it into a bar. George had visions of the old days when B.B. King and Sam Cooke and Jackie Wilson and Bo Diddley used to come through, and decided to try and restore the building and see that through. So he kicked out the ladies of the night upstairs, and started fixing it up. George wasn't interested in serving neckbones or hog maws or any sort of full menu, but did notice a perfectly good grill behind the bar. He'd have a one-item menu, something people could eat quickly after a full night of dancing the boogaloo and drinking beer. He'd call it the Soul Burger.
I walked into Earnestine and Hazel's on a Thursday at 9pm with my childhood best friend, a tall, bearded man with impressively sturdy ankles named Casey Hurley. Casey and I had spent the previous three days eating burgers all over Tennessee per the Burger Quest dictums, and this was our final Memphis stop. Our stomachs hurt, and we were tired of talking to each other, so a crowded bar would prove a nice respite. Problem was, save for an older man in the back making empty threats about playing pool, Earnestine and Hazel's was empty.
"We don't really get going until midnight," the bartender said apologetically, noting our awkward looks around the empty space. Her name is Karen Brownlee and she manages the bar. If you'd like context, she is the blurred woman in the Google maps image. With her infectious smile and symmetric looks, Brownlee's clearly beautiful (there are pictures of her in the bar when she's younger and arrestingly stunning) though years have given her face the worry lines of someone who has seen her share of last calls and tragedies and ghosts and secrets.
We ordered Soul Burgers and two Bud heavies, then I braved the jukebox to put on "Mary Jane" by Rick James and "Shotgun" by JR Walker & the All Stars and that Johnny Cash song where he fights his dad re: his feminine first name. Two songs in, just as Casey started to retell the story of his college intramural basketball finals, a man with a handlebar mustache I really want to say is named Pee-Wee finished cooking our Soul Burgers.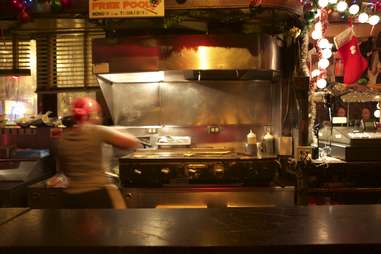 Have you ever been to Memphis, friend? Have you braved the throngs of tourists clutching elongated hour glass-shaped frozen margarita glasses, paying covers to get into the Beale Street blues clubs that play "Mustang Sally," and paying larger covers to get into the ones that don't?
Have you eaten Flora Payne's chopped pork sandwich at Payne's Bar-B-Q on Lamar, gotten neon yellow slaw all over your face and hands, and sworn you'd looked into the face of the Barbecue God?
Do you have stories about watching Penny Hardaway drop 50 on Sheffield High? Or seeing Bill Courtney patrol the sidelines at Manassas football games? If you've done any of these things, and your night didn't end with a Soul Burger at Earnestine and Hazel's, you may've gone to Memphis, but you haven't actually been.
Unlike burgers, the American public is not in agreement on the topic of ghosts. A 2013 Harris poll reported that 42% of Americans believed in some sort of paranormal presence. Regardless of your previous paranormal predilection, a visit to Earnestine and Hazel will change you. It is a persuasive apparition essay in the form of a bar.
E&H is ghost tourism famous. "We get all sorts of people in here looking for ghosts," Brownlee told us, "all them shows and tours." It's true. Peruse the World Wide Web and you'll see video investigations and stories from places like "Paranormal Incorporated" and "HauntedHouses.com."
Earlier this year, Brownlee even penned her own essay about supernatural experiences she's had at the bar. Many revolve around the jukebox, like, say playing James Brown's "I Feel Good" out of nowhere on the day he died. But she also tells the heartbreaking story of sitting at the bar crying on the day her 24-year-old son was shot and killed in 2007. I'll let her tell the rest here:
"It used to be when I got freaked out in here that I would just start talking to Earnestine. I know that sounds crazy, but sometimes you're in here by yourself, and it can get a little creepy. I said, Earnestine, please give me a sign that my kid's alright. Out of nowhere, this little baby bird came walking up to me right over from one of the booths. I looked down, and the little bird walked over to an iron gate, where the door was open, and it flew off. That was my sign that my kid was OK, when I started talking to Earnestine and the bird appeared and flew off. It was weird, man. And just then, this little lady came in that I'd never seen before in my life. She walked in and said "Hey lady, are you OK?" I don't know where she came from, never saw her again, but I started talking to her a little bit about everything. And you know, that lady left my bar and she came back about an hour later, and she had bought me a sterling silver necklace with a bird on it. I don't know what her name was or anything. She gave me that necklace and a big old hug and left. I never saw her again."
In this story, what (or who) is the ghost? Is it Earnestine, heeding Karen's cries and sending a signal? Is it the bird, who stands in for her son? Or is it the woman who appeared out of nowhere, gave her a bird necklace and a hug, and was never seen again?
"Y'all ever been in a brothel before?" Brownlee asked as Casey and I scaled the stairs to the second floor. Around 10:30pm as the bar was slowly filling up, she'd been sitting down at the end of the bar, eating a bologna sandwich and nonchalantly cutting an onion in the manner of someone who's spent a lot of time with knives (I later found out she'd been a butcher before she worked at E&H). At one point, possibly to prevent me from putting more songs from the Friday soundtrack on the juke box, she walked down to Casey and I and asked if we'd like to a tour of the upstairs. We eagerly said yes.
Only open on the weekends, the upstairs is set up like a railroad apartment, with rooms lined up on the right hand side of a long hallway. The walls, at one point painted bright blue, are peeling in splotches of bright white and yellow. Long wooden benches line the walls. It feels like a drug-induced hallucination involving the waiting area for a psychologist's office in a Guillermo del Toro film.
The front room features an eight-seat bar, an old Coca-Cola clock, and a TV from the '80s. This is Nate's bar. Nate's been working as a bartender upstairs on weekends since the place opened in 1992, and worked with Earnestine and Hazel even before Russell took over. Brownlee walks behind his bar and grabs a beer. "Shit," she says. "This is warm. I was going to sneak one up here." She smiles at us. "Y'all want to see the bathroom where Ray Charles used to do heroin?"
So, you know, we see that room. It looks like a room where a famous but troubled musician might do heroin. We see many rooms upstairs, and Brownlee has a story for each of them. But then we get to a maroon door with a padlock on it, the letters "QB" carved into the wood. Casey asks about the door, and Brownlee pauses. "That's Russell's office," she says quietly. "We keep that shut."
Sunday September 8th, 2013 was hot in Memphis, nearly reaching 100 degrees. They said the air felt heavy that day. Those nights at Earnestine and Hazel's are jazz open mic nights, a tradition Russell George loved, local musicians getting up and playing together, riffing off of each other, like the greats used to do back in the days of the Paradise.
After the bar shut down at 3am and last musicians and jazz heads and beer drinkers and burger eaters and co-workers and friends made their way out of the bar, Russell George retired to his office upstairs, and closed the maroon door. When a co-worker opened it the next morning, he found George inside with a self-inflicted gunshot wound to the head. They said he'd quietly been battling cancer, depression, and other things that start coming for a man when his life rounds a particular bend. They said he was the 13th person to die inside Earnestine and Hazel's.
Soul Burger creator Russell George, the white boy who didn't dance like a white boy, was dead at 62.
The Soul Burger is cooked on a flattop grill behind the bar, under a sign advertising free pool Monday through Thursday, allegedly the same one Earnestine and Hazel also used to cook up dishes from their handwritten menu.
The Soul Burger comes in a red basket with Golden Flake Thin & Crispy potato chips. Our man at the grill told us, on the weekends, he usually cooks between 250-300 Soul Burgers, mostly between the hours of midnight and 3am. So say he cooks 100 before the midnight rush. That still leaves 200 burgers to cook in 180 minutes. I've spent days thinking about this.
The Soul Burger is a very good diner burger. I can go the burger review route, and talk about the meld of the American cheese and the grilled onions and the hot fatty beef, and the acid from the pickle juice, and maybe the Worcestershire and mustard, and how it all blends pleasantly, especially if you have the wherewithal to shove a couple Golden Flake chips inside the bun.
But describing the technical aspects of the Soul Burger is beside the point. It'd be like going to Gettysburg and ranking its merits as a park.
The Soul Burger's magic comes from the setting and the history. It's about the meat and cheese, but it's also about Earnestine Mitchell and Hazel Jones, about Stax Records and Club Paradise, about James Brown, Russell George, prostitutes, ghosts, and violent death.
Take the Soul Burger outside of Earnestine and Hazel's and it might still be a good burger. But I'd never want to know.
Sign up here for our daily Memphis email and be the first to get all the food/drink/fun in the Blues City.
Kevin Alexander is Thrillist's national writer-at-large and chief burger critic. He'd like to thank the good people at Earnestine and Hazel's for allowing him to rudely barge into their lives, albeit for just a night. Follow him @KAlexander03.