The 10 Best Mexican Restaurants in Memphis
Choosing your go-to Mexican restaurant is much easier said than done. While it is tempting to find your favorite and stick with it, you'd be doing yourself a disservice. You could easily eat at a different one every day for a month (maybe even two) and still not be tired of refried beans. Regardless of whether you go on a burrito bender, these 10 Mexican restaurants in Memphis should be on your radar.
Stacey Greenberg/Thrillist
Germantown
What you're getting: Filet mignon tacos
Las Tortugas is unlike any other Mexican restaurant in town. From tortugas made with freshly baked bread to the exquisite tacos, everything is blow-your-mind delicious. Let Pepe or Jonathan order for you, or go with the daily taco selection. Served with pico de gallo, a slice of avocado, cilantro, a side salad, and house-made salsas, they are sure to hit the spot. Add a side of elotes (grilled corn with Cotija cheese) and some agua fresca.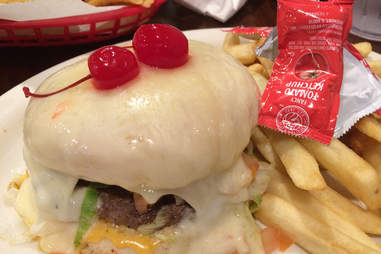 Stacey Greenberg/Thrillist
Multiple locations
What you're getting: Big Cheeser
El Toro Loco is the perfect place to sit on the patio and drink pitcher after pitcher of margaritas. The standard fare is all very tasty, but come fiesta time, order the Big Cheeser: it's a meat patty spiced-up with jalapeños and covered in cheese dip. The cheese steams the bun a bit and makes it extra delightful.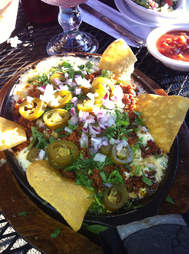 Stacey Greenberg/Thrillist
Midtown
What you're getting: Choriqueso
Another great Midtown spot for day-drinking, Los Compadres has the super fun "margarona" option as well as the off-menu "chelado" -- plus, a Cuban menu is also available. Supplement your drinking and standard chip consumption with the choriqueso -- a spicy mixture of chorizo and cheese. There's definitely enough to make it a meal or share with friends.
Stacey Greenberg/Thrillist
Overton Square
What you're getting: Mix & match tacos
Babalu definitely wins for best patio at a Mexican restaurant -- the people watching in Overton Square is top notch. This spot is ideal for sharing, so order some guacamole and watch as it's made at your table, then share some tacos. Spice seared yellowfin tuna, grilled shrimp, and fried oysters are the clear favorites. The blue corn tortillas are made fresh daily.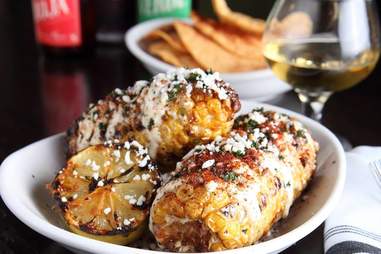 Courtesy of Agave Maria
Downtown
What you're getting: Elote
Agave Maria is packing them in Downtown thanks in part to its beautiful space, welcoming bar, and margaritas on tap. The food is a bit more elevated than at a more traditional restaurant, and it's also tapas style so expect to share. Mexican street corn is a rarity on local menus, and here it's served as two small pieces, so it's up to you whether to share.
Bartlett
What you're getting: Carne asada fries
Elena's is our only Mexican restaurant that serves it up California style, and the best part is the extensive salsa bar. Seriously, why doesn't everyone do this? Tacos are clearly the specialty, but the carne asada fries are a major crowd pleaser. French fries with meat, cheese, pico de gallo, sour cream and guac -- yes, please!
Stacey Greenberg/Thrillist
Summer Avenue
What you're getting: New Mexico breakfast
Everyone knows the most authentic Mexican spots are on Summer Avenue, and Mi Mexico is no exception. Don't let the "breakfast" part throw you off -- the New Mexico breakfast includes a tamale, a tostada, a taco, and rice & beans. It's a great sampler platter that's good any time of day, but this spot also offers traditional taco samplers, if that's more your thing.
Multiple locations
What you're getting: Build your own
Swanky's is a lot like Chipotle, in that you can design your own tacos, burritos, salads, etc. It has the added bonus of table service at dinner. The choice of meats and toppings is extensive and you can really get exactly what you want.
Multiple locations
What you're getting: Chips & guac & salsa
The house-made chips, guac, and salsa are so damn good that Las Delicias had to start packaging them to sell all over town. To have them at their absolute freshest, though, go to the restaurant and have your fill. Whether you want to save room for anything else is up to you.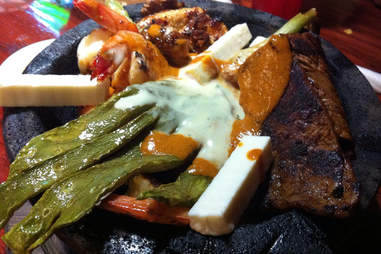 Stacey Greenberg/Thrillist
Summer Avenue
What you're getting: Molcajete
Bucanas may not look like much on the outside, but on the inside it's a serious restaurant and late night dance club. Sit in one of the big, comfy booths and order a molcajete to share with friends. It's basically a giant volcanic bowl filled with sizzling beef, shrimp, chicken, cactus, and chorizo dip, and comes with rice, beans, tortillas, and other fixings. It should be on everyone's bucket list.
Sign up here for our daily Memphis email and be the first to get all the food/drink/fun in the Blues City.