Dan Gentile/Thrillist
Dan Gentile/Thrillist
How do you define Memphis barbecue?
Traditionally, there's only one defining characteristic of Memphis barbecue, and that's pork. If you want to compete in Memphis barbecue, either at the Memphis in May World Championship Barbecue Cooking Contest, or in the smaller Memphis Barbecue Network circuit competitions, you can cook pork ribs, pork shoulder, or whole hog. But your main entry has to be pork. And although there are myriad ways to cook it, we (us Memphians) all agree to disagree on which way's the best.
To get some solid answers, I sat down with the owner of Memphis Barbeque Supply, Jimmy Shotwell, and listened to his take on some of the biggest debates in Memphis barbecue (you'll notice I spelled barbecue two different ways in this very sentence, and we'll address that later). Shotwell's company is a Memphis-area go-to purveyor of every barbecue implement imaginable and Shotwell will happily give you pointers when it comes down to making whatever approach you take a success.
Here are eight of the biggest barbecue debates in the Bluff City. Remember, there aren't firm right and wrong answers here. The best thing you can do is eat a lot of Memphis barbecue and decide for yourself.
1. Wet sauce vs. dry rub
Let's start with the most famous debate. If you're serving a slab of ribs, do you coat it with a mix of dry seasonings like paprika and chili powder, or a liquid barbecue sauce? Most area restaurants offer wet, dry, or "muddy," which comes from combining the two. "Typically what you find around here is a hybrid. People call it a dry but put a sauce or a glaze on it with the dry rub," Shotwell says.
The verdict: Dry rub (with sauce on the side). Head somewhere like Leonard's, the Bar-B-Q Shop, or Memphis Barbecue Company. Order your ribs with a serving of sauce on the side and dip to your desire.
2. Tomato vs. vinegar sauce
The annual Memphis in May barbecue contest has two categories for sauces: tomato and vinegar. Last year, Shotwell won first place in both classes. "Vinegar goes on really thin and nice and doesn't cover that much of the meat's flavor but it doesn't add much either," he said. This begs the question: for true Memphis barbecue, should you start with tomato or vinegar? The truth is, whichever you start with you'll end up using the other also. Shotwell's first-place tomato sauce has vinegar in it. And his first place vinegar sauce? "It was the same sauce with about one-third more vinegar added," he adds.
The verdict: You can't really segregate them. Any true Memphis sauce has both.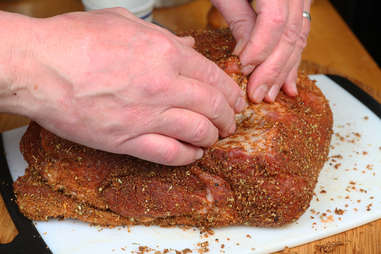 3. Sugar vs. paprika and chili powder rub
"Traditional, and I mean old-school traditional Memphis rubs, were based on chili powder, paprika, and other aromatics. Personally, my flavor, what I sell as my rub, starts with turbinado sugar," Shotwell states. More and more rubs are using either brown or turbinado sugar as a main ingredient, reflecting the influence of competition barbecue, where teams are trying to get as much flavor as possible into the couple of bites that judges will end up sampling. But packing in the sweet flavor can create a profile that's way too overpowering for an entire meal. Thus, there is a balancing act, with traditionalists still preferring their rubs with no sugar.
The verdict: For true Memphis BBQ? I'm a chili powder and paprika traditionalist all the way.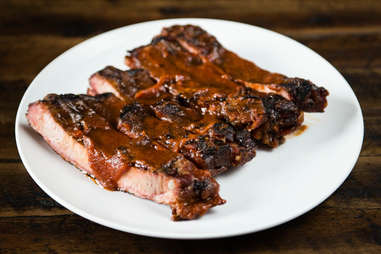 4. Loin vs. spare ribs
Loin ribs -- aka baby backs -- come from the top portion of the rib cage. Further down you find the spare ribs. When the rib tips are cut off, you end up with the long, squared-off St. Louis-style rib cut. Many old-school barbecuers swear by the cheaper-per-pound St. Louis-cut spare rib, which was traditionally more common in impoverished areas of the South. But the baby back loin rib tends to be much more forgiving
Loin ribs mean you are eating "high on the hog," a phrase that was born from the fact that meat from the top portions of the pig tend to be more tender and flavorful. "To me it's the finer cut," Shotwell said. "It's what you always see in competition. The spare is longer but it is not as meaty."
The verdict: If you can pull off a perfect example spare ribs, they take the cake. But, believe me when I say, they better be perfect.
5. Picnic shoulder vs. Boston butt
The shoulder versus the butt debate can get confusing. Both cuts actually come from the pig's shoulder. What butchers call the Boston butt comes from the top of the shoulder, while the lower portion is called a picnic shoulder. The Boston butt is usually sold skinless and has less fat and bone in it than the picnic shoulder, which is traditionally sold with the skin on. So the Boston butt yields notably more meat per pound. That said, many cooks swear by the Picnic shoulder claiming that, while the skin and bone may ultimately get pulled and thrown away, they add flavor during the cooking process.
"Picnic shoulders are nice and cheap, but there is a lot of waste," Shotwell notes. "Butts have more muscle groups to get more variety of texture and flavor." Also, one of the benefits of a picnic shoulder for high-volume restaurants is that the skin helps hold moisture in the meat. That benefit is negated for competition barbecue teams and backyard enthusiasts who wrap their Boston butts in aluminium foil for the final part of the cooking process. For them the skin on a picnic shoulder is just an unnecessary barrier to smoke flavor during the critical early period in cooking.
The verdict: Unless you're pumping out pounds and pounds of BBQ a day, you'll want the Boston butt.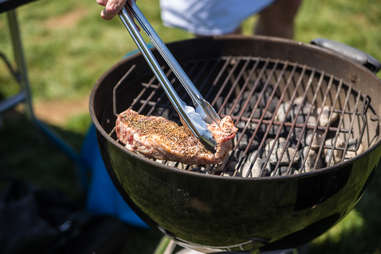 6. Wood vs. charcoal
The primary flavor of BBQ comes from the smoke. Hardwoods like hickory, fruit woods like apple, charcoal, and mixes of wood and charcoal all have vocal proponents. Never cook in a pure gas or electric oven and try to call it barbecue.
One of the biggest factors that makes Memphis barbecue so unique is the number of restaurants still using charcoal-fired pits. Even places that have converted to gas-fired pits still add wood for additional flavor. And the best flavor tends to come from burning charcoal as the primary fuel, with wood added for extra smoke. Hickory wood will always be what's most strongly associated with Memphis barbecue, but Shotwell said that "fruit wood is growing in popularity. People usually still mix it with hickory, but people starting to use peach wood by itself."
Within the realm of charcoal, there's an extra distinction: natural lump charcoal or briquettes. "For a kettle-style grille I love briquettes. They tend to burn evenly," Shotwell notes. The more efficient ceramic-style cookers and competition rigs have tighter seals that allow lump charcoal to burn at a slow, steady rate despite the variations in the sizes of the charcoal pieces. "For that I love lump," he said. "It's clean burning. It doesn't have any binding agents. All briquettes, even if they say all natural, have binding agents holding them together."
The verdict: The most pure Memphis flavor comes from adding chunks of hickory to the briquettes. That's what you'll find used everywhere from the Rendezvous to Tops to Payne's.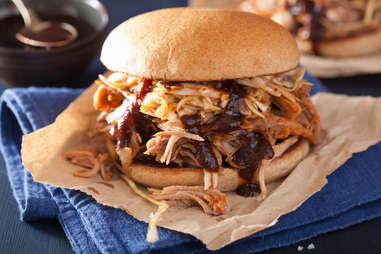 7. Mustard and vinegar vs. mayo and sugar slaw
In Memphis the word barbecue, as in "going to get a barbecue," is a noun referring to a pulled pork sandwich topped with barbecue sauce and coleslaw. The term coleslaw comes from koolsalade, the Dutch word for cabbage salad that got shortened to koolsla in the United States. In Memphis, slaw can be tangy (from mustard and vinegar) or creamy and sweet (from a combination of sugar and mayo).
Probably the most intense mustard and vinegar slaw in Memphis is the version served on the sandwiches at Payne's Bar-B-Q. Most places that use mustard and vinegar add it for some additional bite alongside mayonnaise and sugar. I personally prefer mustard and vinegar slaw with my barbecue and believe the mayonnaise and sugar-dominated versions should be reserved for serving with fried foods like chicken and catfish.
The verdict: The tradition of putting barbecue on a sandwich started in Memphis at Leonard's Pit Barbecue, which has been around since 1922. They use plenty of mustard and vinegar, which wins this round.
8. Barbecue vs. barbeque vs. bbq vs. bar-b-q vs. bar-be-que, ad infinitum
In Memphis, this is one area of debate that no one actually debates. In fact, people couldn't care less. It's actually a fun game to check signs and menus at Memphis area restaurants to see how many variations you can find at a single restaurant.
In my book, and this article, I stuck to barbecue since that is what the dictionary and the AP Stylebook say is correct. Shotwell used a Q instead of a C when he named his business. "Doing the research, that's truly how you spelled barbecue back in the past," he adds.
The verdict: Spell it however you want. People here will judge it by what's on the plate, not the sign out front.
Sign up here for our daily Memphis email and be the first to get all the food/drink/fun in the Blues City.
Craig David Meek is a Memphis-based writer and author of the book Memphis Barbecue: A Succulent History of Smoke, Sauce & Soul. Follow him @memphisque.