The 14 Things You Have to Eat and Drink Before You're a True Memphian
The standard time frame to be considered a true Memphian is 25 years. So the good news is, there's plenty of time to eat and drink this entire list. The bad news is, to be a true Memphian, you clearly cannot list "healthy eater" or "vegetarian" among your defining characteristics... at least, not right away.
Alex's Tavern

| Courtesy of Alex's
(Late-night) burgers
There are two must-eat late-night
burgers
: the Soul Burger at Earnestine & Hazel's, and the Greek Burger at Alex's Tavern. (Some would say burgers at 2am from Krystal count. They don't.) Those Memphians unable to stay out past 10pm can get a decent amount of street cred by hitting a Huey's or Tops at any time of day.
Pancho's cheese dip

| Courtesy of Pancho's
Cheese dip
No party or family gathering is complete without a tub (or three) of Pancho's Cheese Dip -- original orange. It's the house wine of Memphis.
Pimento Cheese from Tom's Tiny Kitchen

| Courtesy of Tom's Tiny Kitchen
Pimento cheese
It's a thing now, and second only to Pancho's. Make a sandwich or dip a chip. Make your own, or get a tub of locally made stuff from the adored Tom's Tiny Kitchen.
Courtesy of Memphis Made Brewing Company
Beer
It used to be that having PBR on tap at the Lamplighter made you legit. But now, true Memphians frequent the local taprooms and can easily distinguish an Ananda from a Lucid Kolsch, and an ESB from a Midnight Magic.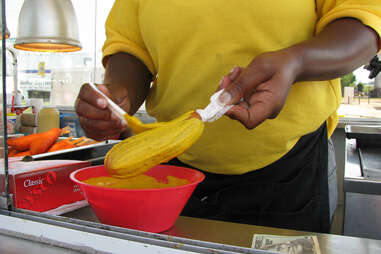 Proto Pup

| Flickr/Natalie Maynor
Fair food
No, not food-truck food… actual fair food. We're talking Pronto Pups or Schuck's grilled corn on the cob. These are two things that unite all Memphians... like basketball, or fundraising for St. Jude.
A Diver
Whether it was in college or at a bachelorette party, all true Memphians have partaken of a Diver at Silky's whether they wanted to or not. Billed as a "gallon of Southern Fun," it's served in a bright yellow gallon bucket, and contains a secret blend of libations (think a Long Island Iced Tea, except the ABV's been raised to the 10th power).
Gus's

| Flickr/Nate Cardoza
A Tennessee picnic
Serving up room-temperature or cold fried chicken (preferably Gus's, but Pirtle's will do in a pinch) is not only socially acceptable, it's decidedly Memphian.
Some unique, weird-ass Southern fare
Everybody has at least one weird Southern thing that is their THING -- a food that they were raised on, like Brim's pork rinds, pickled eggs in a jar from the gas station, Jack Pirtle's chicken livers, or squirrel.
Jerry's

| Stacey Greenberg/Thrillist
Jerry's Snow Cone
Standing in line at Jerry's for at least 30 minutes in the dead of summer to consume a sno cone in the parking lot before it melts is a rite of passage for all true Memphians. There's no single must-have flavor, though many have made the case for Wedding Cake. What you definitely have to do is to add a little soft serve to make it a "supreme."
Brother Juniper's
Speaking of lines, another one all Memphians have braved is the one that snakes out the door of Brother Juniper's on Sunday morning. Technically, they've added an entire room dedicated to waiting on a table so you don't have to line up like you used to, but that doesn't mean it doesn't happen. The home fries, fluffy biscuits, and grits are well worth the wait.
Gibson's Donuts

| Stacey Greenberg/Thrillist
Gibson's Donuts
The gold standard for donuts in town, Gibson's is open 24/7. If you haven't been, you have no excuse. If you time it just right, the owner may even throw one at you.
CK's
Another 24/7 operation, this greasy spoon is a go-to for late night partiers, wayward folks on Christmas morning, and everyone in between. We're not naming names, but know firsthand that some people have even had birthday dinners here that consisted of patty melts, hash browns, and black coffee.
Tea
Sweetened or unsweetened? Everyone has their preference, but let's be honest: there is only one answer! Sweet! Reeeeeal sweet. Drinking sweet tea is the only non-alcoholic way to combat the summer heat. Fact.
Everything BBQ
The short list of
BBQ must-eats
: a pulled pork sandwich on Texas toast from the Bar-B-Q Shop; dry-rubbed ribs from the Rendezvous; nachos from Central; pizza from Coletta's (extra points if it's heart-shaped); spaghetti from Interstate; Cornish hen from Cozy Corner; and bologna from Payne's.
Sign up here for our daily Memphis email and be the first to get all the food/drink/fun in the Blues City.