Because there's nothing quite like a good old-fashioned fight, it's Rivalry Week. Keep tabs on simmering feuds across the country right here.
There is no better city than Memphis for completely immersing yourself in barbecue. No, we're not here to argue that our regional barbecue style is better than other parts of the US -- there's great barbecue everywhere, from Austin to Brooklyn (yes, Brooklyn, deal with it). And claiming any area's version of meat that has been slow-cooked with smoke and fire isn't "real" barbecue would be ludicrous. But, if you want to explore multiple varieties of barbecue -- from pure traditional to modern renditions -- there isn't another place that allows you to so fully embrace the history of the art form. Here's what makes Memphis the reigning king of barbecue cities.
We were smoking pork way before we joined the Union
The first herd of pigs in North America arrived with Spanish explorer Hernando de Soto on a 1540s expedition that eventually brought him to what became Memphis. And early barbecue came from joining those pigs with Native American traditions for slow-cooking meat with a smoky fire. Memphis has been home to barbecue since long before it became an American city.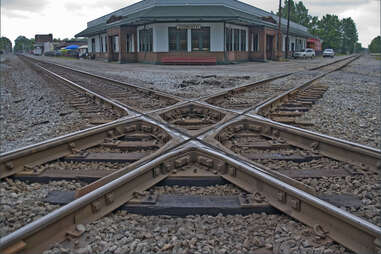 The Civil War era brought us culinary styles from all around the South
Being on the Mississippi River, Memphis has always been a major distribution hub and post-Civil War it served as an important Union outpost. The city also turned into a major destination for black people fleeing other parts of the South thereby helping form its identity as a center for black culture. This melting pot aspect is a big reason there's no one definitive style of "Memphis barbecue" because the city drew its food culture from across the South.
We have the widest variety of barbecue specialties
Barbecue is everywhere here, we pile it on everything from pizza to spaghetti. But if there is a holy trinity of Memphis creations it would be dry-rub ribs, barbecue nachos, and the pork sandwich topped with coleslaw. Of course, I say that as a dry-rub rib fanatic -- you have to try both wet- and muddy-style ribs too. A trip to Memphis to sample barbecue is an exploration of just how many dishes it can be worked into. Have you had rib-tip fried rice from a trailer at a flea market? If not, you're living in a Matrix-like joyless bubble, my friend.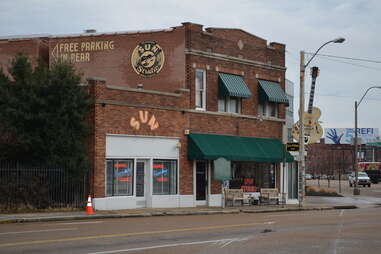 Touring Memphis barbecue fills you in on the evolution of American music
The African American influence on Memphis didn't just extend to food. While eating barbecue in Memphis you can explore the places where black residents developed the acoustic blues into the more modern electric guitar-driven blues, rock & roll, and soul music. And you can see where white performers influenced by those sounds, like Johnny Cash and Elvis Presley, started out as well. When you go to Sun Studio, swing by the Cozy Corner Restaurant nearby. When you go to Stax, stop at the A&R Bar-B-Q on Elvis Presley Blvd. And after you leave Graceland, go by Big Bill Bar-B-Que further South on Elvis Presley Blvd. The entire history of American music runs through Memphis, and every important site has a great family-owned barbecue joint nearby.
Every neighborhood has its own small independent barbecue joints
While Memphis has plenty of barbecue restaurants with good table service, it is also full of "sandwich shops" -- short-order places specializing in pork sandwiches and serving other staples like ribs and barbecue nachos. They are spread throughout the city like taco trucks in Austin, pizzerias in New York City, or Cuban sandwich places in Miami. And most are still cooking with charcoal and wood in traditional brick and steel pits, as opposed to the gas or electric ovens that have begun to plague modern barbecue restaurants. In Memphis the correct question isn't, "Where is the best barbecue restaurant in the city?" It is, "Where is the best barbecue restaurant within a couple miles of where I'm at right now?" All of them have their own distinct flavor and their own diehard fans. Ask a roomful of Memphians who makes the best sandwich between Payne's, Three Little Pigs, and Showboat and you'll start a loud argument. The only way to decide for yourself is to try them all .
Competition makes everyone better
Beyond the competition between local restaurants, Memphis is also home to the annual Memphis in May World Championship Barbecue Cooking Contest, which draws 100,000 people and over 250 competition teams to Tom Lee Park next to the Mississippi River every year. If there is one agreement on the best barbecue in Memphis it is that there is no agreement. How deep does the debate get? Is the best place for Greek-inspired ribs the famous Rendezvous or the smoke-filled hole-in-the-wall Alex's Tavern? I'm an Alex's man on that debate, but it underlines that there are no universally accepted "bests" in Memphis barbecue. You can eat barbecue in Memphis every day for years and still discover new favorites.
Sign up here for our daily Memphis email and be the first to get all the food/drink/fun in the Blues City.
Craig David Meek is the author of the book Memphis Barbecue: A Succulent History of Smoke, Sauce, and Soul. Before that he wrote the Memphis Que blog about his quest to try every barbecue and soul food joint in the Memphis area.