Let's not talk about what happened to Wolfie's. Or the Rascal House. Or any of those old-school New York delis that used to be must-eats on anyone's trip to Miami Beach. Instead, let's talk about the 10 best delis -- whether they're Jewish, European, or in the middle of Hialeah -- in Miami today. And then let's go get a sandwich.
SoFi
Because there MIGHT be one or two guys from "the continent" living in all those expensive high-rises South of Fifth, former nightclub manager Alexander Ringleb opened up this place wedged between 4th and 5th, where you can find stuff typically only found by crossing the Atlantic, like Austrian soda, German cheese, and all varieties of meats, wines, and pastas imported from Italy. You can also get sandwiches made on fresh-baked bread, or enjoy a hot bowl of the best goulash you'll find in Miami.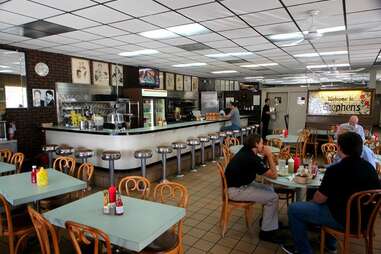 Hialeah
No, when you think of Hialeah you don't typically think of old-school Jewish delis with Udonis Haslem's grandfather working as the cook. Then again, there are a lot of things you don't know about Hialeah. Either way, this place has been cranking out deli staples for over 60 years, and might have the best matzoh ball soup in Miami. At least according to the Fatgirl Hedonist.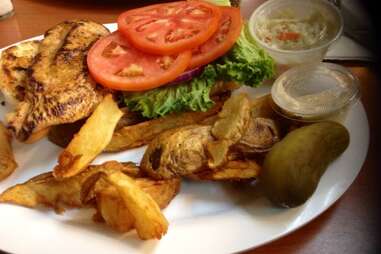 Miami Beach
Though you may recognize the name from the Pinecrest deli staple, this is actually a franchised operation that opened in the Beach after the South Dade original. The spots differ slightly, and Beach People and Mainlanders will argue over which is better, but the 41st Street outpost serves up fresh bagels and mountainous deli sandwiches -- plus skirt steak and quesadillas -- so that the good people of Miami Beach can enjoy it without ever having to look at US-1.
Hallandale
Though the tern "app shop" has a completely different meaning now than it did when this place opened in 1973, the Queens-bred owners clearly don't feel the need to change it. And why would they? When you've been making the go-to bagels and deli sandwiches for everyone in North Dade/South Broward for over 40 years, and have expanded your little deli case into a full menu loaded with deli classics, you don't need to worry about anybody getting confused and coming in to order Angry Birds.
Sunny Isles
In the area now known as Little Moscow, there was once but one true deli, and it was called the Rascal House. But as the face of Sunny Isles changed, so did the delis, and the first -- and best -- Russian deli was this place. Here you can find stuff usually only stocked in Russian grocery stores, and the must-try dessert cakes like the Napoleon and the Medovik don't disappoint. And for a true USSR experience, try the plombir, a soviet ice cream that used to sell for $.03 back in the '80s.
Brickell
Do the math: 800 billion trillion condo units going up in Brickell. One deli. This explains why the wait here on a weekend is only slightly shorter than the wait to get on I-95 at 5:30pm. But the food doesn't hurt either, with the biggest, freshest bagels you'll get in the city of Miami, a crazy menu of Miami-named sandwiches, and fresh-squeezed orange juice to wash it all down.
Aventura
One of the best things about the old Jewish delis in Miami was the free basket of bread you got before your meal. This Israeli deli does the carb-conscious 2015 version of that, and serves up a fresh salad gratis as soon as you sit down, then gives you an epic menu full of kosher meats, pita sandwiches, and other Israeli staples to enjoy between the photo-covered walls.

Pinecrest
A great debate rages between those who grew up going to Don Carter's and those who grew up going to an abandoned Lincoln Road as to which Roasters' n Toasters is better. And while you don't hear much bad stuff about either place, anyone who's ever had a size-of-your-head deli sandwich at the Pinecrest original finds it pretty hard to make a case for the location on the Beach.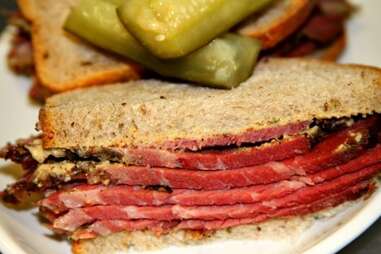 Surfside
For foodies who still like delis, Josh Marcus brings to deli food the creativity and originality he learned in his years as a chef. Sure he has a menu full of deli classics like pastrami sandwiches, but that pastrami's made from 10-day-aged Angus brisket. He's also plating up duck prosciutto, three-hour brine-soaked black cod that's smoked w/ paprika & molasses, and of course, the Jewban with pastrami, slow-roasted pork, pickles, and Swiss.
Edgewater
Though most of the hype for this place is for its impressive selection of wines -- it's one of Miami's 14 Best Wine Bars -- it's also got cases upon cases of Italian meats and cheeses, as well as hard-to-find Italian grocery products and sandwiches made on fresh-baked bread. It's even got a gluten-free baguette, if you're the kind of person who goes to Italian restaurants and asks for things without gluten.
Sign up here for our daily Miami email and be the first to get all the food/drink/fun in town.