An unfortunate number of Quebec license plates and complaining New Yorkers pour into Miami every Winter, but fortunately (for us!), a flood of new restaurants -- from James Beard-winning eats in Miami Beach to 3am cookies in South Beach -- also open every Winter to feed them, so many that we found picking the 10 best of 'em almost as hard as Quebecois find driving on the Palmetto.
Recommended Video
Meat Flowers Are Here to Give You The Best Valentine's Day
Buns & Buns
South Miami
Even though the name might sound like this South Miami breadtopia is actually a… showroom for coffee makers (see what we did there?!), it's in fact a novel new concept where you pick a deliciously grill-able item like this ribeye with Aji Panca and turnip, then pair it with one of seven different fresh-made buns, from steamed naan, to pretzel rolls, to buttery brioche, and finish it off with a handmade wine or sake cocktail.
Michael Mina 74
Miami Beach
After completely owning the beef scene with Bourbon Steak in Aventura, Michael Mina's opened his 19th eatery at the Fonatinebleau, and'll be serving the best dishes from the other 18 to the post-LIV crowd 'til 4am on weekends. Oh, and if those folks partied a little too hard to pick out the perfect fresh fish, the shellfish sommelier pushing the table-side seafood cart will totally take care of it.
Insomnia Cookies
South Beach
Not only will these dudes bring fresh-baked cookies to your door until 3am, if you can manage to make it into their Washington Ave store, they'll make you a custom ice cream sandwich with one of their seven flavors of frozen dairy, and nine kinds of cookies which is, like, way too many combinations to figure out at 3am. Or anytime, really.
R House
Wynwood
Aside from those second Saturdays where the line between food truck and art gallery gets inexplicably blurred, the fine galleries of Wynwood tend to frown on you stuffing your face among their orange blotch-covered canvases. R House, however, does quite the opposite and hangs a rotating collection on its movable walls while totally inviting you to gorge on sweet pea falafels, cinnamon coriander-rubbed lamb shanks, sweet chili-glazed skirt steaks, and other meat creations.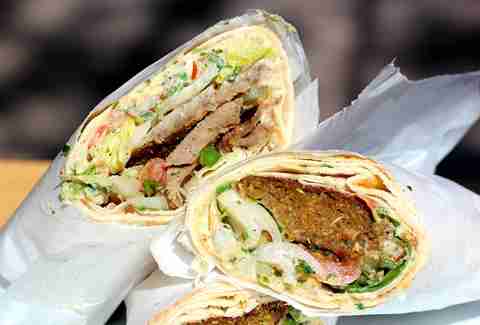 Camel's Hump
Downtown
Your coworkers MIGHT forgive you for walking through the office making that tired Geico commercial joke IF you're going through said office with food from this new Downtown Middle Eastern/Caribbean lunch spot. Because if you're passing out eats like their overstuffed gyros, housemade falafels w/fresh mint, red peppers, and homemade tahini sauce; citrus-marinated shsish kebab; or stewed-that-morning oxtail with red beans & rice, your incessant reminders that "It's HUMP Day!" might actually get you... well, you know.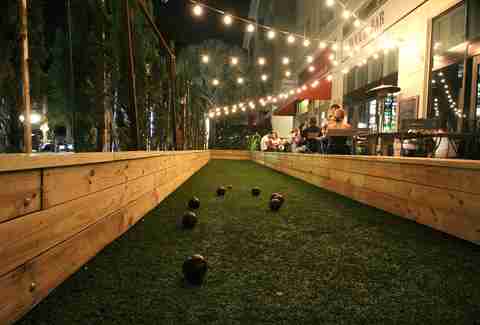 Bocce Bar
Midtown
Old Italian men don't have much use for medium NBA throwback jerseys, and you won't see too many hipsters ordering Negronis, but the one thing they can agree on is their favorite new restaurant in Miami. Not only is Bocce Bar giving you a take on Italian (sage butter-basted veal and the must-try ricotta di buffalo) from the Sushi Samba peeps, but is also allowing you to unleash your inner Vito Corleone/Michael Cera with a full-on Bocce Ball court out front.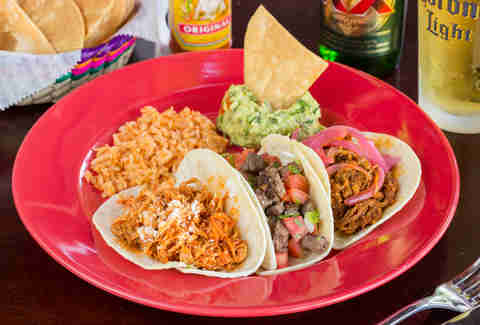 La Mexicana Cantina & Grill
Brickell
Certain Mexican restaurants, whose names may or may not translate into "Flower from a country North of Belize", seem to believe that if you live in Brickell, you should be able to afford a $19 enchilada. Not so fast, says the family behind this new neighborhood joint, which is plating simple, flame-grilled, and reasonably-priced Mexican favorites, made-to-order guac, and an extensive margarita menu that'll be 2-for-1 from 4-8pm EVERY SINGLE DAY.
Nothing But the Best
The Roads
French owner Chef Yann Rio has given his new French/Asian fusion joint a name that deftly avoids a lawsuit from Tina Turner, and sets some pretty high expectations, but once you start dining on stuff like risotto croquettes w/truffle oil & green sauce, or duck Magret a la plancha in stunning surroundings reminiscent of an Asian meditation room, you realize Yann is, like so many cab drivers from his home country, just being a jerk brutally honest.
Bokampers Sports Bar & Grill
Ft. Lauderdale
"Sports bar" might be just ahead of "gas station" on the list of unadvisable places to get sushi, but the inventive chefs at this new, waterfront locale for Kim's sports palace have created some rolls (like the Miami Vice with dry-rubbed tuna, mango, pineapple cilantro, and masago) that'll have you completely forget about ordering their already-famous wings, all while watching the game right on 150 flat screens right next to the Intercoastal, on which they've also got 350 feet of dock space.
Blackbrick
Midtown
As many things as there are to love about the Magic City (beaches, sunshine, Pitbull) there are an equal number to dislike (humidity, traffic, Pitbull). Thankfully, Sakaya Kitchen's Richard Hales is taking "No good Chinese food" off the "dislike" list and adding Blackbrick to the "love", where he's put a Floridian twist on Chinese with stuff like General Tso's Florida Gator, and Swank farms eggplant w/oyster sauce. Now if he could only teach people from a certain Canadian province to drive...