After nearly 30yrs of peddling gourmet, fast-food burgers in Bogota to the three people who are actually hungry in Bogota, El Corral's first North American location is a counter-service joint in Doral filled to the brim with tables covered in old-school newspaper ads for things like two-for-$25 suits, which would be almost as cheap as JoS. A. Bank, if they gave you 13 more suits for free. They claim to have over 16000 topping combos, but beef-wise, you've got the only two options you need. The first's the Corral Burger, a griddle-cooked patty that comes outfitted with everything from onion rings and guac to refried beans, or in the form of this Italian job that Marky Mark's trainer named Marky Mark definitely wouldn't let Marky Mark eat due to all the mozz, marinara, parm, and mayo. Option two, the Grand Corral: an 8oz flame-grilled guy with all the same topping choices, and a whole lot more meat. Here's the Todoterreno with two Angus patties, bacon, BBQ, and lots of cheddar, much like the people who sold you stuff in Bogota that made you talk quickly without breathing, and not want to eat burgers.
Recommended Video
These Dumplings Are Bite-Sized Breakfast Sandwiches
Previous Venue
Next Venue
Venue Description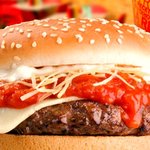 1. El Corral
7800 NW 25th St, Miami, FL 33122
After serving up burgers in Columbia since 1983, El Corral decided to bring its Latin American flair to the states. The menu includes over 15 different burgers and sides including fires, onion rings, and even salads (do not be that person who goes to a burger joint and orders a salad).