Good general rule: if you've ever been called Bunnie Cakes, you should probably stop hanging out with the person who calls you Bunnie Cakes. Unless of course you're a Wynwood bakery that opened a brick 'n mortar after previously selling its delicious cupcakes, non-cup cakes, cookies, and more, online. Then it's cool

Peruse the everyday selections and chalkboard specials at the glassed-in counter. Order them individually, or realize that even when Steve Martin makes terrible movies starring the Coyote Ugly chick, he's still right, because they're cheaper by the dozen

Dulce de leche cupcakes with a wonderfully gooey filling

These vanilla chocolate chip jobs get slathered with a sugarcane-sweetened buttercream frosting

The double chocolates can be made even richer with espresso. You should probably keep hanging out with the person that buys them for you, no matter what they call you. Unless it's... "Lance".
Recommended Video
Party on Like Rudolph With This Red Nose Punch
Previous Venue
Next Venue
Venue Description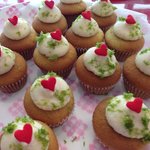 1. Bunnie Cakes
2322 NE 2nd Ave, Miami, FL 33127
The bakers at quaint Bunnie Cakes promise "their hearts with every cupcake," decorating each bite sized cake with a sugar heart. If that's not twee enough to make you want to stop by, then know that everything at Bunnie Cakes is gluten-free, vegan, and kosher - their cupcakes are not only tasty, they're also healthy not as bad for you as other cupcakes!