When you watch Willy Wonka, you make uninventive jokes about snozzberries and ponder how awful life would be if you lived in a single room with all your lame grandparents. When Dylan Lauren (Ralph's daughter) watches it, she creates the "largest unique candy store in the world", including one smack in the middle of Lincoln Road.
Recommended Video
This Waffle Is Made Out of Chicken
Previous Venue
Next Venue
Venue Description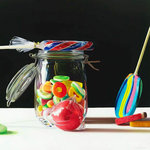 1. Dylan's Candy Bar
801 Lincoln Rd, Miami, FL 33139
Meet Dylan Lauren, the modern day Willy Wonka - if Willy Wonka was an attractive female who didn't need oompa loompas to create the world's largest unique candy store. Now with a location in Miami, so Floridians don't need to fly to NYC to get a lollipop bigger than your head.