8 great Easter brunches (and 2 Passover dinners) you'll only find this weekend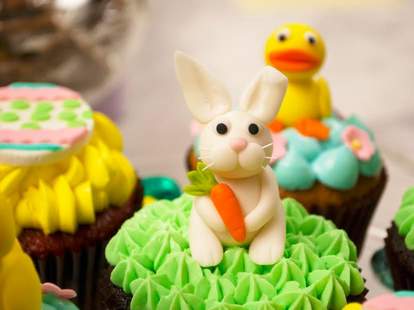 Miami Chances are, this weekend you'll either be having a massive dinner with 12 third cousins you've never met somewhere in deep West Kendall, or bitterly chomping on a matzoh cracker and counting the days until you can eat bread again. But if you're looking to celebrate Easter or Passover a little differently this year, here're eight Easter brunches and two Passover dinners that'll make you wish it was April all year long.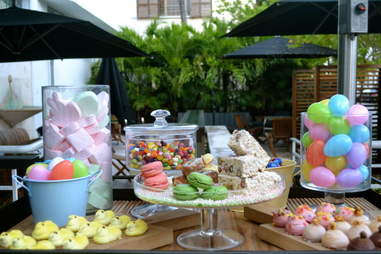 Tongue and Cheek: Easter is obviously the best holiday of the year because: Peeps! So, Jamie DeRosa is making homemade Peeps and serving them free before your Spring lamb Easter dinner, along with Easter baskets full of chocolate bunnies, etc. Continue Reading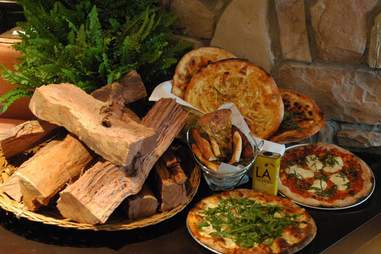 Spartico: Get in a full Italian Easter when you hit the pre-Mass Italian brunch at Spratico at The Mayfair at 7:30am. Or, if brunch is the only religious experience you care about, get there at 11:30am for the same full Italian buffet plus wood oven-fired pizzas to….sorryboutthis….BOOT.


15 Steps at Eden Roc: Eden Roc's putting on the best Easter egg hunt you've done since you were old enough to (SPOLIER ALERT!) know the Easter Bunny isn't real: everyone who downs 15 Steps' brunch (with bottomless Bloodys) gets to scour the hotel for one golden egg that's worth two free nights in an oceanfront suite. Oh, and kids get to look on the lawn for regular eggs that are worth, well, whatever eggs are worth.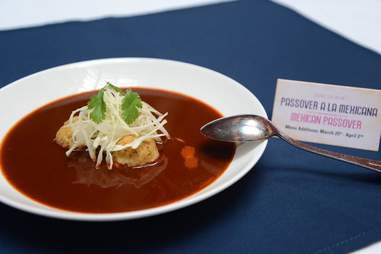 Rosa Mexicano: Addressing the serious deficiency of kosher-for-Passover Mexican food, Rosa Mexicano has developed a special Mexi-Jew menu with Sangria Horoset, Matzoh Ball Pozole soup, matzoh-breaded chicken, and banana leaf-wrapped brisket. Meanwhile, you can ogle the fajitas and dream about what you'll be eating next Tuesday.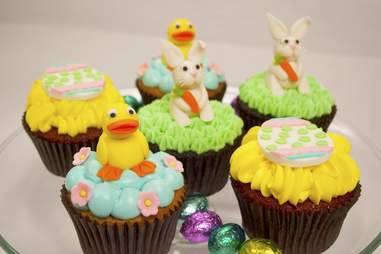 Solo Coffee Bar: Since your mom can't tell you NOT to have an Easter brunch made up of cupcakes topped with sugary versions of the Easter Bunny, lemon-caramel popcorn, strawberry-marshmallow Rice Crispies treats, passion fruit macaroons, chocolate bunnies, and Easter cookies, hit up Solo, the Fontainebleau's in-house pastry shop, then realize your mother was probably right a couple hours later.


Mondrian South Beach: If Bubba's family had dealt in eggs instead of shrimp, they probably would have been all over Sunday's brunch at Mondrian, where they'll have omelets, deviled eggs, Easter egg crostinis, pickled eggs, steak and eggs, egg-white frittatas and, if you don't like eating them, egg painting by the pool.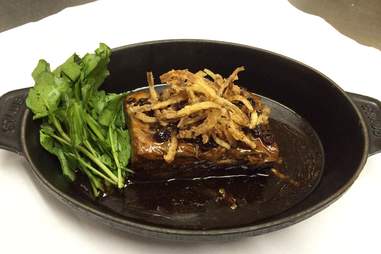 BLT Steak: If they'd had the stuff on BLT's Passover chalkboard to eat -- dry-aged brisket w/ horseradish salt; pike geliflte fish w/ pickled chanterelles, black truffle matzoh ball soup – Moses and co. would've been down to wander for, like, 100 years instead of 40. Or even longer if they also had jazz from the Chad Bernstein duo played live while they ate.
James Royal Palm: Get out to the beach behind the JRP for a 9:30am Easter egg hunt, then head upstairs to Florida Cookery and chow down on a Champagne Easter brunch with a pig-carving station, a live appearance from the Easter Bunny, and balloon animals!


Morton's The Steakhouse: If your idea of Easter involves surf and turf, you're not finding a better deal than you will at Morton's in both Brickell and the Gables: a 6oz, cold water lobster tail and a 6oz filet will only run you $55.