America's most international hot dog from America's most international city needs your vote!
It's about to be 4th of July in Miami, which means we're all gearing up for the traditional all-day pig roast capped off by fireworks displays set to reggaeton. At Thrillist, it means we're hosting the Search for the Most America-est Hot Dog
Since our version of all-American means all of the Americas, Blue Collar's Danny Serfer invented a special dog to represent Miami's role as America's most international city. It needs your help, though, since there are 15 other fierce and delicious competitors. Check them all out and vote for one (this one!), but only after you've seen exactly how this beauty comes together.
Since you'll typically run into people from 11 different countries just going to buy dental floss, Serfer has included a United Nations of ingredients, including a Vienna beef hot dog, Portuguese muffin bun, Cuban mustard, foie gras, and onions sautéed in Italian balsamic vinegar and Puerto Rican rum.
First, he sautés the foie to get the grease from the pate into the bottom of the pan, Or, dare we say, melting pot. We dared.
While those are getting their grease on, Danny grills the Portuguese muffin bun in French duck fat on the griddle.
Here, Chef Serfer shows the world that he's not using this hot dog to smuggle black tar heroin, and that it is, in fact, 100% all beef.
Then, the Austrian dog gets covered in the French fat and immediately starts chain smoking.
Hey onions, you got any Italian in you? You want some? Here's some balsamic vinegar.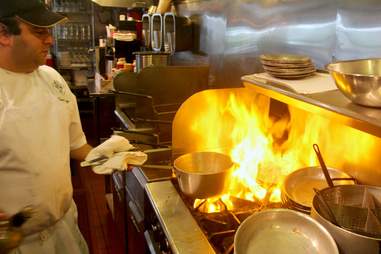 And once the Italian contingent has settled in, along comes some rum from Puerto Rico to fire them up.
The Austrian hot dog is done exactly on time, but has to wait an hour for the Cuban mustard to show up to the party.
Next go the Italian-Puerto Rican onions. If they were a chick, they'd probably be pretty hot.
The French get the last word with the foie gras.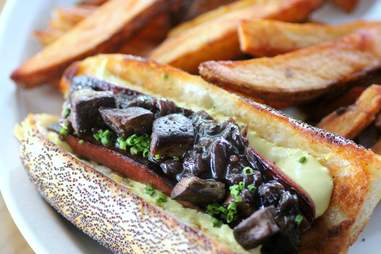 The U.S. gets a nod with the hand-cut potato wedges on the side, for a grand total of seven countries represented on one plate, which is still probably less than you'll find standing in front of you on line at Walgreen's.

Sure, you obviously think this thing looks delicious, but it needs your help!! 15 other hot dogs think they're more America-y. Prove them wrong by voting for Danny's dog right through here. We'll announce the winner on Wednesday, so you'll have plenty of time to replicate it for the 4th.